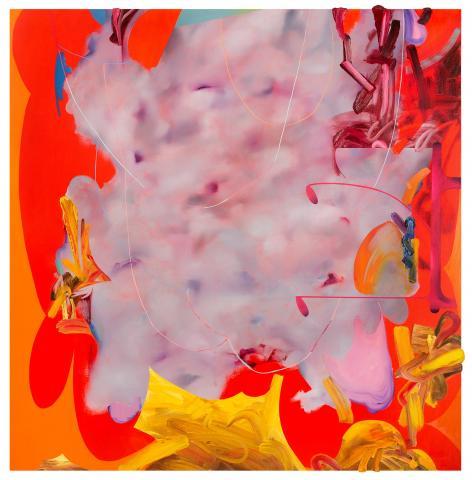 peripheral tricks, 2015, oil on canvas, 72" x 72"
Born in Edmonton, Canada, Mark Mullin has taught at various academic institutions in Canada. He has exhibited across North America and Europe. His work investigates how abstract painting can perform as a type of playful narrative of contradiction and subversion. It is a dialogue whose visual vocabulary is comprised of borrowed bits and parts – a convergence of " insistent debris" where the decorative and minimal negotiate with the brash and grotesque. What results are paintings that resonate like improvised abstract theatre.
Mark has been a member of ACAD's faculty since 2003.
Education
MFA Studio Arts, Department of Painting and Drawing, Concordia University, Montréal, QC, 1999
Guest Student, Printmaking Department, Hochschule fur Bildende Kunste, Hamburg, Germany, 1994
BFA with Distinction, Department of Fine Art and Design, University of Alberta, Edmonton, AB, 1994
Residencies
Painting's Edge,  Idyllwild Arts, Idyllwild, CA. U.S.A., 2008
Cooper Union School of Art Summer Residency, New York, U.S.A., 2005
Slo' Mo' - The Banff Centre for the Arts, October 22 - December 7, 2001
Selected Professional Activity
Selected Solo Exhibitions
sticks and stones, Paul Kuhn Gallery Calgary, AB, 2017
insistent debris, Paul Kuhn Gallery, Calgary, AB, 2015
dismantling act, Michael Gibson Gallery, London, ON,  2015
an unfolding sense of order, Art Gallery of Calgary, Calgary, AB, 2007
catalytic mix, Leo Kamen Gallery, Toronto, ON, 2005
turbulent flow, State Gallery, Vancouver, BC, 2003 
Selected Group Exhibitions
75 Works on Paper, BEERS London, London, UK, 2017
New to You- Contemporary acquisitions, Beaverbrook Art Gallery, Fredericton, NB, 2016
Made in Calgary – the 2000's, Glenbow Museum, Calgary, AB, 2014
We Tell Ourselves Stories, Nickle Arts Museum, University of Calgary, Calgary. AB, 2012
New Prints 2012/Winter -  International Print Center New York,  IPCNY, New York, NY, USA, 2012
softcore Hard Edge, East and Peggy Phelps Gallery, Claremont, CA, U.S.A., 2011
Selected Publications
2015
Paint and Line to Plain: Mark Mullin – Re-Connecting the Dots to the Modernist Legacy,  catalogue essay by Jeffrey Spalding for  solo exhibition "dismantling act" Michael Gibson Gallery,
2011
…Pas tout a fait… essay by Lon Dubinsky, Stewart Hall Gallery.
2010
Canadian Art, "Close Up" by Chris Cran, Summer issue. 
2008
Carte Blanche, Vol. 2: Painting. Survey of Painting in Canada.  Forward by Jane Urquhart and Clint Roenisch. Magenta Foundation.
Selected Awards
Canada Council for the Arts Production Grant
Alberta Foundation for the Arts Visual Arts Project Grant
Alberta Creative Initiative Development Grant – AFA and Canada Council for the Arts
Western Canadian Finalist RBC New Canadian Painting Competition
Connect