Residence
Early Bird Applications Open: February 5, 2024.
Pre-College students have the option to stay at the SAIT residence during their program.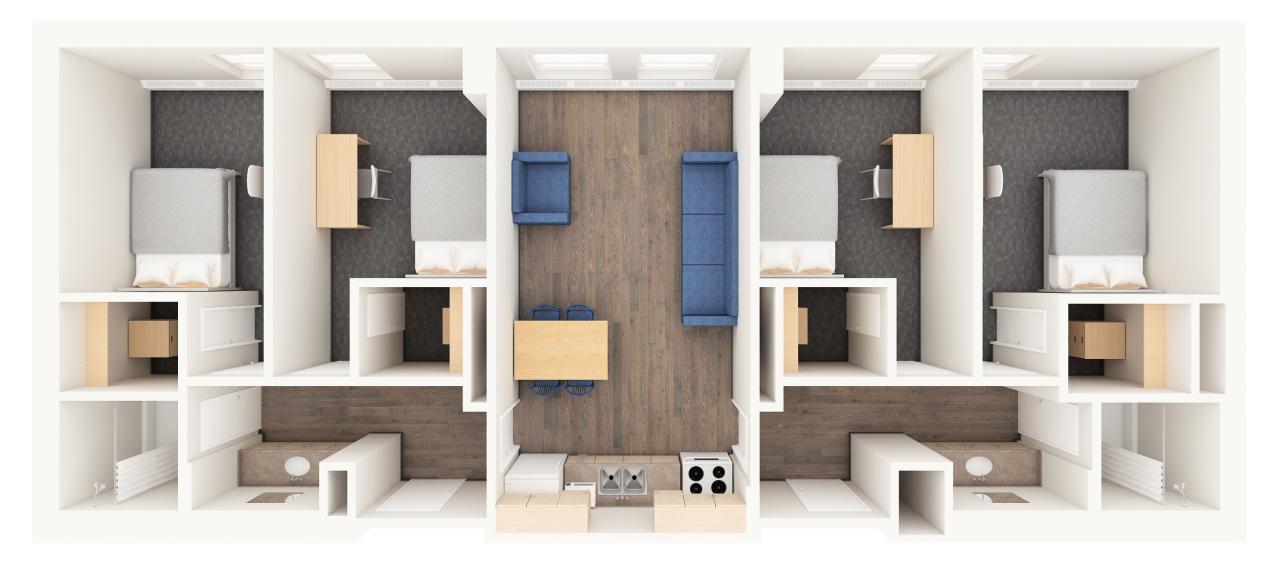 If you want to learn more about SAIT's residence, contact us.
Pre-College students are welcomed to stay at SAIT Residence, just a five-minute walk from AUArts. 
SAIT Residence is a safe and convenient option for those just starting out to see what living on their own is like with a bit of a safety net. We provide unchaperoned accommodations, however, our Residence Life Team conducts student programming and is happy to check-in regularly to connect participants with resources as needed. Our front desk is also available 24 hours and can assist with general questions and requests.
Each unit has four private bedrooms, two entrance doors, two bathrooms, and a common living space/kitchen. The residence is fully furnished. Each room has a double extra-long sized bed, a desk with chair, a dresser, and full closet. There is a full-sized fridge, stove, and microwave in each unit. All utilities and basic internet are included. Please note that there is no cable television in the units. Guests are welcomed to bring their own devices to stream in their private bedroom.  
Amenities include: Wifi, linens, towels, bath products, housekeeping every 3 days, a kitchen kit with cooking utensils, dishes and cutlery as well as access to the cardio room, laundry facility and art studio in the basement. The art studio is outfitted with drafting tables, light tables, counter spaces, sinks, and a ventilated spray paint area - it's perfect for the budding artist. Additional amenities may be available upon request at the front desk.
Participants are required to bring their own personal effects, specific shower/bathroom items, and mementos from home to help cope with being away from family and friends.
We look forward to welcoming you - our AUArts Pre-College guest!
Check out the 4-bedroom Virtual Tour of your accommodations for Pre-College.