The Lodgepole Center
Oki, Danit'ada, Âba Wathtech, Kwe, Tansi, Tawnshi, Atelihai, Bonjour, Hello, and welcome to the Lodgepole Center!  
Guided by Elder Council, the Lodgepole Center is a gathering place where you can access Indigenous cultural resources, ceremony, programs and supports, and where you can reflect, recharge, and renew.  It is a dedicated and inclusive space, where all members of AUArts are welcome and it has become a popular meeting spot, showcasing the University's commitment to Indigenous culture, teachings, art, craft, and design.  
The Lodgepole Center opened in 2016 and was gifted its name by the AUArts Elder Council. It references the main lodgepole that supports a tipi, reflecting the circle of life teachings and at its core, the coming together of all things.
The Lodgepole Center works with Indigenous and non-Indigenous students, Elders, faculty, staff, community organizations, corporate partners, and other post-secondary institutions to provide supports, programming, workshops, and opportunities at AUArts.  The Lodgepole Center is also home to a Student Gallery showcasing art from Indigenous students at AUArts.
Students also have the opportunity to connect with other Indigenous students who are leaders and a part of the Aahwaatkamooksi Peer Mentorship Program. The Peer Mentorship program encourages making strong friendships with other Indigenous students to help navigate programs, resources and supports on and off campus. In partnership with the Lodgepole Center, Peer Mentors are passionate about building community and creating brave spaces for Indigenous students to share their work and be successful at AUArts. Watch for opportunities where you may be able to participate in student art exhibitions curated by Peer Mentors!  
We look forward to meeting you!
The Lodgepole Center is located on the third floor in Room 375 and the office hours are:
8 a.m. - 4 p.m. Monday through Friday.
If you have any questions, please contact: lodgepolecenter@auarts.ca
Elder Council
Elders are regularly on campus as a part of the Elder in Residence program, are available to provide cultural and spiritual teachings, advising, and support to students, faculty, and staff one-on-one, in the classroom, and with the Lodgepole Center. 
Casey Eagle Speaker
Casey Eagle Speaker, also known as Sorrel Horse, is a respected Blackfoot Elder from Kainai Nation / Blood Tribe. Casey was taken from his family at just four years of age and placed in a residential school until the age of 14. Casey is now the lead Elder for a number of organizations including AUArts, he is the Indigenous Resource Coordinator for Hull Services, and he is also the Chair of the Wisdom Council for Alberta Health Services. He provides traditional counseling, supports, guidance, and ceremony for students, staff, families, and individuals, he is passionate about equality for all people, and he believes artists are valuable story tellers.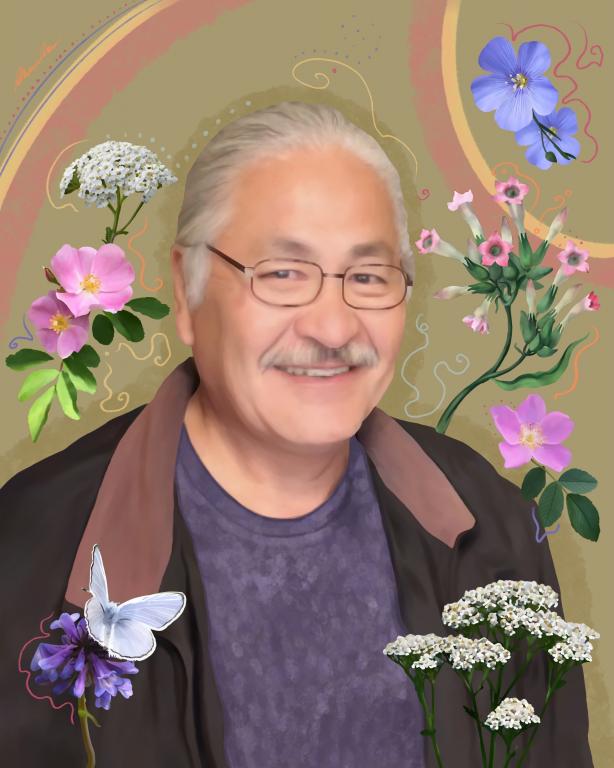 Edmee Comstock
Edmee Comstock is the youngest of 17 children and is now a great grandmother and respected Métis Elder. Edmee comes from the Bruce clan of the Red River Colony and wears her Métis sash with great pride. Edmee was also the recipient of the Queen Elizabeth Diamond Jubilee Medal for her work in the community in 2012. Edmee generously shares her cultural teachings, Michif language, and history through various educational outreach programs for youth and families and her welcoming spirit encourages everyone to forgive, and to always help others.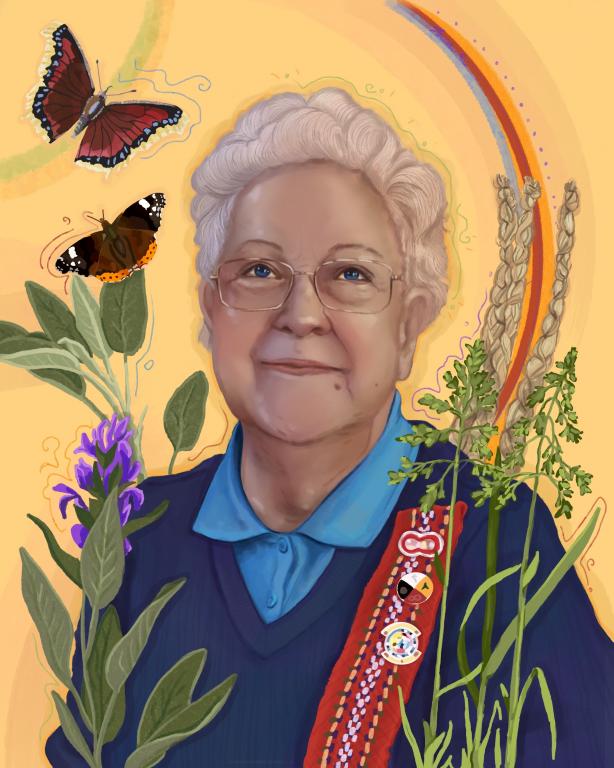 Linda Brass
Linda Brass is a kokom and respected Elder who was born and raised in Calgary. Her Cree name in English is Ocean Woman. Linda has been sharing teachings and ceremony from the Midewiwin (Anishinaabek) Lodges for over 30 years. Linda generously shares her cultural teachings and provides support to individuals and families through a number of programs including Hull Services Braiding the Sweetgrass program, Miskanawah, the United Way, the Alex Community Food Centre, and AUArts Elder Council.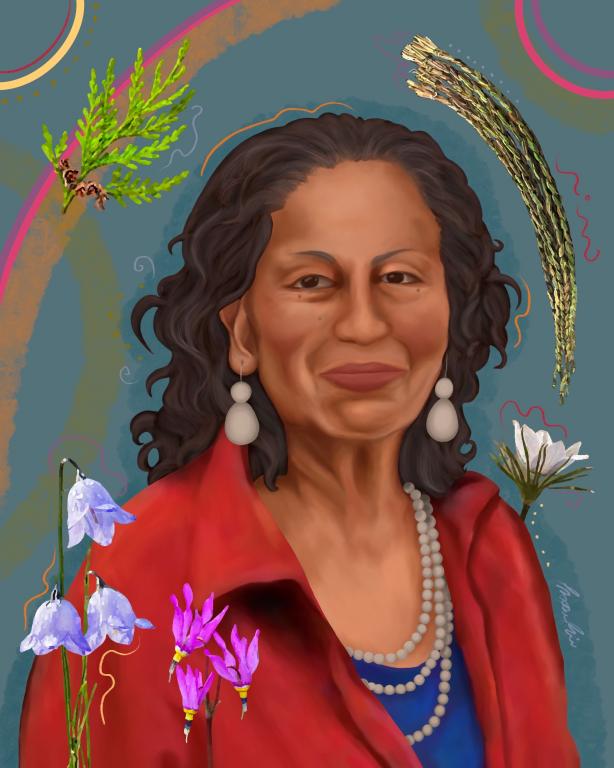 Darryl Brass Jr.
Darryl Brass Jr. (Peepeekisis First Nation, SK) is Linda Brass' son and also shares teachings of the Midewiwin (Anishinaabek) Lodges.  In November 2018, Darryl Brass Sr. passed on into the spirit world and left the teachings for his family to carry on. Since Darryl Sr.'s passing, Darryl Jr. and Linda Brass have been working together through various organizations within the Calgary region, offering cultural understanding, guidance, ceremony, and support around intergenerational healing.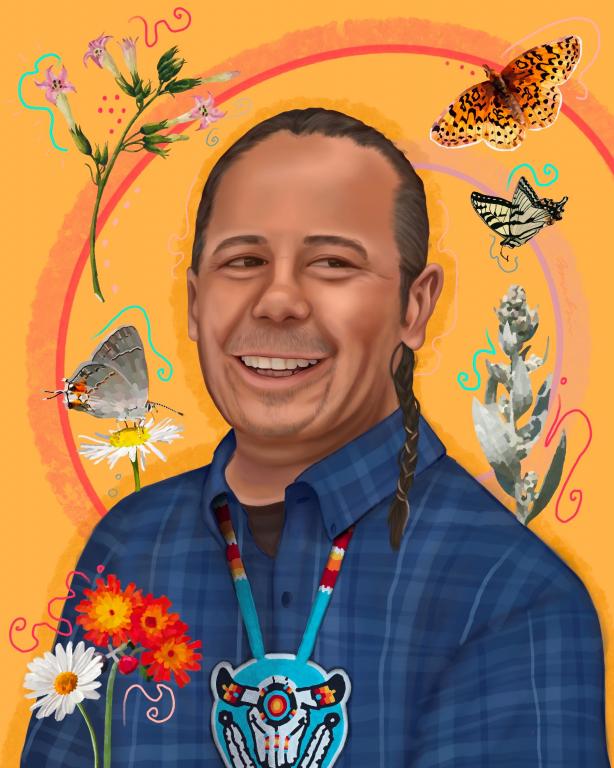 Ruth Scalp Lock
Ruth Scalp Lock, also known as Awo Taanaakii, Shield Woman, was born on the Siksika First Nation east of Calgary, her father Blackfoot, her mother Cree.  Ruth's traditional name, Awo Taanaakii, recognizes her role as a protector to women and children and Ruth established a Native Women's Shelter in Calgary called Awo Taan Healing Lodge, Awo Taan, meaning shield.  While Ruth was raised in her traditional culture, as a young child she was placed in Indian Residential School, where she suffered much abuse, leading to years of addiction and violence.  In 1974, she experienced a spiritual reawakening and chose a healing path.  Ruth is a healer, community builder, leader, author, and respected Elder.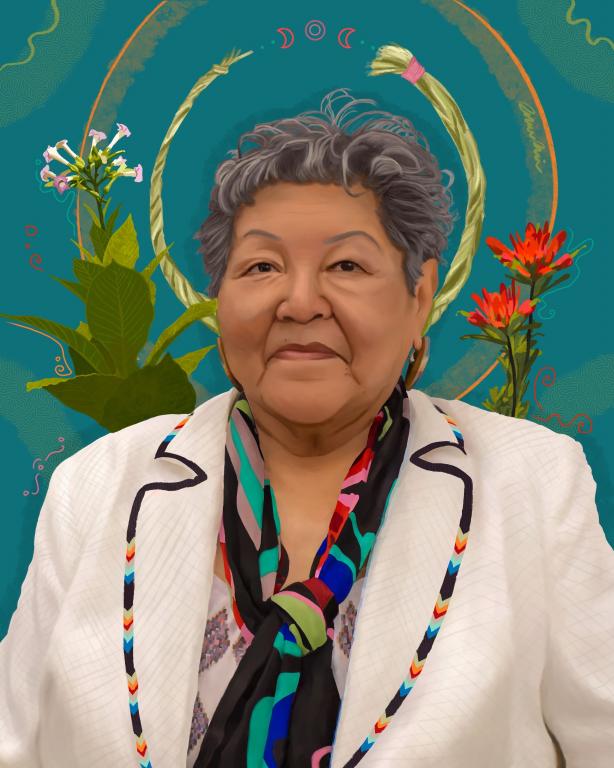 Francis Melting Tallow
Francis Melting Tallow, Mi'kotsi Stamik, was born in 1936 on the Siksika Nation to Matthew and Nancy Melting Tallow. His father was from Kainai, his mother Siksika. His childhood name was Bluebird, and later in life, he was given the name Red Bull. Francis was raised by his uncle, Jack Big Eye, which lead to his lifelong love for ranching and rodeo and a strong foundation in traditional culture. Through ranching, rodeo and coal mining in the Siksika area, Francis also learned English.  When Francis attended Crowfoot Residential School from 1942-1954, his traditional background and command of the English language prepared him to be an interpreter and leader among his friends and schoolmates. Francis lives with his wife Ruth Scalplock , has six children, more than twenty grandchildren, and continues to have many horses.  Francis wants to see a world where there is a real awareness and understanding of Indigenous culture and history, the effects of colonialism, and a time where Indigenous and Western ways live together.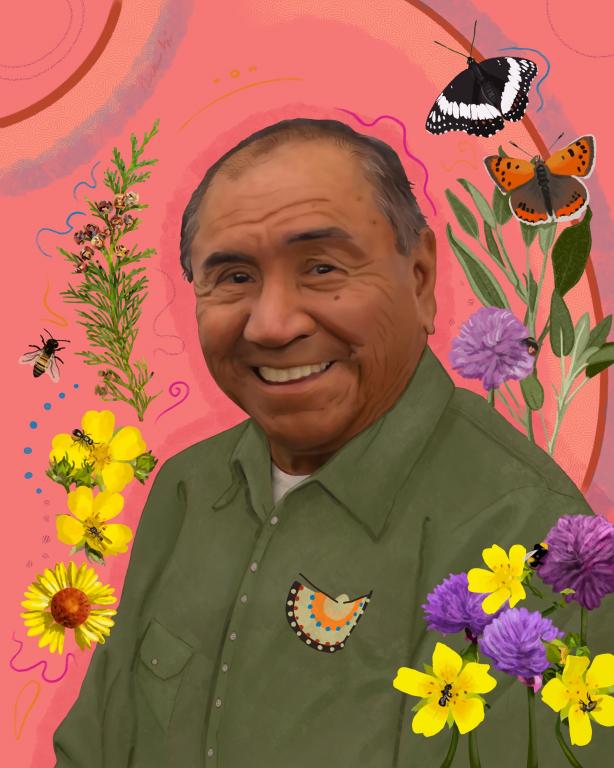 Paul Daniels
Paul Daniels is Iyarhe Nakoda (E-yah-hey Nah-kot-ah) and a member of the Bearspaw (Oh-zin-jah Thee-ha) band. His traditional Nakoda name translates to Three White Buffalo Calves Spirit. Paul is a spiritual leader in the community, began his Nakoda teachings at a young age, was transferred rights as a holder of the pipe, sun dance, and sweat lodge, and is knowledgeable on the traditional practices and medicines of the Stoney Nakoda people.  Paul has also been involved with the Wisdom Council of Alberta Health Services and Braiding the Sweetgrass offered through Hull Child and Family Services.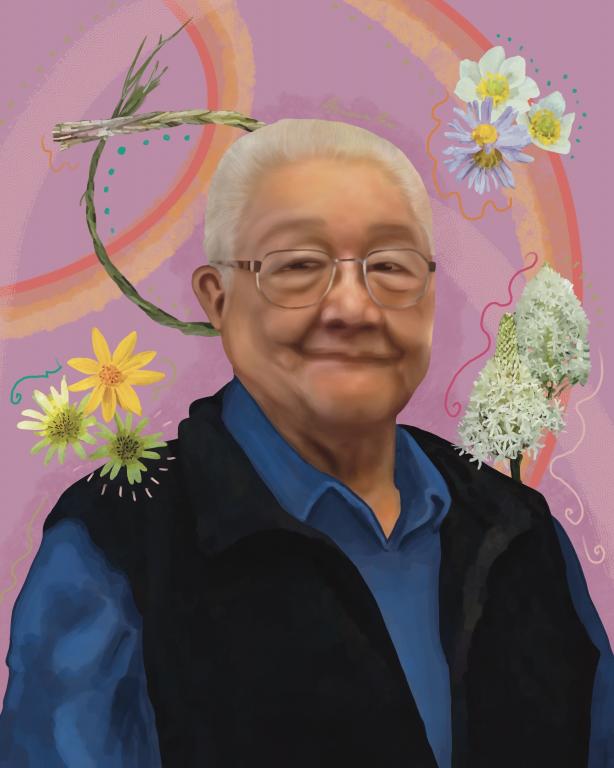 Elder Portraits by Phoebe Riel (2022), Bachelor of Design student.
*The Lodgepole Center logo was designed by alum Kristy North Peigan (BDes '15, Visual Communication Design)
Aahwaatkamooksi peer mentorship program
The Blackfoot word Aahwaatkamooksi, translates in English to "creating friendships". The Aahwaatkamooksi Peer Mentor Program provides Indigenous students with leadership opportunities, community building, engagement, and participation in experiential learning opportunities. The program allows for academic, personal, and cultural support between Indigenous students, with facilitators and Elders, and encourages well-being spiritually, physically, mentally, and emotionally.

Please email lodgepolecenter@auarts.ca for more information or follow the link below to learn more.


Aahwaatkamooksi peer mentorship program
Dené language revitalization
The Dené Language Revitalization program was a free 10-week course taught by Tsuut'ina Language Commissioner and Elder Bruce Starlight.
Dené Language Revitalization