The Lodgepole Center
Guided by our Elder Council, the Lodgepole Center (LPC) is an Indigenous gathering place for students, faculty and staff on campus. It's a dedicated and inclusive space, and all members of AUArts are welcome. 
The LPC has become a popular meeting spot, showcasing the University's commitment to Indigenous culture, teachings, and art, craft and design.  
The Lodgepole Center was gifted its name by the AUArts Elder Council.  It references the main lodgepole that supports a tipi, reflecting the circle of life teachings and at its core, the coming together of all things. Since opening in 2016, the LPC has hosted programs and provided access to cultural resources for both Indigenous and non-Indigenous students, staff, faculty and members of the public. 
Every initiative under the Lodgepole Center speaks to community and campus inclusion. The Lodgepole Center successfully supports programming in health and wellness, traditional and cultural education, community involvement and personal development. These include:  
Health & Wellness 

Indigenous Perspectives on Mental Health workshops 

One-on-one support 

Traditional & Cultural Teachings 

Elder in Residence program 

Elder teachings and classroom visits 

Community Involvement 

Workshops 

Orange Shirt Day 

National Indigenous Peoples Day (June 21) 

Personal Development 

Aahwaatkamooksi Peer Mentorship Program 

Experiential learning 
The Lodgepole Center is located on the third floor in Room 375 and the office hours are 8 a.m. - 4 p.m. Monday through Friday.
If you have any questions, please contact:
Mary Ann Forbes, Coordinator, Indigenous Student Community
lodgepolecenter@auarts.ca
Elder Council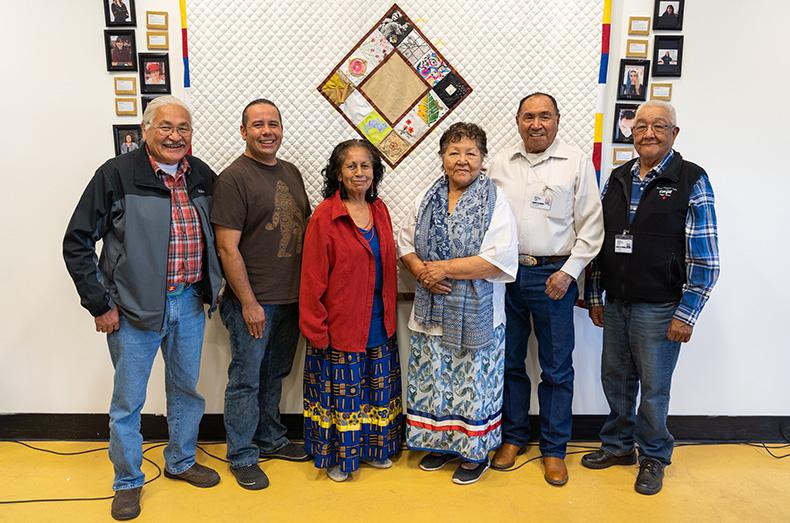 Pictured left to right: Elder Casey Eagle Speaker (Kainai); Elder Darryl Brass Jr. (Cree, Ojibwe, Tsuut'ina); Elder Linda Brass (Tsuut'ina); Elder Ruth Scalp Lock (Blackfoot); Elder Francis Melting Tallow (Blackfoot); Elder Paul Daniels (Stoney Nakoda).
Not pictured: Elder Edmee Comstock (Métis). We would also like to acknowledge one of our founding Elders, Darryl Brass (Obibway/Cree), who has passed away. We are forever grateful for his wisdom and support of the Lodgepole Center.
Our sponsors
Thank you to the Government of Alberta (Access to the Future Fund Initiative) and the Suncor Energy Foundation for their continuing and generous support. 
* The Lodgepole Logo was designed by Kristy North Peigan (Alumni, BDes)
Aahwaatkamooksi peer mentorship program
A mentorship program for Indigenous students that offers access to older students and Elders in the community to support their academic, personal and cultural growth.
Aahwaatkamooksi peer mentorship program
Dené language revitalization
The Dené Language Revitalization program was a free 10-week course taught by Tsuut'ina Language Commissioner and Elder Bruce Starlight.
Dené Language Revitalization