2019 Alumni Horizon Award
 
INTERVIEW BY KERRY MAGUIRE, BFA '18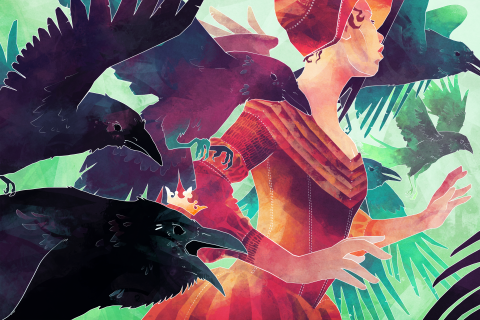 The Lost Lenore (2018), digital illustration, 36" x 24"
A reimagining of 'The Raven' by Edgar Allan Poe. Micaela Dawn believes that we wish to continue to have our classics read and interpreted in modern day, we must continue to reinterpret them. Here, Lenore has become one with the Ravens and will cease to return to the narrator's side. Quoth the Raven "Nevermore:"
Eagerly I wished the morrow;— vainly I had sought to borrow
From my books surcease of sorrow— sorrow for the lost Lenore— 
For the rare and radiant maiden whom the angels name Lenore—
Nameless here for evermore.
— Edgar Allan Poe
 
Kerry Maguire: It seems like you are in a really exciting time in your career! What was the path that initially led you to AUArts?
Micaela Dawn: I always really like creative things. I loved drawing when I was younger, and so was always drawing. I never really thought of it as a career, though. I actually wanted to be a criminal pathologist, but after realizing how many years of schooling that would take, I changed my mind and went to school for psychology, English and philosophy for a little while.
None of those subjects really felt like the right path. I was still doing art, specifically doing commissions for people all throughout this time. I figured if art was what I really enjoyed doing, why not take the chance and go after it as a career? I had been anxious about pursuing an art career because the "starving artist" conception really prevails in society. I figured I was doing it on the side anyway, so I decided to try out AUArts. Essentially, I ended up at AUArts to pursue what I was already enjoying 
MAGUIRE: When did you graduate and from what program? Did your time in art school take any unexpected twists and turns?
DAWN: I graduated from Visual Communications Design (VCD) stream in 2014 with a focus in Character Design. I initially did Character Design because I loved the classes and what they were teaching: the curriculum was about building worlds, storytelling, and trying to flesh out video game worlds. I wasn't really interested in video game work, but I found that AUArts' Illustration stream was more geared toward Illustration for magazines; it was a bit more marketing oriented, which wasn't what I wanted. I wanted to learn more about world-building and storytelling so that's how I ended up in Character Design. It was a roundabout way of taking Illustration without taking the Illustration stream!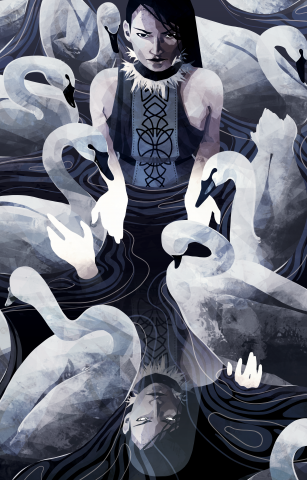 The Woman in the Water (2018), digital illustration, 55" x 87"
A "Lady of the Lake" illustration series for Encounters with the Imaginary - Volume 3 Kickstarter.
"In the middle of her lake, the Lady urges those with dark hearts and cruel desires to gaze into the water. It is not always a sword they see beneath their searching reflection. Some see kingdoms beneath their thumb. Others see a power granted to them without limit. None see the pale swans effortlessly gliding across the surface of the water. The Lady lures the false kings to her breathless depths. The boats return empty. The lady continues to wait."

 
MAGUIRE:  What kind of learning and growth happened for you artistically at AUArts?
DAWN: I think I got a lot from the interactions I had with the other people around me who had all kinds of different views and ideas. There will be so many different kinds of students learning alongside you, and school is a great opportunity to learn from them. I learned to take risks and to try different things. The VCD program helped me realize that you can do so many different things through art; it's imperative to explore different ways of executing something before you settle on a way to do it.
The foundations you learn at AUArts are really, really helpful for going forward. Once you graduate, you are able to be comfortable working in many different styles, and trying things that might not always work, but always trying anyway. I got the drive to try new things and to try things I might not be comfortable with from AUArts.
MAGUIRE: What has your career looked like since graduating?
DAWN: I've done a lot of different things. I started working doing graphic design for apps in an illustrated style. That got me into doing more marketing work, which involved a lot of thinking outside of the box. I was a marketing director for a few companies, which transitioned into doing project management for an augmented reality (AR) company. I designed and developed an entire AR app for kids. It involved coming up with unique ways of educating kids in a colourful, illustrated style. It was a lot of fun.
I did that for about three years, and then I went back to being a marketing director part-time. With this part-time job, I was able to do more freelance illustrative work, as that's really what I am passionate about. That's where I am at now: part-time marketing and part-time freelance. In my freelance work, I do all kinds of things: I've done about eight comic book covers, I've worked for the Netflix series Stranger Things and I've done work for board games, which in itself affords a huge variety of work. In board game design, I've done everything from rulebook illustrations that include skulls and plants to landscapes. I've done covers for video games, especially for indie video game companies. I really like freelance because you get to do this exciting mix of projects.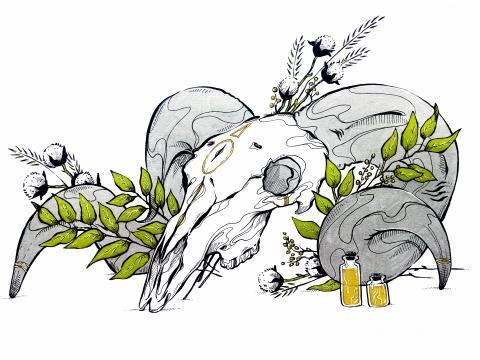 Blood on the Clocktower (2019), pen and ink, gold Ink, acrylic, 20" x 15"
One of several pieces created for Blood On The Clocktower, a captivating bluffing game of deduction, deception, murder, & mystery. Each piece is meant to show the contrast between life and death, while also showing small hints of mystery of the world of Clocktower.

I've done some personal work that I find ways of marketing. It's a stream of passive income: I sell my work on sites like Redbubble and Society6 where folks can purchase my products. It generates some income so I can continue doing this sort of personal freelance work. I'll also sell art at conventions. So, those are all the pieces I explore to make up my career!
MAGUIRE: What a breadth of things. You can really see how one thing leads to another opportunity. Do you have any advice for recent graduates embarking on their design careers?
DAWN: Take risks! And try doing things that you're not quite sure you'll be able to do. When I found this program called the Kevin Workman foundation — they sponsor an artist to attend the San Diego Comic-Con and provide them with a 10'x10' booth space —it was something I never thought I would be able to do, let alone be the chosen applicant. I applied for it anyway, and ended up being the chosen artist! I had three months to design a 10x10' booth, order all the product, and then head to San Diego to premiere my art. Having that booth was actually how I ended up doing the cover for Stranger Things. So, take risks, because if you fail, you're no worse off than when you started. And if you succeed, then you are far beyond where you were before you took that risk.
Press into things that you are scared of — opportunities that are the "good" kind of scary. Things you weren't sure you would be able to achieve. Make the ask, reach out to people you aren't sure will say yes. Sometimes they do! Somebody out there is getting these opportunities, and it's not going to be you if you don't put yourself forward. And, most importantly, don't be discouraged if you don't get them. One person saying no makes room for someone else to say yes. Even if you have had 100 no responses, someone out there is waiting to say yes to you.
MAGUIRE: That's really great advice and perspective. I think it's always important to remember that, especially if you are in a kind of "rejection rut." How do you fit all this into your day? What does a day in your life look like?
DAWN: I break my day up unto the mornings and afternoons. The mornings are dedicated to the "steadier" work I do, which at this moment is project management. In the afternoons, I focus on freelance work. I find I have more creativity in the evenings, but I have more stability in the mornings and am able to get task-based projects done then.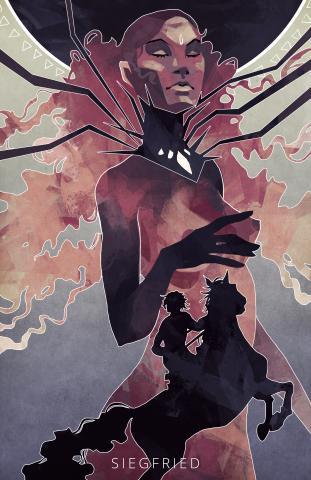 Siegfried (2016), digital illustration, 11" x 17"
In the third part of the Ring Cycle opera series by Richard Wagner, Siegfried, upon laying eyes on the naked Brünnhilde, at long last experiences fear.
I also try to enjoy free time; it's important to me to not work all the time. You have to schedule free time into your week if you are freelancing or working from home so that you don't find yourself working all the time. I try to take weekends off and to enjoy my evenings, or if I am pushing to get a big project finished, I will take a few days off afterward to wind down.
Burnout can be a big problem for artists and especially for new artists right out of school. There's this perception that you have to work all the time, on everything that's available to you, to be good enough. Falling into the trap where you are thinking that you have to catch up to that someone out there who might be doing more than you is what leads to burnout. In the industry you might run into people who tell you that you have to work eight hours, and do four hours of sketching after work... that's just not sustainable. I recognize that my mental health and wellbeing are just as important as being creative. I want to be an artist for a long time, so I think that's why it's important to find that balance early on between taking care of yourself and giving yourself the space to be creative. It can take a long time to recover from burnout, so I've tried to avoid it entirely.
MAGUIRE: What have you learned about the value of your creative education? What would you say to someone wanting to pursue a fine art, craft or design degree?
DAWN: I think that it gives you the foundation to jump start your art career. While you might not be happy with the first things you create — you shouldn't be, by the way, because school is where you should be learning, trying things that are hard, and failing — an arts education will give you the opportunity to fail and to learn from your failings. It's okay to make something horribly ugly [laughs] because this is when you get to fail. What you make in school is not for a client, it's for you to use as a learning tool. Your teachers and peers will be critiquing what you make, and through this you will learn the foundations to continue getting better as an artist, even after school.
Something that might take you weeks or months to accomplish in school, whether it's because you are unsure or inexperienced, will get faster and easier over time. School is where you can be uncomfortable. When you are out of school, you will have built the foundation to deal with tight timelines and all the other stresses that come with "real" work, and you will be able to jump off into the unknown.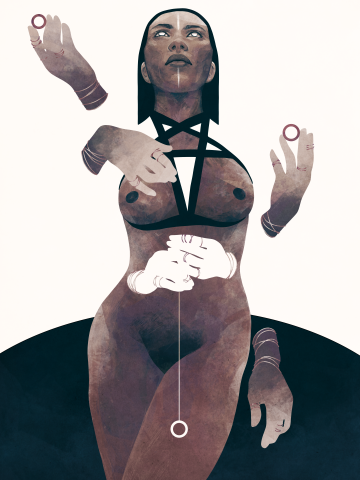 Redamancy (2019), digital illustration, 18" x 24", painted for the Light Grey Art Lab's February show celebrating the human form.
"Redamancy –noun: The act of loving in return. She is complete. Whole. And when she is loved she gifts pieces of herself to those who return her rings in kind."
Micaela's Instagram 
Connect