BACHELOR OF FINE ART IN DRAWING, 2016
ALUMNI DISCOVERY INITIATIVE, INTERVIEW BY KERRY MAGUIRE, JUNE 2019
Kablusiak — also known as Jade Nasogaluak Carpenter — is an Inuvialuk artist. They were nominated for the Sobey Art Award Shortlist in 2019. Photo: Elyse Bouvier.
Kerry Maguire: When did you graduate from AUArts? What was your major?
Kablusiak: I graduated in 2016 and I was a drawing major.
MAGUIRE: Did you go in knowing you were going to be a drawing major, or was there some period of discovery when you arrived at AUArts?
KABLUSIAK: No, I definitely knew I wanted to go into drawing because it seemed like the most versatile practice.
MAGUIRE: How did you end up going to AUArts?
KABLUSIAK: I went to Grant MacEwan — it's now MacEwan University — where I did a fine arts diploma. ACAD sent a recruiter to come talk to all the students, and so did a few other universities. Some of the other schools seemed more about how we could use our skills to market products, more graphic design-focused. Not that I have a problem with that route, but that wasn't what I was looking for. ACAD seemed more dynamic and focused on visual art. There was about six or seven of us that ended up transferring from Grant MacEwan to ACAD the next year.
MAGUIRE: Can you give a brief summary of what it is you do in your practice?
KABLUSIAK: Absolutely. So in my practice, I use different media like photography, video, and installation, and I focus on the theme of cultural displacement and coping with cultural displacement. Usually there is humour involved; I find it's a good entry point for viewers. I have a whole series of work where I am wearing this ghost costume, just the classic bedsheet with eyes cut out. That work is a more prominent part of my practice, and it speaks to diaspora… this feeling of being in limbo.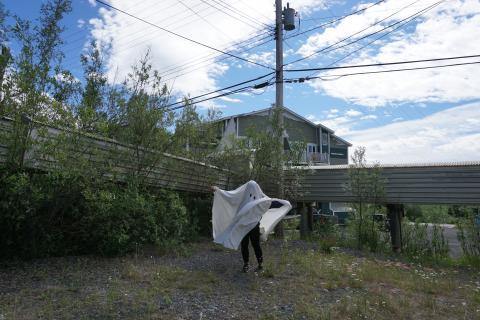 Duck Lake Street (2018). Photographic print. Sizes variable.
MAGUIRE: Can you talk about how your practice has evolved since you were at AUArts? Or is there anything you can trace from when you were at AUArts to now?
KABLUSIAK: Totally. In my third year — that's the year you switch from being told what to do to being free to make your own decisions about your practice — I really started exploring. I was thinking about what I wanted to make art about, what I really wanted to focus on. That's when I started using this ghost imagery to speak about many different issues: for example, that's when the theme came to light of working through diaspora and cultural displacement. I have been working in that way and thinking about my practice like that since I left AUArts.
In my practice, I am thinking about what being an urban Inuk is, and how that identity is not any less valid than someone who grew up in the North. I am now thinking about it as less of a loss and framing it more as a rediscovery.
MAGUIRE: What does your average week look like as an artist?
KABLUSIAK: Right now I am working at TRUCK Contemporary Art. I am the Interim Programming Coordinator four days a week, and all other days and all other hours I am in "art work" mode: I am doing all of the administration [for my personal practice] that comes with being an artist.
MAGUIRE: You've been doing a lot of traveling, a lot of exhibiting, so I can imagine that comes with many things to attend to. And you've just been shortlisted for the Sobey Art Award! Congratulations.
KABLUSIAK: Thank you!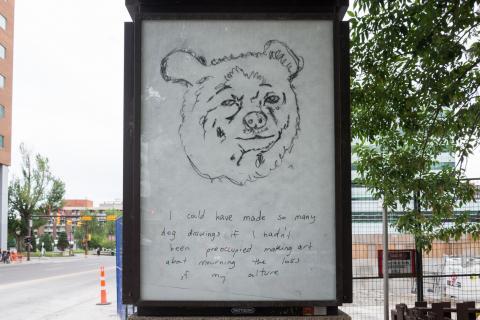 Sled Dog (2018). Mixed media, dimensions variable. Photo: Chelsea Yang-Smith.
MAGUIRE: What was your time at AUArts like?
KABLUSIAK: That was when I discovered my community of Indigenous art students. They really helped me grow in many capacities. A lot of those people are still my very close friends — so that was a really important part of my time there. AUArts also has a lot of amazing instructors who helped push my practice forward. The Drawing faculty was, or is, amazing. Having instructors who are actually working artists is really beneficial.
MAGUIRE: Are there any specific obstacles you encountered after you graduated? Or anything you weren't anticipating? If yes, how did you get around them, or incorporate them into your practice?
KABLUSIAK: I think the biggest hurdle has been all of the logistics of being an artist. I've recognized and learned that as an artist, you're a business, basically. You could make as much art as you want, but if you're not managing your books or doing other tasks — being your own business owner — then it can be really tough. It's a vital thing to learn quickly.
It's an ongoing learning process, and it's been important to me to have artists as mentors who have been doing this for many years. They can see in me someone they were when they were first starting out. It's great to have people in my community who are of different generations.
MAGUIRE: Yes – things might not be exactly the same for you now as they were when they were starting out, but their insight is no less valuable. What are you working on right now?
KABLUSIAK: Right now, I am in production mode for the Esker's project space, which is going up near the end of July 2019. I am also doing a public art project in Calgary with Caitlind r.c. Brown, Wayne Garrett, and Lane Shordee. It's for their wandering island project and is going to be a semi-permanent installation.
MAGUIRE: Do you have a vision for what role AUArts can play in the larger arts community?
KABLUSIAK: I think their presence in the community could be more grassroots, or have a grassroots component. I find AUArts' alumni very community-oriented, and I think that if AUArts had a way of engaging with Calgary as a whole that mirrors the way their alumni contribute to the arts community, that could be good.
MAGUIRE: So, expanding beyond the ecosystem of alumni, ACAD as an institution, and current students.
KABLUSIAK: I am obsessed with people partnering with artist-run centres (ARCs)! I think they are where so many artists grow their roots. AUArts could maybe be more explicit about feeding into the artist-run community, and the ARCs would, in turn, feed back into the school. I think that would give the feeling of a supportive and bustling community.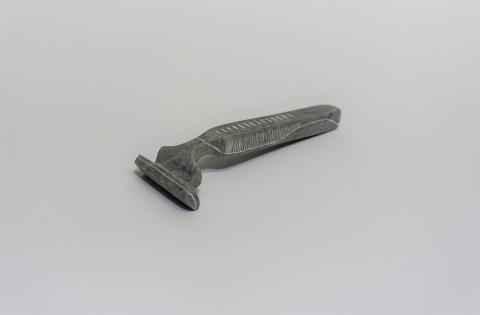 Disposable razor (2018). Soapstone and tung oil. Approx 4.5 x 2.75''.
MAGUIRE: Do you have any advice or insight you would give to current or prospective AUArts students?
KABLUSIAK: I think that once you're graduated, make sure you cultivate a community. Whether it's here in Calgary, or elsewhere, find a community that speaks to you and try to wiggle your way in. Whether that's through volunteering or otherwise, planting yourself in an arts community where you are… that will give you the people to foster and support you. The relationship that you build with your local community is so important.
MAGUIRE: Any insights specifically as a person living and working as a visual artist?
KABLUSIAK: It's a lot of hustle, I think you need to be mentally prepared to take on all of that labour, especially if you are an artist of colour or have any other barriers. If you fall within any minority, you're going to have to work ten times harder.
It sounds cheesy, but getting yourself out there is really important. It's not an ego thing — it's not telling everyone, "Hey, look at me! I'm great!" and thinking that you have to sneak into some community. It's more about having an openness about you that shows that you are willing to engage with the community that you have chosen to live within. That openness will lead to a reciprocation.
If you have social anxiety, it can be tough, but I feel like people are really forgiving. If you're like, "Hey, I'm super anxious, I'm a little weird…" you will find that within a community of artists, other people are going to be okay with that. They might even say to you, "Great! I'm anxious and weird too!"