Photo: Carol Campbell, 2016.
BACHELOR OF FINE ARTS IN JEWELLERY, 1974
ALUMNI DISCOVERY INITIATIVE, INTERVIEW BY ARKATYIIS MILLER, 2015
Carol Campbell graduated from ACAD, called the Alberta College of Art (ACA) at the time, in 1974 with a major in Jewelry and Metals. She also graduated with a minor in what, at the time, was called Textiles and is now known as Fibre. She still works in jewelry. She has always worked in this field, whether teaching, working for jewellers, or making designer jewelry. Campbell's time at ACAD taught her to look beyond the obvious, and to look within a subject rather than just seeing what's at surface level. She learned to be more observant.
Upon graduating, Campbell went home to Jamaica and lined up interviews at Swiss Stores, a jewellery design store. She negotiated salary in exchange for providing the company with great designs. She notes that "too often, we artists go out into the world begging. No. You have something to offer. You have been trained and you have something to offer. You wouldn't beg if you were graduating from med school. You're not under-qualified. But you don't have everything that you need quite yet. You must earn your stripes, no matter what it is that you do."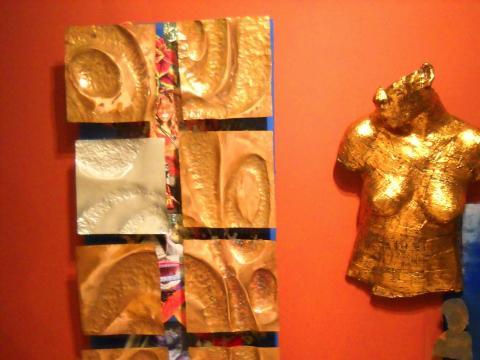 In The Between, installation 5' x 7', copper, aluminium, plexiglas, decoupaged wooden panel, cast torso (life size)
Campbell worked as jewelry designer in Jamaica for two years, and then came back to Calgary in 1977 and worked at The Goldsmith's, before accepting a position as Coordinator of Craft Programs at Leisure Learning Services, a joint initiative of the Calgary Board of Education, and the Calgary Parks & Recreation. This position involved conceptualizing and initiating leisure courses for adults, and doing other cultural programming. Carol Campbell also started A Patch in Time Quilting Conference, which was an international quilting conference at Banff centre that began with 60 delegates, and grew to 600 within only three conferences. Around 1988, she also began teaching part time at ACAD in jewelry.
Campbell maintained a studio from 1988-96 in the Lougheed Building in Calgary, where she did custom designed jewellery and participated in exhibitions nationally and internationally.  An award winning designer, she received a grant from Alberta Culture to go to Jamaica, where she researched design symbols and aesthetics of Caribbean design. She officially moved back to Jamaica in 1997.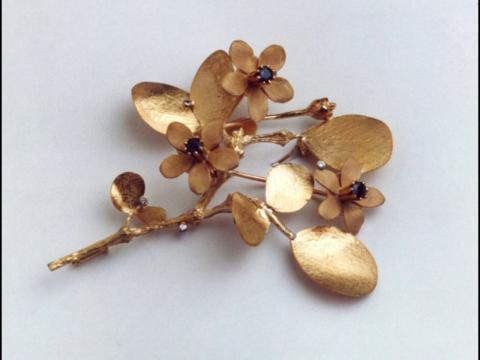 Queen Mother's Brooch (2000),  18K gold, sapphires, diamonds , 2.5" x 2.5." Collection of Buckingham Palace, England.
On returning to Jamaica, Campbell owned and operated the Revolution Gallery in Kingston. It was a commercial, gallery that exhibited contemporary applied arts, metals, fibre, clay, wood, and small sculpture. Campbell received a commission to do a gift for the Queen Mother's 100th, and has also designed gifts for various other visiting dignitaries. Now retired, she taught for 16 years at Edna Manley College for the Visual and Performing Arts, in Kingston, Jamaica, where she also was curator for the school's CAG[e] gallery.  An important lesson Campbell learned from operating the gallery in an institution like Edna Manley College, is that one person does not need to take on every single task; looking back, she can see that running everything solo at Revolution Gallery added unnecessary stress.
In terms of her work, Campbell's practice is taking a shift into more conceptual sculptural work that sometimes incorporates wearable elements. She continues to exhibit and continues to be open to all creative opportunities. She admits she has never thought of doing anything else, and never waivered from pursuing her passion.
Campbell is recognized for her sense of humour, her delicious cheesecake, and her tenacity — or what she would call her stubbornness, and, most importantly, her success in her craft. She admits that it never occurred to her that she wouldn't have success in her field; it was a given that consistent dedication to her craft, was the avenue to success. She acknowledges that she only achieved the success she has had by staying the course against all odds.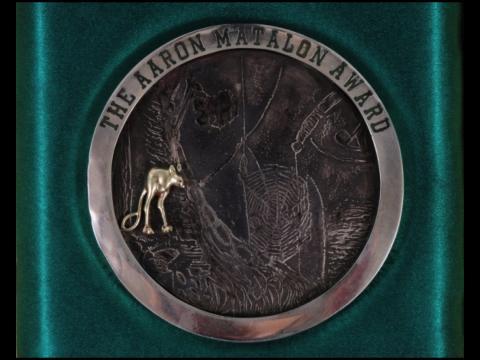 Inaugural Aaron Matalon Award for the National Gallery of Jamaica Biennial , sterling Silver, 14K gold, 3.5" diameter. Collection of Norma Harrack.
If asked to give advice to an emerging creative about how to start a business, Campbell jokes that it's best to "just marry a business person." Her point is that it is essential to get sound business advice; "don't wing it!" She encourages you to see your creative business as you would see any other business, and in doing so you will realize that it's important to undertake whatever steps a business requires to stay afloat. Working form this viewpoint, it becomes obvious that "no one goes in business to lose money!"
Campbell stresses that you needn't worry about your business sense sullying your creativity. She encourages students to think about how business didn't hamper Dali, or Picasso, or Chihuly; these were people who were simultaneously business savvy and incredibly creative and prolific. You must keep your creative process at forefront, but learn that creativity and business are not in opposition to each other. She sees it as unfair to expect students to invest financially in their education with no returns. She wants new graduates to expect to earn from their skills. "You're paying to earn skills, so people should pay you for your skills. The most important skill you learn at ACAD is how you see and interpret what you're looking at." And, most importantly, "don't do it all on your own," stresses Campbell. "Have a mentor."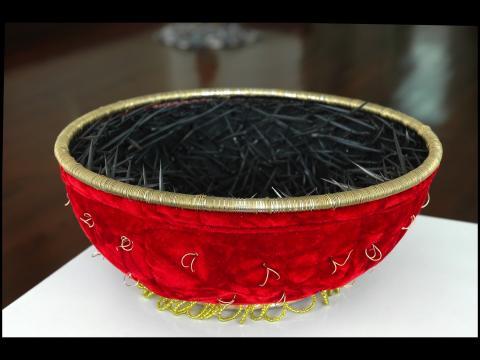 Inside the Outside series, stainless steel, brass, tufted velvet, glass beads, thorns, paint. Collection of Kaylia Linton.
Importantly, Campbell stresses that artists shouldn't wait for jobs to come to them. Instead, she urges artists to "Make your own job, and help create jobs in general." For example, for a summer project while at ACA in 1973, Carol was part of a group of students that started the Hospital Art Recreational Therapy (HART) program. HART designed programs for patients, centered around using art as therapy. She distinguishes this as being distinct from "art therapy," which has medical aspects. Her program enabled patients to have some fun and be creative, and HART accomplished things that doctors couldn't. The program was so successful that the hospital kept the program running after the summer was over and taught it to their staff so they could carry it forward.
Carol Campbell thinks that creativity permeates our existence. "Somebody designed everything that we use, be that a pencil, a computer, a chair, a pair of shoes. Creativity is, you must simply learn how to use it. You don't acquire it, you already have it. Anything that you do to alter your space and surround yourself with beauty is creative." She has found that people respond to beauty in all forms: aesthetic, in nature, or as love, or as kindness. This all falls under the umbrella of what she would call creativity, because "Life is itself inherently creative"
Ultimately, Campbells does "not wish to be contained [creatively]." She might not always be a jeweler, but she sees her future as always being centered around some creative pursuit.