BACHELOR OF FINE ART IN PAINTING, 2007
ALUMNI DISCOVERY INITIATIVE, INTERVIEW BY ALEX STEINTZ, 2016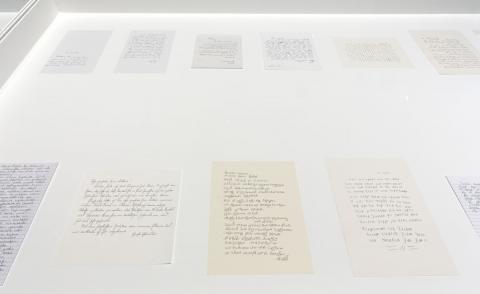 Letters (2018), pencil on paper. Image courtesy of the Kitchener-Waterloo Art Gallery. Photo by Robert McNair.
Alex Steinitz: When did you graduate ACAD?
Hyang Cho: I graduated in 2007 from the painting program.
Steinitz: What's your current employment?
Cho: I am a full-time artist
Steinitz: A lot of graduates use the ACAD degree as a creative stepping stone. So, what do you do? How has what you do evolved since graduation? How did your education at ACAD direct your career?
Cho: After finishing ACAD, I went straight to the MFA program at the University of Guelph. Since then, I have kept working and presenting my work whenever I have a chance.
Steinitz: What insights did your four years at ACAD give you when looking at things? Why does what you learned at ACAD matter?
Cho: I truly enjoyed my years at ACAD; it was where I found what I really wanted to do with my life. In my days, the program at ACAD was liberal. I had a lot of freedom, meaning that I was able to do whatever I wanted to do, regardless of my major. It enabled me to look beyond the boundaries and venture further to the unknown territory. At the end of my first year at ACAD, one of my teachers, Gordon Ferguson, told me to consider myself not as a student, but as an artist.
Agglomerate and Hole #12 (2018), advertisement flyer, glue, found frame, pen on paper
From that moment my attitude towards what I did had been changed completely. I became serious about what I was doing and began to take ownership of what I did, even if it was for a small assignment for a first-year drawing class. At the same time, I learned to take responsibility for what I did. It helped to shape me as an artist, which is a self-directed and self-motivated job.
Steinitz: How can you imagine ACAD supporting their alumni?
Cho: It is hard to make a living as a full-time artist. I do exhibitions at artist-run centres, work with a commercial gallery, and receive grants from art councils but still can't make a living solely from [art]. I try to solve the problem by making my life simple: earning less and spending less. It is possible because [in my work] I use everyday material which doesn't cost me much and I don't need a big space to do what I do.
But I find that for many artists, including me, it is hard not only to find a working space but also to utilize proper facilities and tools after leaving school. It makes me think of the facilities at ACAD, the woodshop, the metal shop, all kinds of tools that I was able to use. What if alumni could use the facility and equipment and borrow tools from the school for an adequate fee, at least during summer when it is not busy? It can be a way of supporting the alumni in on very practical grounds.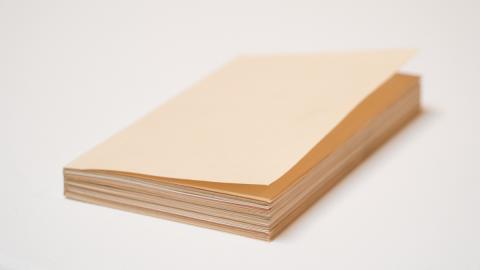 Blank Book (2015), collected paper. Photo by Miles Giesbrecht.
Steinitz: What was your time at ACAD like?
Cho: There were still separate departments such as painting, drawing, sculpture, jewelry, et cetera. But we were not bound by our major. I remember that there were about fifteen to twenty people in my fourth year painting class and each did a very different thing. Some of us, including myself, didn't paint at all. And it was accepted and encouraged. The teachers and fellow students were very supportive in many ways. Everybody was willing to share their knowledge, information, and know-how about art and everything else.
Steinitz: Where does art fit into your future?
Cho: Art is what I do and what I will do.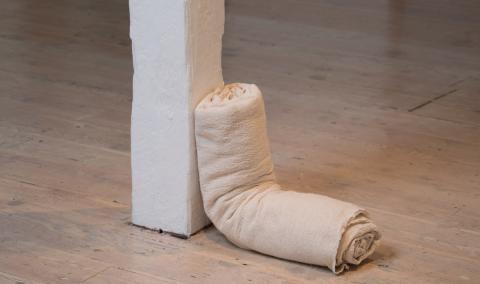 All I Have is Time (2015). Photo by Miles Giesbrecht.
Steinitz: Could you explain a little about the work you make?
Cho: I make material-oriented and process-based works,  concerning the perversive and subversive nature in everyday life. My works are initiated from the material I encounter in everyday life and my working process is often guided by the simple and precise rule developed from the close observation of the material I use. Many of my works are materialized through the act of collecting, repeating, and accumulating.
With materials such as found letters on the web, second-hand picture frames, used glass jars, recycled cotton, collected buttons, discarded books, people's names and advertisement flyers, I collect, sort, cut, stack, trace, write, erase, remember and forget every day. I do not seek specialness or usefulness out of commonness or uselessness. In my works, ordinariness remains as ordinary and uselessness remains as useless. The unused cotton bedding of my mother became a sheet of fabric of no use and empty pages in books remain as empty in a new book of no content, and letters are letters and bottles are bottles. What I recognize is the uselessness of useless things, boredom of boring activities, and ordinariness of everyday life; aesthetics of nothing much.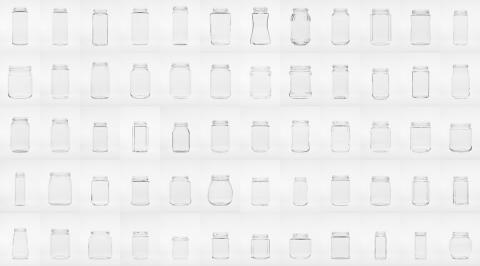 Jars (2015), 60 minutes digital slide show of 60 images of jars, 2015. Photo by Pyongwon Lee.
Connect