Photo: Robyn Weatherley
BACHELOR OF FINE ARTS IN GLASS, 2010
ALUMNI DISCOVERY INITIATIVE, INTERVIEW BY VANESSA NELSON, 2015
Vanessa NELSON: When did you graduate from ACAD? What was your major? Do you continue to work in this area, or did you change areas of interest? 
Robyn WEATHERLEY: I graduated from ACAD in 2010 with a major in glass and I have continued to work in glass. I recently graduated with a Master of Fine Arts from the Tyler School of Art at Temple University in Philadelphia, PA. I do also work in other media but glass always seems play a central role in my practice.
NELSON: A lot of graduates use their ACAD degree as a creative stepping stone. So how has what you do evolved since graduation?
WEATHERLEY: Right after graduation I wasn't really sure what would be next. I was fortunate to be able to work as a studio assistant for Julia Reimer at Firebrand Glass Studio in Black Diamond, AB. Julia and her husband Tyler Rock (faculty at ACAD) own and operate the studio. It was invaluable to gain experience in a working studio. They create production work and commissions as well as sculptural and fine art work. I was able to keep learning new techniques as well as learn aspects of the business side of an art practice.
After working as a studio assistant, I entered grad school in the fall of 2011. I went to graduate school pretty soon after completing my undergraduate degree, but since I was already a "mature" student, the timing worked well for me at that point in my life and art practice.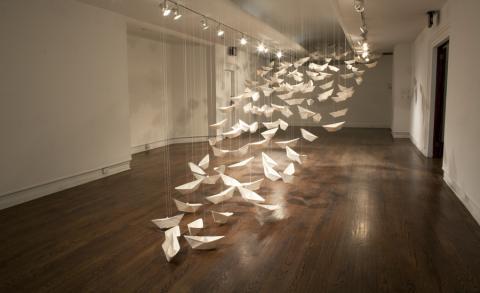 Adieu (2015), flameworked borosilicate glass (one breath per individual) and mixed media, variable dimensions. Photo: Matthew Hollerbush.
NELSON: How did ACAD direct your career?
WEATHERLEY: I think the instructors played the biggest role in letting me know what options were out there as far as a career in the arts. We had a really solid visiting artist program in glass while I was a student at ACAD. It was amazing. We got to meet artists from all over the world and we were exposed to many different approaches to working after graduation.
We also had a course developed by ACAD faculty called Living Glass History. It focused on contemporary glass artists; their studio practices as well as their work. We interviewed each artist through video calling and were able to ask questions that we had developed through class research and discussion that were relevant to each artist's processes and practices.
Since studio glass is a relatively young discipline in the fine arts, there isn't a huge written history like in painting or drawing. This class was an Art History class of sorts that focused on important contemporary glass artists. It was a means of obtaining and documenting information that wasn't really out there yet. Being able to engage contemporary artists in my field of study on this level was inspiring and influential in my decision to continue in my artistic practice.
During my time at ACAD I was awarded scholarships to attend workshops at the Corning Museum of Glass as well as Pilchuck Glass School. These workshops helped advance my ideas and work immensely.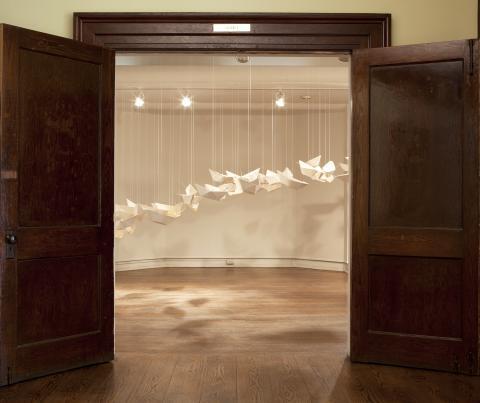 Adieu (2015), flameworked borosilicate glass (one breath per individual) and mixed media, variable dimensions. Photo: Matthew Hollerbush.
NELSON: Given your experiences, what advice would you give current students and young artists when it comes to establishing a creative business?
WEATHERLEY: Research what is out there and how it relates to what you want to do. Find an artist you admire and take a look at their career. You can glean a lot of this information from someone's CV. Try to obtain an apprenticeship, take courses, and apply for residencies. Or maybe just contact an artist you admire to ask for their advice and their story about how they got to where they are. It's important to make connections. Although hard at first, you have to start somewhere but your network will grow if you keep at it.
And keep making your work no matter what! If that means finding a couple of friends or peers to rent a space with, do it, even if it's only one day a week to start. A support network can be vital.
NELSON: What insights did your five years at ACAD give you when looking at things?
WEATHERLEY: I guess realizing all the different options, all the different ways there are to be an artist and engage in the arts. I also found that I connected with certain faculty in and out of my department and they played an integral role in my practice both in and out of school. I'm not sure if I would have applied to grad school or continued on as I have if it wasn't for the encouragement and support of my professors.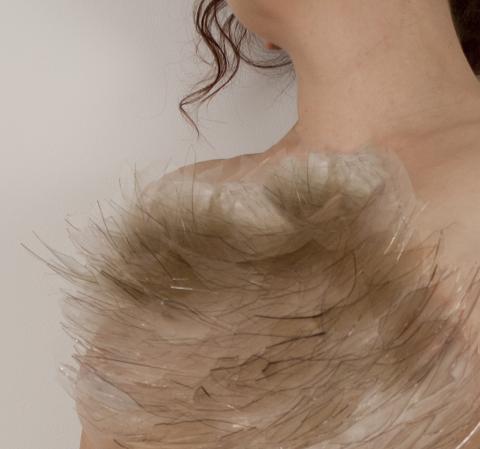 Metamorphosis (2012), blown glass and mixed media, 12" x 12.8"
NELSON: After graduation, what obstacles did you encounter and how did you overcome them?
WEATHERLEY: After graduating from ACAD a huge obstacle was finding studio space, especially for glasswork. It's very expensive to set up on your own space. There are huge investments to make and it is a huge commitment. It's hard to know exactly what you want to do and create right out of school and I didn't want to limit myself with these huge monetary investments immediately. My solution was to start as a studio assistant. This way I still got time in the studio with access to many tools and equipment. I also rented time with a couple of other peers in a hot shop in Calgary, and still do.
In addition, there was the challenge of continuing to create work without the structure and deadlines that school had provided. I found that applying for shows and other opportunities helped replace this formal structure giving me new deadlines to work toward.
After grad school I joined the board of directors for the Glass Art Association of Canada (GAAC) and I currently volunteer as managing editor for Canadian Contemporary Glass, which is GAAC's online magazine. This helps me keep in touch and engage with what's going on in my community across the country.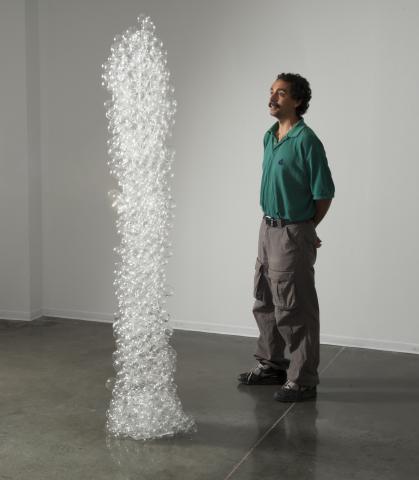 630 Resting Breaths (2012). flameworked borosilicate glass (one breath per individual) assembled. 6'2" x 19" x 19." Photo credit: Sam Fritch.
NELSON: How could you imagine ACAD supporting our Alumni?
WEATHERLEY: I believe there could be easier systems in place for keeping updated and in touch with what is going on in the community and at the school as well as upcoming opportunities.  It would be really beneficial to keep ties between current students and alumni. As a student I found it helpful to have facilitated access to artists that had attended the same school or program that I was studying. To see firsthand artists who have gone on to develop a successful career in what I wanted to do was inspiring and made it seem more attainable.
For alumni it's beneficial to keep in contact with the students as mentors, teachers and peers. For example, I love teaching because I am continually inspired by my students in so many different ways. It's another source for creativity.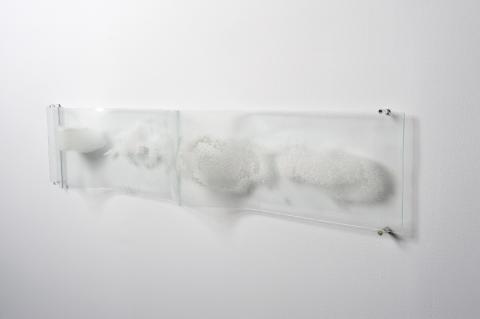 Breath Scroll (2011), detail shot, window glass, breath and fused glass powder,
6" x 32" x 5". Photo credit: Sam Fritch
I can imagine having opportunities to partner up alumni with current students to collaborate on an exhibition outside of the school environment or on other special projects. Also, as a student I always found it helpful to have studio visits with visiting artists that were not familiar with my work, unlike my peers and professors. I would love to come back and do studio visits and engage with current students and their work.
A stronger, more user friendly website or means to enable these things would be fantastic. This could include a forum for communication, and a space showcasing volunteer, exhibition and other opportunities that both alumni and current students could access.
NELSON: What do you feel is the role of ACAD and our alumni in shaping our cultural and economic prosperity?
WEATHERLEY: In short, any university or college is a huge centre for development of new ideas. It's a wealth of innovation and creativity and it's important to capitalize on that and try to enable that to continue outside of school. ACAD should function as a bridge between students and the greater artistic community and the public, especially with all the energy they have put into developing a strong curriculum and therefore producing amazingly creative artists and designers.
NELSON: Where does art fit into your future?
WEATHERLEY: Art will always be a huge part of my life. In an ideal world I would have a full-time studio practice that includes teaching, travel and periodic residencies and workshops. Always being involved the arts in one way or another throughout the ups and downs of life is key.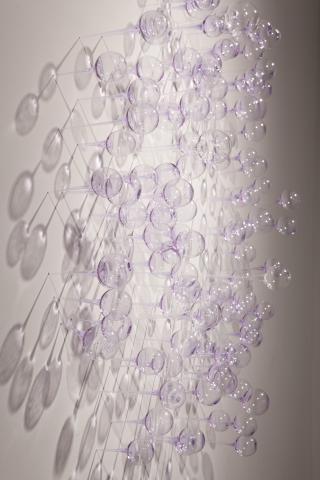 Coalescence Detail (2015), flameworked borosilicate glass (one breath per individual). Photo: Matthew Hollerbush.
Connect