Pre-College program
Early Bird Applications Open: February 5, 2024.
Save BIG on tuition by submitting your Pre-College Application between Feb 5 - Mar 29, 2024!
Pre-College offers valuable experience in the studio, building your portfolio, working with like-minded artist and earning credits towards your post-secondary education.
*students must be at least 16 years old by July 8, 2024.
Curious about pursuing a degree here at AUArts? Get a feel for the life of our students with Pre-College, a 4-week intensive summer program where you can develop your portfolio and earn 3-credits towards your post-secondary education.
Pre-College provides an opportunity to practice working independently, flexibility, and building a purposeful connection with your peer group through rigorous and interactive projects and discussions.
Besides immersing yourself in art and design, you will:
Build Your Portfolio
During the program, you will have a chance to build an awesome portfolio, engage in critiques, and utilize feedback to actively improve your work. You will finish the program with a solid, varied portfolio that will prove impressive for post-secondary admissions and bursary applications.
Prepare for University
The Pre-College Program is your chance to experience what post-secondary life is like. You'll participate in university-level studio classes under the mentorship of professional artists and designers. Students who participate in this program are more prepared for the transition into post-secondary studies. 
Earn Credits
The Pre-College Program is a credited First Years Studies studio elective, which means you will earn three credits toward an undergraduate degree. These credits are recognized at any art and design school across North America, giving you a head start on whatever program you choose.
Join a Community
Over the course of the month, you will meet others who are just as interested in art and design as you are. Many students who take Pre-College forge a special bond that carries them through their entire undergraduate degree at AUArts. In just one month, you may form friendships that last a lifetime. 
This program is also recognized by other art schools, and credits are transferable.
For more information please contact the Continuing Education office by email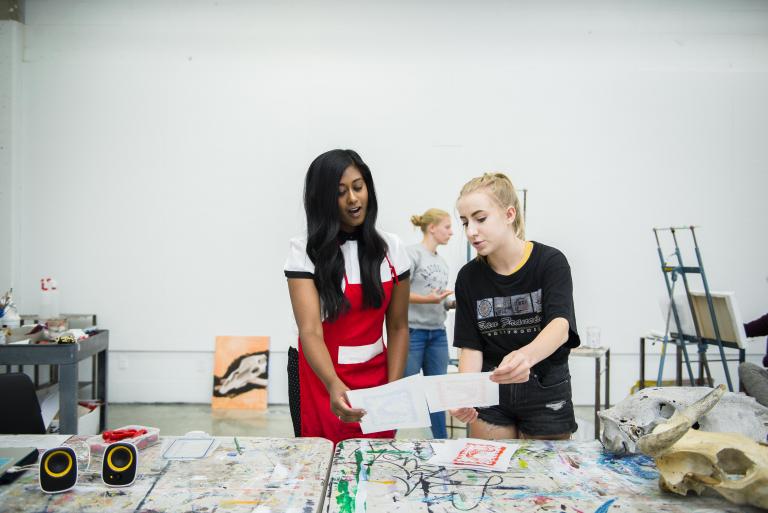 Alberta University of the Arts Pre-College Program