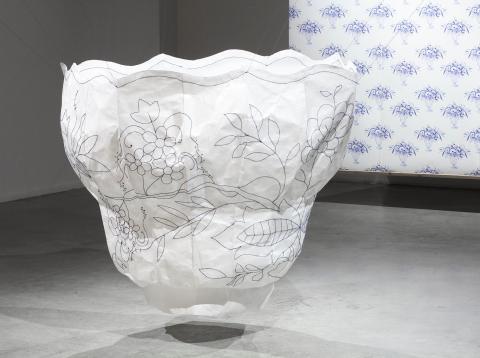 Iterative Imitation
tyvek, embroidery floss, digital print. 2015.
Born in Montreal, Canada, Martina Lantin has completed residencies in the United States and China and has taught throughout North America. Martina has written articles for both Studio Potter and Pottery Making Illustrated. She also served as guest editor for the 90th issue of Studio Potter journal: Border and Boundaries in 2017.   
Martina investigates the boundaries of functional ceramics through both thrown and hand built forms.  Slipped patterns partially conceal the richness of earthenware. These mutations of historical motifs prompt the consideration of the role repetition and rhythm have in the exploration of the everyday object. 
She has been a member of AUArts' Faculty since 2014.
Education
MFA, Nova Scotia College of Art and Design.
BA, Earlham College.
Selected Professional Activity
2018 - Panza Gallery, Milvale PA, Form Demands Place, duo show with Zimra Beiner
2017 - The Dairy Barn, Athens, OH, Contemporary Ceramics 2017, invitational
2016 - Liling Ceramics Valley Museum, Liling, China, MODE; an International Exhibition, invitational
Selected Publications
Shultz, Katey. " Adding to the Story: the Work of Martina Lantin". Ceramics Monthly. 62.2 (2014): 36-41. Print.
Lantin , Martina. "An Open Door". Studio Potter. 42.1 (2014): 15-17. Print.
500 Prints on Clay. Asheville NC:  Lark Crafts, 2013. n.p. Print. 500 Series. 
Selected Awards
2017 - International Academy of Ceramics, new member
2011 - Emerging Educator Fellowship, Integrative Teaching International, Athens, GA
2010 -  Individual Artist Fellowship, Tennessee Arts Commission