Photo: Richard Walker
BACHELOR OF DESIGN / INDUSTRIAL DESIGN, 1962
ALUMNI DISCOVERY INITIATIVE, INTERVIEW BY BRANDON GIESSMANN, 2015
Brandon Giessmann: It was several decades ago that you attended what was then called the Southern Alberta Institute of Technology - Alberta College of Art (now ACAD). What did you gain from your education?
Richard Walker: ACAD gave me a solid and broad foundation in design and it enabled me to pursue a life-long career in that field.  Through my education I gained an appreciation of the role that design plays in problem solving and in enhancing our everyday lives. One illustration of that would be the design I did for a U.S. contest just after graduating. The challenge was to create a tamper-proof pill container and I designed a push & twist-off cap, now common but then a breakthrough. I received a financial prize and publicity but the company sponsoring the contest retained the patent rights for my design; an early lesson learned.
GIESSMANN: When did you attend ACAD?
WALKER: I left ACAD in 1962 after completing a two-year diploma in general arts. I had finished my third year of a four-year program in industrial design, but ACAD temporarily closed it as there were only two students and we had constant attention from seven instructors. I transferred to Ontario College of Art (now OCAD University) to finish my industrial design program and I graduated second in my class with honours in 1964.
GIESSMANN: What was the work like back then in the design program?

WALKER: It was pretty exciting. The people who were teaching the program were working professionals. We got right into it with industrial design materials and processes including touring local manufacturing facilities to gain an appreciation of methods of working with materials such as glass, metal and plastics. We toured a lighting factory and explored the art and sculptural elements of lighting along with the design, engineering, and manufacturing methods. My years at the Alberta College of Art were full immersion with an intense workload and I learned so much. While I continued to work hard at OCAD, I only got a little more polished. I put in more work and I think I achieved a higher skill level in my three years at ACAD than students graduating from the four-year program at OCAD at that time.   
GIESSMANN: Did you end up working in industrial design?
WALKER: I was fortunate, as I worked in one form or another in design for my entire career, and I continue to use those skills to this day. After graduating I was hired immediately by Domtar as a functional packaging designer. I created a variety of innovative solutions for manufacturing clients and registered patents for a number of new product packaging designs that I created.
One of my special projects was for a suite of corrugated furniture for a student residence that gained media attention on the front page of all three Toronto newspapers. I was passionate about the project and went on my own initiative to Simpson's & Eaton's who were the major retailers back then. They expressed interest in placing orders but I was then informed that corrugated furniture was not part of Domtar's core business.   So with my youthful exuberance I ventured out into another industry. In addition to what I gained at college, my first job was a tremendous learning experience that gave me valuable knowledge about a variety of materials, processes, manufacturing methods, and how to work with clients.   
GIESSMANN: A lot of graduates use the ACAD degree as a creative stepping stone. Did you continue to work in the industrial design field?
WALKER: Yes. Industrial design has broad applications and touches every aspect of our lives from the functional Ikea bookshelf to the aesthetics of a well-designed hybrid car. After Domtar I joined a design services firm called Stewart & Morrison, Toronto, New York, London. It was the largest design firm in North America at the time with 88 employees. I was the creative director and managed packaging design, product development, exhibit design, and corporate identity for national and international clients. I created identities and product branding for many North American companies such as White Spot, Maple Leaf Foods, General Foods, and Alberta Distillers. I was doing extremely well and after about two and a half years I wanted the opportunity to become a partner, but it was a tightly controlled and that had never happened in the history of the company, so I exited.   
GIESSMANN: Did you work exclusively for design companies after that?
WALKER: I worked on both the service and client side of the business with corporations, manufacturers, leading design firms, and eventually as a design-management consultant, which at the time was a very new endeavour. For 18 years I worked with Labatts and the parent company John Labatt Corporation, becoming their Director of Creative Services. The sales of the company when I joined were $268 million and when I left they were $6.2 billion. It was a time of rapid growth and a very exciting work environment. I led a number of brand innovations that helped the company grow such as the world's first twist-off beer cap on a returnable bottle, new moulded bottles, full-colour printed cartons, and at least 101 beer labels that reflected Labatts' international and regional brands.
GIESSMANN: Many designers starting out today have multiple contracts. What was it like to work at one company for that length of time?  
WALKER: Everyday was different, exhilarating, challenging and rewarding. John Labatts held a number of diverse interests and in addition to branding and designing for beer, I also directed design that ranged from food and beverage brands to sports and entertainment. I was involved with the design for Laura Secord, Jackson Triggs, Catelli, and TSN. I managed a wide variety of special projects; one summer I was picked up and flown to Brazil to design the car, uniforms and promotional material for the Grand Prix Formulae One driver, Emerson Fittipaldi, who represented our Sköl brand. Following a holiday trip to Cuba and a chance meeting with Raoul Castro, arrangements were made to divest one of our provincial, under-utilized beer processing plants. We sold Cuba the brand rights, technology transfer, and equipment for producing Crystal beer which remains one of their leading brands.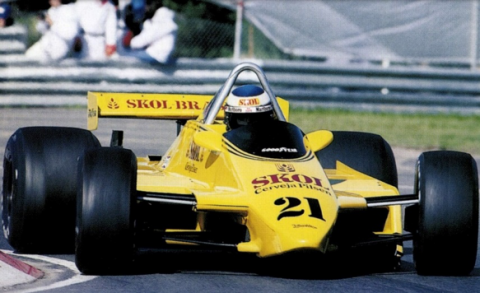 Emerson Fittipaldi
GIESSMANN: Did you work solo as a designer?
WALKER: Good design requires a vision from a brand leader or champion, but it also is a collaborative team effort between the client, designers, production companies, manufacturers, advertisers, and more often than not it requires some savvy political navigating. One example of how the process can unfold happened during my time at Labatts. The company had a 45% stake in bringing a baseball franchise to Toronto in 1976. Labatt took the lead role in marketing the team name and developing the Toronto Blue Jays' image. When I worked at Stewart Morrison we had designed the iconic Montreal Expo logo, and based on that experience, I was deemed to be the right guy to manage development of the Blue Jay identity and roll out. 
I led the project and set up the parameters of what I wanted based on my research of sports logos and colours. I knew that the logo had to fit in a circle to reflect a baseball. I selected red, white and blue for the colours as they are used universally in sports. Blue tied-in with the Labatt "Blue" brand and it was a good colour for Toronto.  The red maple leaf was a critical focal point to ensure the Blue Jays clearly registered as Canada's team. I directed the conceptual development of several designs and worked with the late Paco Belsue – a draftsman at Savage Sloan – who put together all the detailed elements for the design finalists that were presented to the Toronto Blue Jays' Board of Directors for final approval.
I knew the 3-colour design option with the blue jay and maple leaf was clearly superior and the right choice. That option was met with some resistance from Peter Bavasi who came from the U.S. to become the first General Manager for the Jays. Bravasi thought the logo should be two colours without a maple leaf for ease of production and to reduce costs. I had to do some behind the scenes lobbying but in the end I was relieved that the logo I recommended was unanimously chosen by the board.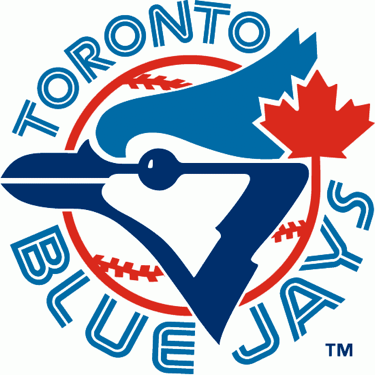 Toronto Blue Jays logo
GIESSMANN: Wasn't that a hard act to follow?
WALKER: True, it is the most iconic and recognized brand I have worked on, but I also took pride in other brands and my evolving roles. I gained recognition as a guest speaker, judge for design awards, and as Packaging Committee Chair of the Brewers Association of Canada. In the latter part of my career I moved out of the corporate world and returned to the service side of branding and design with Savage Sloan as the firm's President and Managing Director. One of my first changes was investing to make the firm a leader in digital design, which was an industry which was just emerging at that time.  While at Savage Sloan I developed the Tim Horton logo and the "Always Fresh" positioning line that is still used today.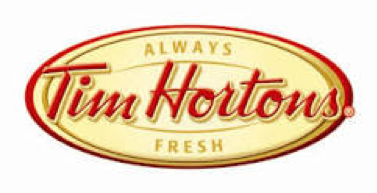 The Tim Hortons logo
From there I had a similar position with Tudhope Design and then I went on my own as a partner with Timmerman Tidewalker Design. My work in developing brands and corporate identities led me into design management consulting for multi-nationals such as a project for Mead Johnson, U.S.A., to optimize their in-house design systems, resulting in streamlining, modernizing, and outsourcing some of their design functions. 
My experience gave me expertise in beverages and sports that I was able to leverage. I had the opportunity to work in Europe as a consultant for a brewery based in Milan, Italy. On the service side of design I was involved in developing logos for a number of sports franchises including: The B.C. Lions, The Labatt Briar, Hockey Canada, Soccer Canada, the Labatt sponsorship of the Calgary Olympics, and the identity for the proposed Atlantic Schooner franchise in the CFL.

Logos for the BC Lions, the Atlantic Schooners and Soccer Canada
I did consulting and several other large projects over the years and in 1995 I decided to retire. I had made my mark and money and decided to follow a personal passion of retrofitting homes as a self-builder.  These projects were homes we lived in so they were designed with our tastes and I managed every detail which has richly rewarding.  We converted a working tannery that had operated since 1868 in downtown Toronto into a loft and art gallery that was featured on HGTV, and used as a set in many films and TV commercials. We later designed and built a steel and glass country home on a bluff overlooking Lake Ontario. Our last downsizing project was converting a radiator shop into a loft residence in Burlington, Ontario.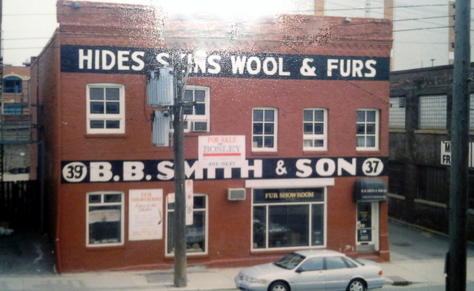 1868 Tannery, before renovations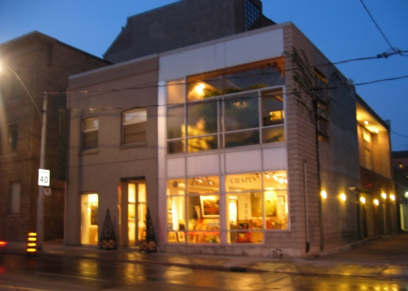 2 Abbey Lane, after renovations
I've always known that good design can deliver a competitive advantage to any industry whether it is an identity program or a product innovation that has global influence or delivers an economic benefit. Government plays a role in bringing these interests together and championing the transformational power of design. I decided to advocate for a more symbiotic relationship between these disciplines and took a year off to run in 2000 as a Federal Member of Parliament for Toronto Centre, Rosedale. I did not win against the incumbent who was the Minister of Defence, but I continued to push for integrating design between business, educators and design associations.   
GIESSMANN: What would you like to be recognized for?

WALKER: I've had a great life. I have travelled the world with my work, and now I am enjoying my retirement with family and friends. My wife and I are avid cyclers, we boat around Lake Ontario in the summer, and golf in Florida in the winter. I take pride in my accomplishments and enjoying seeing that some of my work has stood the test of time. I smile when I see someone wearing a Blue Jay's baseball cap or sipping a Tim Horton's coffee or drinking a Labatts' beer. 
GIESSMANN: Given your experiences, what advice would you give a student when it comes to pursuing a creative path?
WALKER: Keep in mind what you like to do and balance that with a understanding of what opportunities are out there and how you can fulfill a unique need.  I was never one to sit down and literally work it out. Although I would take a pencil and sketch or write some words.  I would always remember to ask myself:  "Is this where you want to go?" And, "What do you need to do to get there?"
GIESSMANN: After graduation, what obstacles did you encounter and how did you overcome them?
WALKER: I'm undecided if my impatience was a flaw or an asset. I had big ideas, enthusiasm and I really wanted to get ahead, but not everyone races at the same pace. I wouldn't say I really encountered a lot of obstacles. My design education didn't focus on self-promotion or business skills. I overcame this deficit by taking a business program at the University of Toronto that helped me immensely in being able to manage and run a business.  
I never thought of myself as a salesperson, but I was often told that I was really good at it by people I met. I'd ask: "What makes you say that? What makes me a good salesman?" It turned out it was because I really believed in what I was talking about, I knew the discipline of design and how to make it work on a functional and pragmatic level with various manufacturing methods, and I was very passionate. I swore I'd never be a salesman; but no matter what we do in life, we have to advance and defend our ideas – and never more so than to an audience that may not fully understand and appreciate design fundamentals.
GIESSMANN: How could you imagine ACAD supporting our alumni?
WALKER: Making and maintaining connections is important whether they are for networking in the present or reflecting on our roots from the past. So I think there is value in having our alumni come to the college and share their personal stories of success. I'm a great believer in internships and apprenticeships. I didn't get one, but when I got out into the real world there were so many things I learned through my work experience that fast tracked my career.
Another path to development is a mentorship program where people have dedicated time set aside to reach out to individuals or companies for advancing their learning.  It is important to just get a feel for what's going on in your industry.
GIESSMANN: Where does art fit into your future?
WALKER: On a personal side, I have always enjoyed visiting art galleries and we have a modest art collection.  When I lived in London, Ontario, I sponsored two artists to come and work with a master printer named Rudolf Bikkers, Editions Canada Inc. The artists were Paul Jenkins from the U.S. and Karl Appel from the Netherlands. I have a complete set of their limited edition, embossed lithographs in my home.  I don't think a designer ever stops designing. Currently I am working on a project to provide water access for kayakers at our condo and I am designing either a collapsible staircase or an alternative pathway to the lake. My grandkids have been exposed to art and I am happy to see a couple of them showing interest in art and design, and that alone would be a worthwhile legacy.
GIESSMANN: What else can we learn from you? How did your education at ACAD shape your career?
WALKER: The purpose of an education is for students to acquire skills and master tools and techniques, but in the greater world success comes to those who figure out how to apply those skills in a creative way that satisfies an unmet need or improves our quality of life. In other words it isn't the mastering of skills that is as important as a creative way of thinking.
It is also important to be flexible as you never know where your talents will lead you. A case in point for me was the restoration of the pre-WWII Labatt Streamliner; a delivery truck conceived and designed by Count Alexis de Sakhnoffsky, the famous French-Russian technical designer.
A colleague came across an old axel in a farmer's field in London, Ontario. I saw the opportunity to create a promotional vehicle that would reflect John Labatt's long heritage in Canada. I sold the idea to the company and replicated the historical graphics for the truck. We worked with Joe Scott, the retired President of the trucking company White Motors and his brother Bob Scott. This was before Internet so they sourced parts from a trucking magazine and they even ran a classified advertisement offering a $500 reward for parts. The Scott brothers spent thousands of hours and after six years they completed rebuilding the Streamliner.  As a brand ambassador for Labatts, the truck is in hot demand; it is booked well in advance, and it has travelled around the globe for parades, fairs, and special events.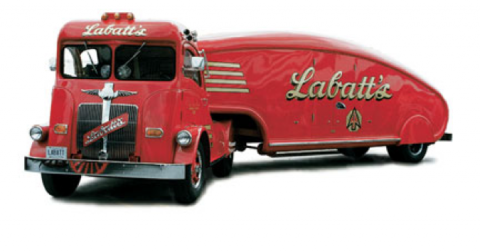 The Labatt Streamliner
GIESSMANN: Last question: what advice would you give new graduates?
WALKER: Never under-estimate your worth.  A design degree gives you a different way of seeing and thinking, which adds an important dimension to problem solving on any multidisciplinary team.
My suggestion at the beginning of your career is to keep a broad perspective – about how you can apply your talents and make a useful contribution with any endeavour, and then as your career progresses, focus on an area of interest that excites you and makes you a subject expert.  
Success comes from what we know, who we know, how we apply it, and that unpredictable element of serendipitous luck that is gained by being in the right place at the right time.