ALUMNI DISCOVERY INITIATIVE, INTERVIEW BY POLLY ORR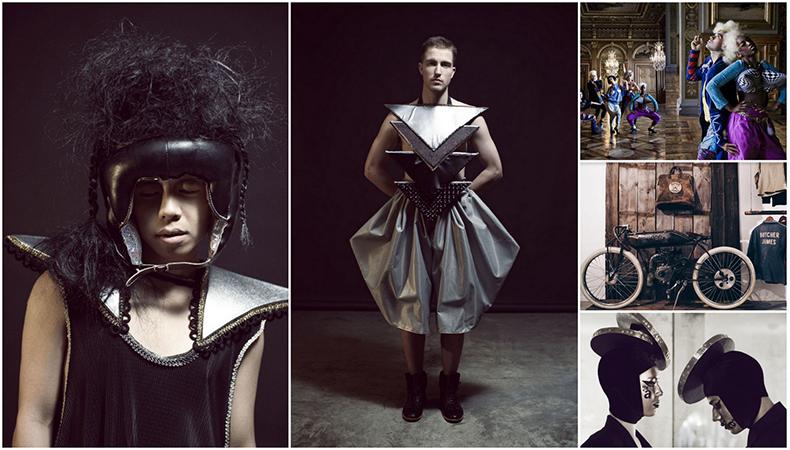 POLLY ORR: What years were you at the Alberta College of Art and Design?
DANGERKAT: 1 year – 2006/2007
ORR: What was your major?
DANGERKAT: Since I came in after just graduating with a BFA in Print Media from another school, I was there to explore courses in more of the Fibre department. However, because I wasn't trying to get another degree I didn't technically have a major. I was lucky to just pick out classes I wanted to learn specific skills from that I didn't have access to previously in school, such as wearable art, print pattern design, fabric dying, website design, etc.
ORR: What is your current employment?
DANGERKAT: I am a self-employed multidisciplinary artist. I like to do a lot of different things – I am writing and recording my debut solo music project, and working with Giovanni James on his LP and live show under our label/production company Monkey Dope. Together we have also created Butcher James (motorcycles, clothing, objects + vintage) and are getting ready to launch our NYC showroom and online shop in the New Year. So essentially, I'm still a work in progress.
ORR: How did your education help you evolve your career path?
DANGERKAT: The first thing that comes to mind is the emphasis placed on hard work. I remember one of my teachers Bill Laing used to grade us based on the amount of effort & time we put into our work, not necessarily the end results. They say that it takes 10,000 hours to really be great at something so I believe pretty firmly that it's ok to suck at first, because if you just keep giving it a serious go you will really have no choice but to get better. Secondly, I think getting my hands dirty in so many different mediums has gotten rid of any fears that other people may have when trying to create what they see in their head. Going to school and learning how to create truly opens your mind up to believe in your alchemy. I guess this has led me to believe I can accomplish whatever I put my mind to – be it music, dancing, art, clothing, brand design, DJ-ing, writing, directing and producing. A lot of these things I just had to pick up and go for it, but my education definitely gave me the backbone to try.
ORR: What was the biggest take away you gained from your time at ACAD?
DANGERKAT: I came to ACAD because I had 2 loves – dancing and visual art. I grew up spending time doing both pretty equally but struggled with the idea of choosing 1 as a profession. Dee Fontans had an amazing class called Wearable Art which was the deal breaker for me coming to ACAD. Her show/runway competition, Artawearness, was the catalyst that helped me see that I could marry performance and wearable art, which gave birth to House of Dangerkat – my art collective that essentially launched my career. In my time at ACAD I learned how to build my first website, establish my name and hone a style that would allow me to incorporate my creative passions rather than choosing one or the other. That 1 year in ACAD gave me space to create and develop the concept that would bring me to New York for the first time. I am so thankful for Dee and the openness and support from everyone at the school.
ORR: What are your most important artistic goals?
DANGERKAT: To be free to create whatever I see in my mind. To be unabashedly me and inspire others to be true to themselves. To forge new paths and challenge the norm. To make people feel something, and feel strongly. To shift culture and to empower others. To always grow and learn. To have fun!
ORR: What do you feel is the role of artists in shaping cultural and economic prosperity?
DANGERKAT: Artists are the mirror of society and of the times. Through the universal language of art, we can start conversations, inspire change and hopefully impact this world to be a more positive and vibrant place to exist. Therefore artists have a very important role to make work that can be that voice, to give colour to a sometimes dismal world, to give hope, or to start a revolution, or to just make this time here more beautiful and fun.
ORR: What are some of the challenges you have faced in your art career and how did you overcome them?
DANGERKAT: Being patient and not feeling good enough. Because I like to do so many different things it means learning new skills all the time. When you first learn something, you typically suck at it and feel somewhat hopeless. I've had to remind myself that everyone goes through this phase and it really doesn't matter how late in the game it is to learn something new. If you are passionate about it and can see yourself doing it you will keep coming back to put in that time. And when you get a little better each go around you know it's worth it. With that being said, sometimes you have to suck in public, but this is all part of growing. It takes balls to be an artist, but the reward of having fun because your career is doing something you love is the best thing in the world. I said patience because we all want things to happen right away but in most cases they take time to build. I had to learn not to stop and to put in that extra time even if it feels like an eternity. Details matter and typically to make something great it takes a lot longer. I learned to trust the process and believe. It doesn't matter if a million people believe in you or not, YOU have to believe. That is how you keep going.
ORR: If you had any advice for an ACAD first year student, what would it be?
DANGERKAT: Well, you made a good choice being there. Open your mind and try it all, and work your ass off. Spend as much time as you possibly can making work. Embrace your idiosyncrasies and run with them. Be fearless and be bold, and be curious. Writing and speaking about your work is very important – don't neglect this as it will help you get grants and opportunities to make your dreams happen. Learn HOW to write grant proposals. Make art with your friends. Most importantly have fun. Art has no bounds. Dream big!