2019 Alumni Horizon Award


 
INTERVIEW BY KERRY MAGUIRE, BFA '18 
Left: Mechanisms of Safety: the Physical Object (2019), collection of neckpieces, objects and one ring, collection view, steel, hollow form copper, enamel, paint, nylon, felt, glass beads, wood, leather, cotton, approximately 118cm in length, 30cm in diameter.
Right: Mechanisms of Safety: the Physical Object (Anchor and Beeper) (2019), two neckpieces, model view, steel, copper, enamel, paint, cotton, various dimensions and adjustable.
KERRY MAGUIRE: How did you end up at AUArts?
JAMIE KROEGER: I had been working for Parks Canada for 15 years, and at that point there was some big changes happening in the parks system. I realized it was probably time for me to move on and do something different. At the time, I was a self-taught commercial-style jeweler, and I decided that I wanted to learn more about the art aspects of jewellery making — I wanted to build more skills, and develop connections. So I applied to AUArts, and got in. It totally changed my life and my career path. 
MAGUIRE: Between when you started at AUArts and when you finished, did you change what it was you were doing within jewellery? Did you end up following the path you imagined, or something different?
KROEGER: It changed a lot for sure, especially in my fourth year. Up until that point in the program, you are focused on hard skill development; in that fourth year you are developing more of a conceptual base to your work, and experimenting and trying new things. Up until then, I was thinking that I was going to be a commercial jeweller. It was something I could see myself making a living doing, as people always need rings and whatnot. 
By the end of my degree, I had completely developed into someone working in the art jewellery realm. That is what inspired me to go to grad school, and as I moved through graduate studies my work continued to change. 
MAGUIRE: Tell me about the transition from AUArts to graduate school. 
KROEGER: I decided to apply for grad school right out of my BFA, mostly because I felt a momentum coming out of fourth year that I didn't want to lose. I ended up going to school in Oslo for two years; I actually just got back a week ago! It was incredible. I graduated from the Art Jewellery program at the Oslo National Academy of the Arts (KHiO). 
MAGUIRE: I'm not sure if you feel this way as well, but I've always thought that because AUArts has this really flexible jewellery program it seems that there's a really great local community of art jewellers. It seems to have a presence that might not be as strong in other cities — does that seem to be the case to you? 
KROEGER: It definitely does, and it gets stronger and better every year as more people graduate [from the AUArts Jewellery program]. There's new people moving into the city… even from when I first started at AUArts until now, the community has grown a lot. It's really exciting, I think we're going to see a lot of great work coming out of the school and the artists in that community. 
MAGUIRE: Yeah, also having jewellers cohabitating with other fine artists — sculptors, painters, drawers — probably makes for some sort of diversity you wouldn't see in an isolated program. 
KROEGER: You definitely see each discipline influencing and being influenced by the others. 
MAGUIRE: I guess you only graduated two years ago, in 2017. Since then has your focus been mostly on your studies, or have you had a practice outside of a school framework as well?
KROEGER: I'm of the opinion that you can never do just one of those two things — or I can't, at least. That's probably what I've actually learned the most going to school at AUArts and at KHiO, is that to be successful as an artist you have to do a hundred different things simultaneously. You have to have your foot in a hundred different doors. For me, that works really well because I am interested in a lot of things. No matter what it is — science, art — it influences how I make and what I make.
I've been doing some commission work. My program at KHiO was very intense so school was always my first priority, but when I could sneak in a few other things like commission work, writing, or illustration, I would focus on that as well.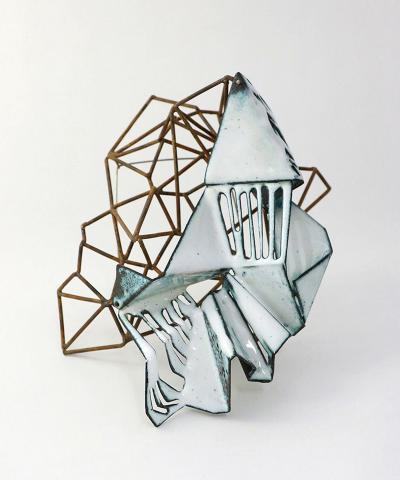 We have arrived (2017), brooch, top view, steel, copper, enamel, 17cm length, 12cm width, 6cm in height, photo credit: the artist.
MAGUIRE: Do you have any advice for students thinking of going to grad school? What are the differences between waiting a few years and letting your bachelor's degree sink in, versus doing what you did and continuing on right away?
KROEGER: I think it really depends on where you are at in life. It depends on whether you have the energy for graduate school right out of your Bachelor's degree, and if you have an idea or a starting point to pull you into your Master's studies. What you focus on in graduate school will change a million times, but it's good to have that initial foothold — a thought, an interest that you would like to pursue. If you have that plus the stamina you will need to keep going for two years, then I would say go for it. You have your portfolio all ready to go, and your thinking is maybe at a kind of peak. It's just a matter of applying to schools and continuing the process. It's two or three busy years of really hard work, but it goes fast.
If I could give one piece of advice, I would say don't be afraid of it [graduate school]. Just go for it. It will be the best and worst two years of your life [laughs]. And you will have a lot of support. 
MAGUIRE: Do you have any thoughts to share with someone making the kind of drastic career change that you did? Specifically from your work with Parks Canada into being an artist? Although I'm sure those two paths are not mutually exclusive and have influenced each other.
KROEGER: If I hadn't had worked for Parks Canada for that long, I'm not sure that I would have had this backlog of ideas to make art about. I think it would be the same advice I gave about pursuing your Master's: just do it. Make that drastic change, take a big turn in a new direction. It takes time. If it's exactly what you want to do, you are going to make the most of it. 
I realized that I had always made decisions in my life based around art, even before attending AUArts. For example, I decided not to do the mountain guiding program with Parks Canada. If I had been climbing mountains all the time, I wouldn't have had the time to make artwork. I knew that the hours would affect my art practice. After making so many decisions in this way, I realized I should probably study art.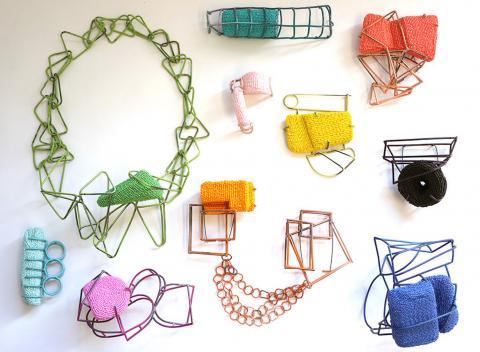 spatial variance and the emotional complexities of digging a hole (2018), brooches, ring, earrings, neckpiece, collection view, steel, felt, glass beads, cotton, acrylic paint, various sizes, photo credit: the artist.
It's the best decision I've ever made. Everyone who goes to art school will be questioned on the legitimacy of their decision: how will you make a living? What will you do with your life? But I am a true believer in the idea that if you work your butt off, and [art] is what you're meant to be doing, then you're going to find a way of doing it. And you will ultimately be a lot happier.
MAGUIRE: What does a day in your life look like? 
KROEGER: I usually get up pretty early; I find I work better, or at least write better, at around 5AM. I do all of my hard work that involves technical work, or intelligent decision making [laughs] before 2PM. I then try to get some exercise and be outside, because being outside is a big part of what influences my work and what I make.
I am very quickly realizing it's not just about making art and being creative all the time. There's a lot of calculator work in what I do, not to mention the whole business side of being an artist, which is kind of a necessity; it's there whether you want it or not. That takes up a good portion of the day, and I am at the moment trying to figure out how to balance all of that. I am thinking about whether I am scheduling that admin work into one full day, or doing it a bit every day throughout the week. 
Lost and Found: Yoho Valley (2019), two finger ring, side view, steel mesh, cotton, steel and acrylic paint, 8.5cm in height, 9cm wide, 5.5cm deep, ring size US 7,8, photo credit: the artist.
MAGUIRE: What do you describe as the value of having a creative education?
KROEGER: For me it all comes back to variability. Being able to try new things and to experiment with new ideas every day. That way of thinking keeps my brain active, and reflects the way I approach life in general. For me, it's about the consistent problem-solving. When I worked for Parks Canada, problem solving was 90% of my day. I feel like I've been able to transfer those problem-solving skills to my art practice; I am able to persevere through the parts that are more difficult. I can also bring those skills out of my art practice and back to life in general.
For example, I've spent three days making a big hollow-form piece, and then when I've gone to enamel it, it just falls apart in the kiln. Instead of just quitting or giving up, I've had to problem-solve my way out of it. Art is about figuring out what to do next, about determining what it is that you have to change about your process to make it succeed. Eventually all of this work pushes you in a new direction. It keeps the whole process exciting. 
>>> Meet other Alumni Awards recipients
Jamie's Instagram