LIV PEDERSEN, DIPLOMA, 1978, PAINTING
ALUMNI DISCOVERY INITIATIVE INTERVIEW BY SUSAN JOYAL, JUNE 2015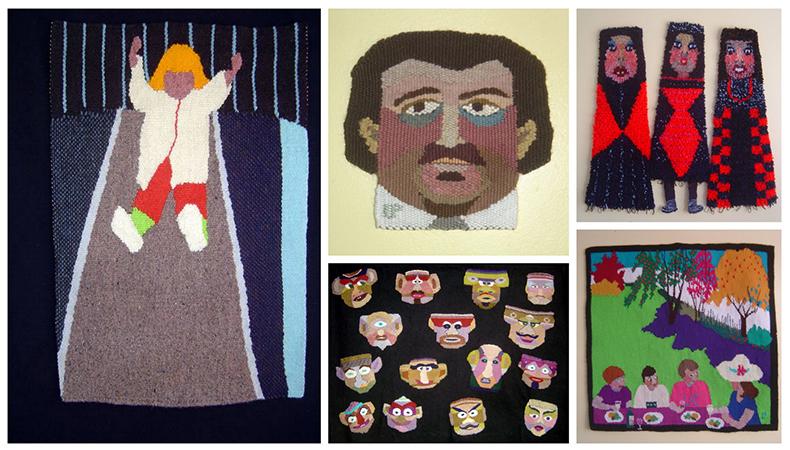 From left to bottom right: Pedersen, Liv. Signe Going Down the Slide. 1981. Tapestry. 56 X 36 cm. 
Pedersen, Liv. Mr. John. 2016. Shaped tapestry. 10 X 10 cm. 
Pedersen, Liv. Spirits of Lost Souls. 2010. Tapestry. 68 X 98 cm. 
Pedersen, Liv. Sisters of Mercy. 2016. 59 X 48 cm. 
Pedersen, Liv. Fall BBQ. 1996. 56 X 56 cm. 
Comfortably seated in Liv Pedersen's kitchen, our conversation begins over a slice of fresh-baked apple pie from a local European bakery. The interview was supposed to be about Liv's art practice after graduating from the Alberta College of Art (ACA) in 1978. And it is, but it is also about her life with her husband, Tom Ziegler, their two children, the places they've lived, and her work with special needs children because, for Liv, they are all interwoven. In every way, it is both fitting and perfect that Liv uses a primitive plank loom to tell her stories – tales from a lifetime weaved into narrative tapestries that are vivid and colourful, sometimes playful and always personal.
Liv and her husband, both from Denmark, met as University students while in Copenhagen. In 1972, Liv earned her degree in Social Work and, afterwards, they moved to Calgary (AB) so that Tom could pursue his Ph.D. in Theoretical Chemistry at the University of Calgary. In 1974, Liv applied to ACA and was very pleased to be accepted. She chose to major in painting to learn about colour, composition, imagery and art. Perhaps not surprisingly, given her background in social work, she often chose to paint people in social situations. In fact, 'people in social situations' became a theme throughout her career as an artist.
Liv discovered ACA's weaving studio in her first year. Doug Motter, a highly acclaimed weaver and instructor, proved to be a kind and helpful mentor – he introduced her to looms and the art of weaving and it was in that weaving studio she spent most of her spare time. By her own admission, Liv loved to draw and, though she learned to do "decent paintings", realized she'd choose a loom over a paintbrush most days.
After graduating, Tom's work would take them to Amsterdam. Just three weeks before leaving Canada, their son Helge was born and Signe, their daughter, would be born just 15 months after that. The young family of four returned to Canada in 1980 thanks to a Canada Council Grant, which allowed Tom to continue his work at McMaster University. Although the family spent only a short while in Hamilton (ON), Liv remembers that time with fondness. The neighbourhood had lots of young housewives with children less than two years of age and Liv and her two young children fit right in. A weaving from that time depicts her daughter going down a slide with joy and abandon. Liv also showed me another vividly coloured five-panel tapestry with scenes from that Hamilton neighbourhood against a backdrop of row houses and you can almost hear the women chatting, children giggling and the rumble of tricycles on the sidewalk.
In 1981, the family moved to Calgary, which they've called home to this day. Tom was a professor at the University of Calgary and Liv found a job working for the Catholic School Board. For the next 26 years, Liv worked as support staff for small classes of children with special education needs. According to Liv, the work wasn't too demanding, the hours good and she had summers off – all in all, "it was a great fit." Certainly, some might consider the demands of being a wife, a working mother to two children, the frequent moves, and non-existent art studio to be 'obstacles' to art making but, for Liv, they simply constituted her life. She added, "very few art school graduates will be able to make a living doing only art and graduates should be prepared to have other jobs." In fact, Liv believes that if she'd had a more art-related job, it would have interfered with her desire to create in non-work hours.
The idea of telling her own stories is one that evolved over time. When her children were young, Liv would do small weavings, often of children's fairytales. Local stories clipped from newspapers or magazines inspired too. A plank board, a hammer, nails and different coloured yarns were all that was needed. Then one day, Liv came across a book titled: This is our life: Tapestries from Botswana. The idea that she could tell her own stories, and that other people could relate and connect to those stories was, for Liv, a transformational insight. Tapestries of Little Red Riding Hood and Hansel and Gretel would be replaced with lively scenes of C-train cowboys and cowgirls heading to the Calgary Stampede or comical troll-like 'shaped' faces (a tribute to her Scandinavian heritage) or any number of other stories that Liv had a personal connection to. Liv's primitive loom weavings are best characterized as small-scale, flat and colourful, often humorous narratives – and that is what she would most like to be recognized for. "Finding your own voice, getting past all that's been done and doing something in your own way that catches other people's attention," is what she'd counsel ACAD students to aim for.
Liv is a member of Alberta Society of Artists (ASA), Alberta Crafts Council (ACC), Canadian Tapestry Network (CTN) and Calgary's Centennial Art Gallery. Her weavings have been featured in national and international (USA, Asia, Australia, Europe) shows. Most notable selected shows include From Lausanne to Beijing. 8th International Fiber Art Biennial (Nantong 2014) and Fibreworks. Library Galleries (Cambridge ON 2012, 1996, '94). Recently, she was named a finalist in the Kate Derum Award, Australian Tapestry Workshop (Melbourne 2015). In total, her CV lists eight (8) travelling shows, 15 selected group shows1, and four (4) selected solo exhibitions spanning a career nearing four decades. A retrospective of her work is planned for 2016, as part of Alberta's Travelling Exhibition (TREX) program.
"Public art is what sets different cities apart" and Liv believes creativity greatly benefits society and that's especially true in difficult economic times. Her interest in "people in social situations" surfaces here too. The Centre Gallery, which Liv describes as, "a continuation of art school, with themed exhibitions involving poets, musicians and visual artists," was especially dear to her. She also participates in artist-run centre events such as Artist Trading Cards (ATCs) Trading Sessions hosted by local galleries (i.e. The New Gallery, TRUCK). Events like these facilitate collaborations between artists and non-artists allowing them to be creative and learn from each other.
As our interview drew to a close, I asked one of the last remaining questions, "how could you imagine ACAD supporting its alumni?" and Liv offered three great ideas: (1) organize alumni exhibitions of artworks (2) create an online forum for individuals to ask questions of alumni and former teachers and (3) make photo documentation facilities available to alumni.
Liv said that she does art because it makes her feel good; it is a lifelong practice that is spiritually nurturing and nourishing. Her answer did not surprise me. You can see it in her face; in the way she describes the story that inspired a particular weaving. Life has good moments and also some very sad moments. Tom Ziegler passed away suddenly and unexpectedly on March 24, 2015. A weaving titled, "Grief"2, already exists.
1Liv is especially proud of her representation in these travelling group exhibits:
The 8. International Artistic Linen Cloth Biennial (Krosna PL 2014-16)
The Art Is The Cloth. New Hampshire Institute of Art (USA 2014-15)
The 9. Baltic Minitextile Triennial (Gdynia PL, Nurnberg DE 2013-15)
All About Alberta. ACC (Canada, S. Korea, USA 2006-09)
2The weaving, "Grief", is now part of a collection of the husband of the late Kate Derum, founding organizer of the Australian Tapestry Workshop.