AUArts: Who is Neshka?
Neshka: Neshka is the name of my design studio. It is also my nickname which I've used since university. In my last year at AUArts (ACAD at the time) we did a corporate identity project. I created "Neshka" for my jewellery designs while studying.
AUArts: What have you been up to since graduating from AUArts? 
Neshka: I graduated from Visual Communications (VC) in 1997, seems like a very long time! I started working on graphic design projects right after graduating, but my jewellery design business grew very quickly as I signed a contract with Hudson's Bay. I spent quite a few years focusing on "Neshka", the jewellery label. I designed 3-4 collections a year and had them made in Poland (where I'm from and where the amber jewellery industry is very vibrant). I also had production in Italy. I travelled a lot for work to take part in the productions or to visit the stores that carried my label. I had a great assistant working with me, she was the front woman for trade shows and PR. We went to trade shows in New York, San Francisco and Toronto. Later, I was also invited to curated shows in Milan. It was a fast start that demanded a lot of time spent on the business side of things. With time I found that not only designing but making the pieces myself became more and more appealing. I started making large, sculptural pieces in raw amber and ebony wood and selling them in art galleries and museum shops. Those pieces lead to small sculptures, I call them Objets d'Art, and finally to large scale sculptures. I have been drawing and painting for many years, but there was little time for that in the beginning. 
Photograph provided by Neshka
AUArts: What do you consider your greatest achievement or accomplishment so far?  
Neshka: Professionally my biggest accomplishment might be the ability to take small-scale design and workmanship to large scale sculptures. Being able to work simultaneously in fine arts and design is wonderful, if draining at times, and I consider that my biggest achievement. I don't differentiate between design and fine arts — I love being able to do that!
A fun accomplishment was when Bill Clinton bought a necklace of mine from the Museum Shop at the Art Institute in Chicago. 
AUArts: What setbacks have you had along the way and what did you learn from them? 
Neshka: In the beginning, I didn't seem to have the life-work balance thing sorted out, so there are many years that I remember only blurrily. I didn't sleep enough, often forgot to eat and so on. I learned time management from mistakes, had to rationalize the need to sleep and rest. I was also not focused on details, or what we called "craft" in visual communication. I was so focused on the general ideas and design that I would send pieces poorly polished or badly packaged. That had to change quickly.
The biggest setback would be if I doubted the whole idea of what I was doing. That's a horrible feeling. Even when I had a plan or a design, I would occasionally doubt the whole thing - the whole purpose of making something. I had to learn to make a piece even if it wasn't good. I would later remake it completely or stash it away. I had to learn not to kill projects by overthinking them.
AUArts: In what way have you been challenged to see the world differently?
Neshka: I grew up in Krakow, Poland, a beautiful old city. I was always enthralled by beautiful architecture, painting, drawing, theatre and film. I observed the dense cultural life of a city known for its history, museums, universities, etc. What I didn't expect was to find equal intrigue in simple, everyday things. I live and work in rural Alberta, I delight in working with my hands, I find a lot of beauty in simplicity and in imperfection. I wouldn't call it a challenge, but it's almost surprising how I like driving through the crisp, white landscape in Alberta or how much time I can spend looking at driftwood on the West Coast. 
AUArts: Why is art, craft, design and creativity in general, so important?
Neshka: I have always thought that art, craft and design were the best reflections of the different times in history. We could start with cave painting and end with digital art or graffiti and see the need to express the slightly elusive (or the very elusive!) part of who we are.
I think that science has always been drawing from that blink-of-an-eye impression or the sense of possibility that art gives. Representation and technique are such small parts of art. I'm always fascinated by the part that is not quite definable. Having that in our life (and through history) really is like an added dimension, like another language that nobody speaks fluently but everybody understands on some level. 
On a more immediate level, different disciplines in arts give us a perspective on the goings-on in the world, teach empathy, engage, remind. 
AUArts: What inspires and motivates you? 
Neshka: Everything! I love architecture and forests. That makes a "Cathedral Forest", like the one on Vancouver Island a perfect combination! I love looking at fine arts, historical and contemporary, I like movies and live plays, also concerts — equally a piano concert by the Calgary Philharmonic or Xavier Rudd in Banff or at the University of Calgary. I listen to loud music when I need energy and to audiobooks when I need to focus.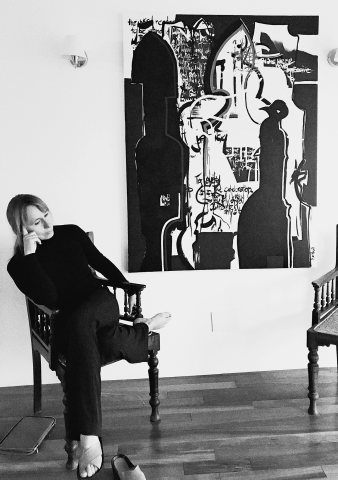 Photograph provided by Neshka
AUArts: What are three personal characteristics that contribute to success as an artist?
Neshka: Very hard work, having to create in spite of everything such as lack of sleep, time, money and resilience.
AUArts: Do you have a motto or a rule of thumb you live by?
Neshka: If not sure, do it!
My default setting seems to be to do something, then to step back and think.
AUArts: What media are you into right now?
Neshka: Audiobooks are probably the most important right now. I turn on a book and get to work. I keep some authors or readers for especially difficult parts of a project, it's an instant reward. Sometimes I look at a piece of ebony jewellery or at a painting and remember the story I listened to when I was working on it. It's like a double life!
I listen to a lot of fiction, but also non-fiction. I subscribe to a couple of news magazines in audio and follow a few podcasts. I am astonished by the impact of social media on political opinions. I've been sadly surprised by it for a long time. The next on my list is: Mindf*ck: Cambridge Analytica and the Plot to Break America by Christopher Wylie, a Canadian data scientist.
I love movies and live theatre. I go to art galleries and museums wherever I can.
AUArts: When and where were/are you happiest?
Neshka: My studio, the mountains in the winter, the ocean on the West Coast, with my family.
AUArts: What would you like to be remembered for? 
Neshka: I would love my family to remember my powder skiing….I would like my customers to enjoy the pieces of mine that they have, but they don't have to remember me, just the quick impression my work may give them.
AUArts: Any advice for recent AUArts graduates who are just starting out?
Neshka: The cliché - follow what you really want to do - seems to work. Be intellectually agile in how you do what you want to do. A different approach might be needed, enjoy change.  Really don't worry about mistakes, learn from them and go on. Some say that you should focus on one thing and do it well. I certainly haven't found that to be crucial. If you want to work in different mediums, or in 2D and 3D, then do.
AUArts: What's next?
Neshka: I'd like to be able to give more time to the big scale sculptures. I doodle and make graffiti canvases. I should probably make something out of those. I'm surprised by the need to express ideas or political views in my larger 2D work - let's see what happens there…
I come into my studio and see the worktables with stones and wood, the big pieces of cedar leaning against the wall, the canvases, I would love to give more time to all of those. I constantly have many projects in my head, only a few started…never enough time.
Know an alum you think we should feature? Email alumni@auarts.ca
See Neshka's Instagram
Connect