SVP, Culture and Org at Robots and Pencils 
AUArts Alum 2003, BFA | Media Arts and Digital Technologies
AUArts: What do you do, and where do you currently live?
Dan Kratt: I'm currently living in Calgary and working at Robots and Pencils as a Principal Creative. (Dan has recently become SVP, Culture and Org at Robots and Pencils.)
AUArts: Did you know you wanted to be an artist or designer when you were young?
Kratt: You have to rewind time to the late '80s when I was a kid. I grew up on Nintendo. I always knew I wanted to be part of making video games, but never really understood all the disciplines that went into making games.
In my last year of high school, I was torn between wanting to be a math teacher and going to art school. I ended up taking AP Art in grade 12 and I did really well. I couldn't let go of my dream of making video games, and I thought that art school would be my best bet for realizing my dream.
What's interesting is that the internal struggle I faced in high school, trying to decide between math and art ended up being a very powerful combination that would define my entire career.
I spent the first 10 years of my career making games, but what quickly became evident was that I was less of a game artist and more of a game designer. A big part of being a game designer is conceiving of creative mathematical systems that are reliant on the balancing of variables to create an experience. This might make perfect sense today, but in the mid-to-late '90s, very few people were aware of the existence of "game designer" as a career.
When I grew tired of the gaming industry, I wanted to join a company that would allow me to continue to use my creative, systematic thinking in new ways. I joined Robots and Pencils, which is a custom software consultancy. We build software for clients all over the world in every industry imaginable.
The meaning behind the name Robots and Pencils comes from a C.P. Snow quote that goes, "The intellectual life of the whole of Western society was split into two cultures, the sciences and the humanities, which was a major hindrance to solving the world's problems."
Robots and Pencils is the programmers and the artists, the sciences and the humanities working together. Looking all the way back to high school, it makes perfect sense that I'm here.
AUArts: How did you talk to your parents about wanting a career in art? What advice would you give to someone whose parents don't want them to pursue an arts degree?
Kratt: My parents were always very supportive of what I wanted to do. I like to think that they knew I had an internal drive that would carry me to success no matter what I ended up doing for school.
My advice for parents (and students) would be to read the book "21 Lessons for the 21st Century" by Yuval Noah Harari. Here's an important excerpt from the book:
"So what should we be teaching? Many pedagogical experts argue that schools should switch to teaching 'the four Cs' – critical thinking, communication, collaboration and creativity.
More broadly, schools should downplay technical skills and emphasise general-purpose life skills. Most important of all will be the ability to deal with change, to learn new things and to preserve your mental balance in unfamiliar situations. In order to keep up with the world of 2050, you will need not merely to invent new ideas and products – you will above all need to reinvent yourself again and again."
It's those core fundamentals, the four Cs, that allowed me to make the move from video games to software development, and who knows, in another 10 years from now, what's next?
The world is moving at such an incredible clip right now, and going to school to work at a very specific kind of job probably won't last more than a few years anymore.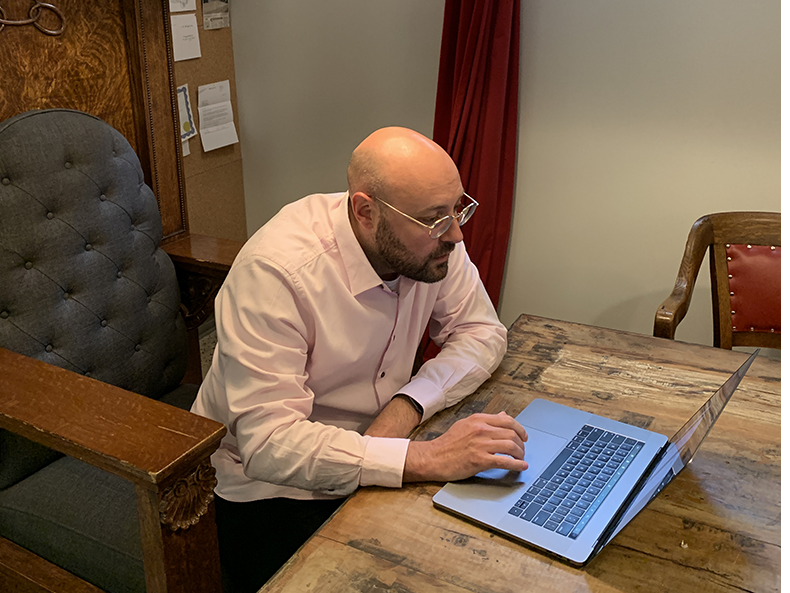 AUArts: So, an arts degree is a springboard for all these other possibilities.
Kratt: I mean, you're going to need some skills to hit the ground running when you graduate, but there's some sort of a longer, bigger picture, entire career fundamentals that I think are really important.
AUArts: What's the most important thing you learned at AUArts?
Kratt: I was super equipped with the critical thinking, communication, collaboration and creativity. Which ended up serving me much better in the long run. After I graduated, I ended up offering to work for free for a few months at a video game company in town. And that's where I learned the technical side of things. There's countless online courses to learn new software skills now.
The most interesting part of my time at AUArts was in my last year. We had a group project where five AUArts students were paired up with five students from the U of C that were doing their master's degree in Information Visualization. We had a weekend of idea generation and then paired off into teams, and we did cool sorts of projects together. It opened my eyes to realize that for the rest of my career, I'd be working with people with very different skill sets from mine, and that we'd have to work together to realize a vision.
AUArts: What encouragement would you have offered your high school self?
Your current decision matters less than you think. And that fork in the road isn't a fork in the road. Things are going to change so much through your whole life.
Your current decision matters less than you think. And that fork in the road isn't a fork in the road.

Things are going to change so much through your whole life.
Everything you're good at, everything you care about will become part of your career, regardless of your education. Use all the things you care about and are good at to define your road. Keep being yourself. Keep chasing your dreams.
instagram.com/robotsandpencils
Connect