AUDREY MABEE, DIPLOMA, 1960, COMMERCIAL ART
ALUMNI DISCOVERY INITIATIVE INTERVIEW BY SUSAN JOYAL, AUGUST 2015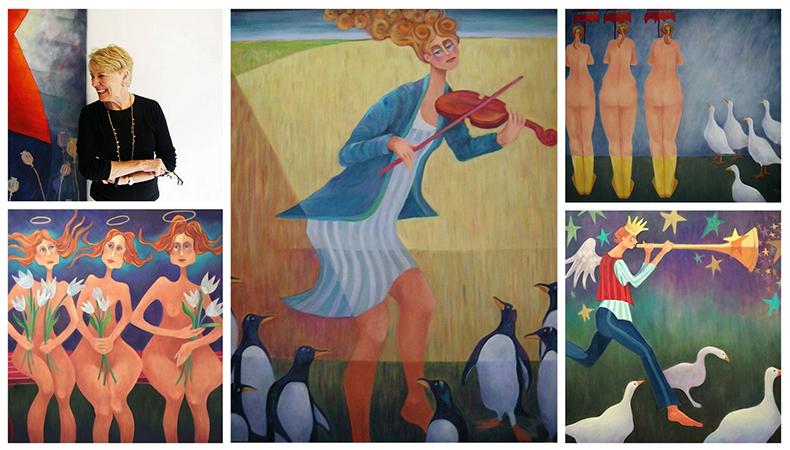 From top left to bottom right: Portrait of the Audrey Mabee, courtesy www.audreymabee.com
Mabee, Audrey. Sharing Secrets. 2015. Oil on canvas. 40" x 40"
Mabee, Audrey. Everyone's a Critic. 2014. Oil on canvas. 30" x 36"
Mabee, Audrey. Yellow Boots in the Rain. 2015. Oil on canvas. 36" x 30"
Mabee, Audrey. Following a Dream. 2015. Oil on canvas. 30" x 36"
I rang the doorbell and Audrey Mabee welcomed me into her home. She is both elegant and friendly, and I'm looking forward to our interview. Her paintings captivate — the colours are sumptuous and the shapes graceful. The subject is usually people and there's often humour, and maybe a bit of cheekiness too. It's obvious she has fun painting.
Audrey attended what is now called the Alberta College of Art + Design (ACAD) but was, at the time, a department of the Provincial Institute of Technology & Art (PITA)1. She earned her Diploma in Commercial Art in 1960. Many of the friends she made at that time are still friends today. A favourite instructor, the talented watercolorist and art educator Stan Perrott, became a great mentor and a lifelong friend; he taught her how to teach. After 3rd year, Audrey worked in advertising for Woodward's Department Store for two years. It was a tremendous learning experience that included everything from layout, proofreading, artwork, copywriting and display. Audrey says her art education and that early work experience empowered her with an, "I can do it," attitude, which would prove both essential and true.
Audrey taught after-school art and evening classes for the City of Calgary for many years. She was the art teacher at Strathcona Boys School for nine years. In 1974, she and her business partner, Betty Anne Graves, opened The Croft — a boutique gallery that specialized primarily in Alberta pottery and handmade Canadian arts and crafts. Audrey smiles as she recounts memories of those first days. Everything from getting the gallery interior ready (hammering weathered barn wood salvaged from a demolished pig farm) to the first day they opened their doors to the public. "We were swarmed." A shoebox served as a makeshift cash box (because they'd forgotten to buy a real one) and almost everything sold that first day! Audrey and Betty Anne had to plead with customers to bring back items they'd purchased to display at the Grand Opening, scheduled just a few days later. "We learned as we went along," which is consistent with her response to the question, "after graduation, what obstacles did you encounter?" Her answer: "none." Many of Audrey's paintings feature women who seem independent and self-assured, which is surely a case of art imitating life. The fun and the adventure of The Croft would last 23 years until they sold it in 1997. More recently, Audrey founded Artspace Gallery (2000-03), which had been described as, "a lively mixture of fine art, live music and the city's top event space"2. Audrey's son, Rob Mabee, an ACAD alumnus, former art gallery owner and, most recently, successful public relations professional, was the gallery director.
When it comes to establishing a creative business, Audrey proffers this simple imperative: "Go for it!" and then quickly follows with: "Do your homework", "Make sure there's a niche" and "Work hard!" Afterwards, she added that artists ought to be a visible part of their creative business. "Your visibility will help sell your art and a good gallery will do the same for you."
It is clear that Audrey is a huge proponent of ACAD. In the 1990s, she served ACAD in a number of distinguished roles: as a member of the Board of Governors (BOG), co-chair for BOG workshops and ACAD fundraisers, and as a member on several committees. In 1998-99, she served as ACAD's Interim President. Audrey maintains that Calgary has a very sophisticated art buying public and believes ACAD deserves a great deal of credit for that because "all kinds of people go through their doors and leave better educated about art whether or not they continue to make art." Creativity fuels imagination and the notion that almost anything is possible. And that's a world worth living in.
When it comes to ACAD supporting its alumni, Audrey, who was the first alumni president, turns the tables and offers this thoughtful insight: "the alumni must first decide what, exactly, it wants to be — a social network, a promoter of ACAD, a fundraiser, an events coordinator, a voice in the community, or something altogether different." Once decided, they'll need to formulate a solid plan and secure the necessary funding to execute that plan. It should be so simple and yet, through the years, Audrey has witnessed many reinventions/reincarnations of ACAD's alumni and the consequent scattering of focus, funds and momentum. With each new crop of graduates, there is new hope ACAD's alumni will focus and become the visible, respected and influential voice that it can be.
Community Service also features prominently on Audrey's CV. She has served on committees for the City of Calgary (Sculpture Advisory Committee, 2000-05; Calgary Public Art Board (2011-13)), the Alberta Children's Hospital (Art Committee, 2004-07), as well as being a board member for the Jane Cameron Foundation (2000-04). The list of exhibitions (21), awards (4) and book illustrations (8) is also impressive.
Audrey maintains that learning never stops. In fact, she can't recall a time when she didn't do art. As a child, she attended Saturday morning art classes. She's done weaving, batik, drawing, painting (watercolour, oil), and even writes short stories, poems and haikus. Over the years, she believes her style has matured and is more controlled (intentional), and she gleefully admits to a great love of new colours and being a "big colour mixer."
It was my great pleasure to have spent a couple of hours in the company of such a remarkable and accomplished woman. As our interview drew to a close, I asked her one last question, "What would you like to be recognized for?" She responded quickly: "being a kind spirited person who paints well." Personally, I think she's already earned a big checkmark next to that one.
1SAIT Polytechnic was first created as the Provincial Institute of Technology & Art in 1916.
 2Excerpted from http://www.axisart.ca/about/ 
Connect