Kerry MAGUIRE: How did you end up at art school?
Sarah ADAMS: When I first graduated from high school, I was actually too intimidated to apply for art school. Pastry school was the next creative thing that I could think of to pursue, so I went to NAIT (the Northern Alberta Institute of Technology) to take commercial baking and pastry arts, and began by channeling my creative energy to making cakes and pastries. Actually, while I was at AUArts, I was baking as a way to make extra income.
But art school was always my true goal. When I was a teenager, I was artistically inclined, ever the artist of my class. I knew that when I graduated high school, I had to go into something creative; art school eventually made the most sense even though I didn't really have a specific career plan.
MAGUIRE: What program did you end up in? I am interested in how each alumni's trajectory at AUArts morphs while they are there.
ADAMS: I actually did my first year at OCAD University in Toronto. My first husband was a graphic designer who graduated from AUArts. He was singing the praises of graphic design: better job opportunities, more employable skills… the usual. To compromise between his experience as a graphic design major and what I wanted, I settled on illustration. After Toronto, we moved to Calgary and as a transfer student at AUArts I went into the drawing stream. I was thinking "drawing! Illustration! It's close to the same thing, right?"
Of course, I know now that being a Drawing major at AUArts is very interdisciplinary, and not like illustration at all, but I am so thankful I ended up there. I wouldn't have been exposed to all the different media and disciplines that being a Drawing student affords you; I was really encouraged to explore, and was able to stretch my practice into installation, sculpture and multimedia. Having so much freedom and resources was ultimately better for me.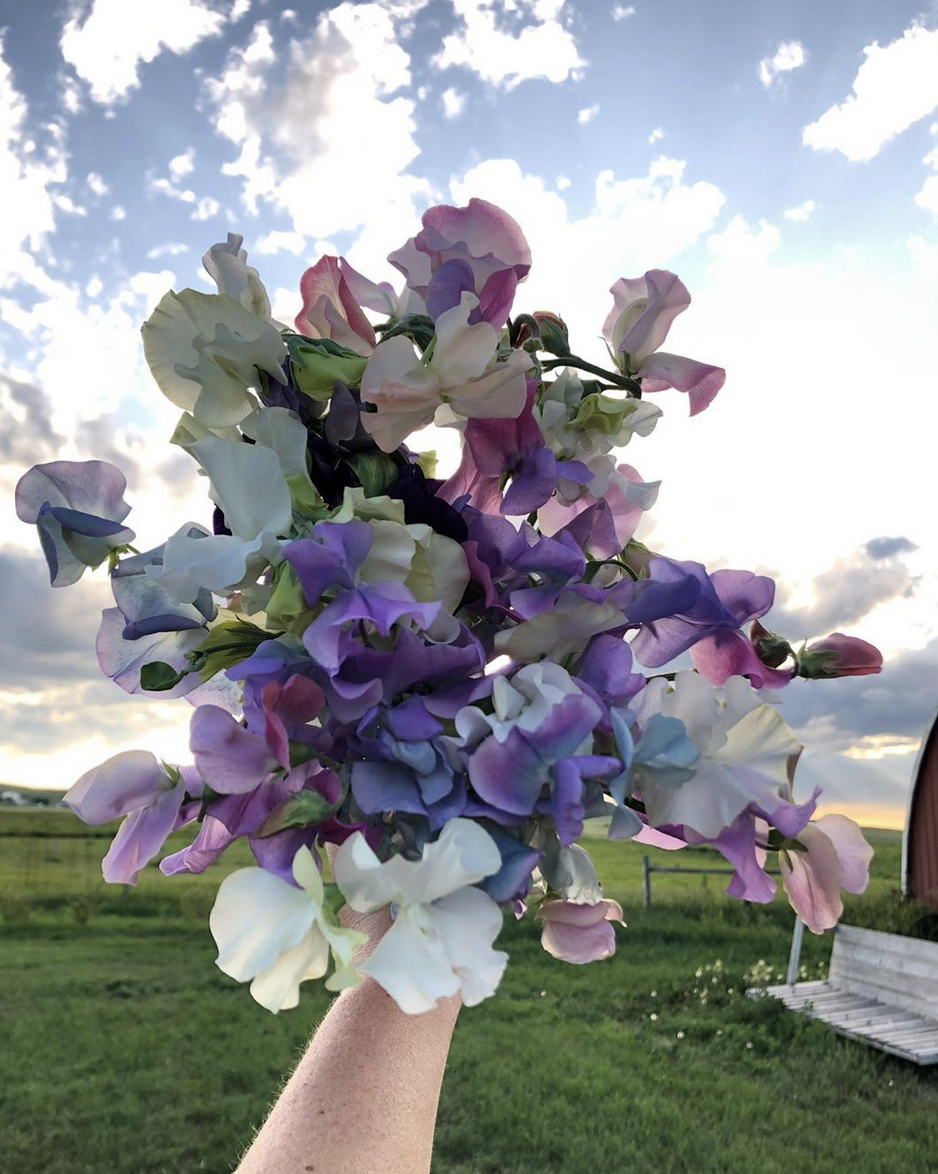 A bouquet of sweet peas
MAGUIRE: Are there any specific learnings or skills that have been really important in supporting what you've accomplished since graduating?
ADAMS: Absolutely. Aside from learning technical skills — most people probably go into art school thinking primarily about becoming really good at the technical side of making art —when I went to AUArts, I knew coming out of school I would have to define and build my own career path. So that's what I was thinking about from day one.
Problem solving is the key skill I've taken away from my entire experience there. Problem solving is having the know-how to start with "I need to do this, but I am not sure exactly how" and using that prompt to find out how to work with what you have: to understand how to work around your current limitations and maybe even find a new way to do whatever it is you're doing. It's learning from the rules, but also throwing them out when they don't serve you.
MAGUIRE: I was trying to take a mental catalog of the things I know you've done and was having a hard time because there's so many great projects you've been a part of… and I'm sure that there's many other things I don't know about! Can you explain how all these separate parts of your career fit together?
ADAMS: When I was in my last year at AUArts, I was really interested in critical writing. Putting ideas and thoughts down on paper and publishing them was what was really important to me at that time. I began by being involved in Calgary's local arts community, specifically with artist-run centres (ARCs) doing exhibition writing.
My core mandate at the time was about making art accessible to the public, to a pedestrian audience. I come from a Mormon background; no one really quite understood fine art or what it was about. I think my goal was to pull in my family and people like them, and in doing that be able to pull in a larger public and letting them know that everyone can be included in art spaces. This meant eliminating "artspeak" and other jargon from my texts. But at the same time, I was trying to push critical thought within Calgary's art community. I wanted to allow true critique to live in the art world outside of art school, which I wasn't really seeing.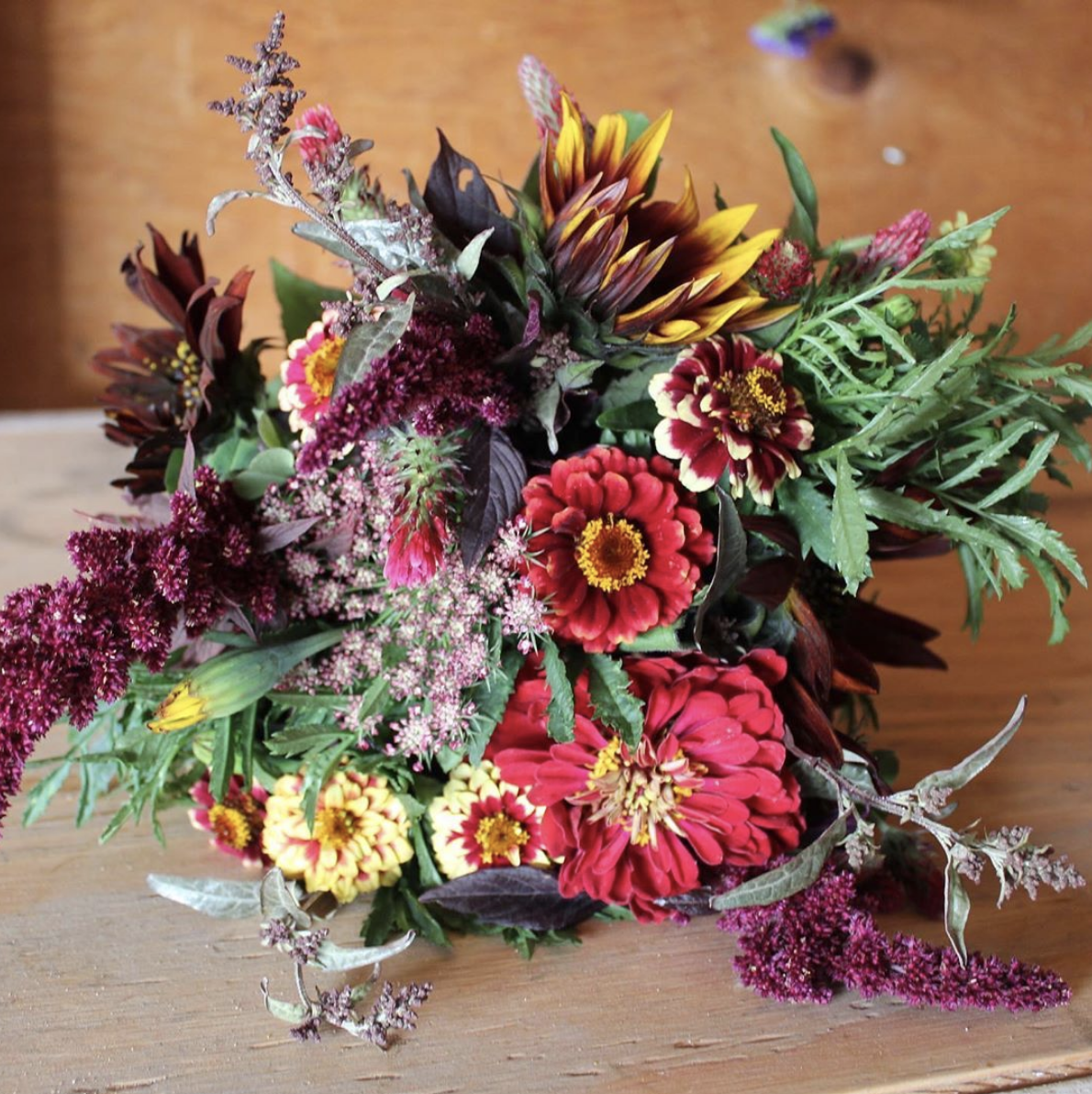 A late summer bouquet, part of Alberta Girl Acre's Late Summer Bouquet subscriptions
I was creating work and writing, and also getting side jobs: I worked for a typeface company called Veer, and me and a few peers started Pith Gallery. The whole point of Pith was to be a bratty space [laughs], to throw out all the expectations and elitism that were being upheld by other Calgary art organizations at that time. Through Pith, I was helping friends write artist statements. These were all people who were amazing artists, but maybe needed a little help translating their great practices into text. Pith is where I decided I wanted to be involved in curation and galleries in general.
MAGUIRE: What did your art practice look like at this time?
ADAMS: At the time, I was making work that was very personal, very autobiographical. I was working through issues with my family, with my dad, with my Mormon upbringing, and what these things meant. The more personal my work got, and the more intimate the details that I allowed to live in the public through my work, the more potent responses I was getting from people seeing the work. I really liked that interaction, but it got to the point where the work standing alone in the gallery didn't feel vulnerable anymore. The white gallery walls were a barrier for me to feel vulnerable, to actually connect with other people.
I had decided the most vulnerable thing I could do was be on a stage, so I put myself in situations where I would have to be on a stage, and trusted that I wouldn't die. I have a really funny family. Jokes were always a part of how we interacted and communicated. I hoped that if everything went well on said stage, I would be able to do stand-up comedy – to be funny. It worked, so I moved to doing comedy, while also working desk jobs to pay the bills. At Pith, I was taking on communications jobs, which I was also doing for other organizations. 
I then started working at CJSW 90.9 FM, where I was able to work in communications and work with a community, which aligned with my strengths and values. CJSW really epitomizes creating community around creativity. The only reason I left CJSW is because I was a single parent and the income just wasn't enough for me. I rallied to the board that the wages weren't sustainable, and I think soon after I left everyone got a raise, which is great.
I then worked for the Rosza Foundation for a while after that… and that went so well that I decided to buy a farm [laughs]!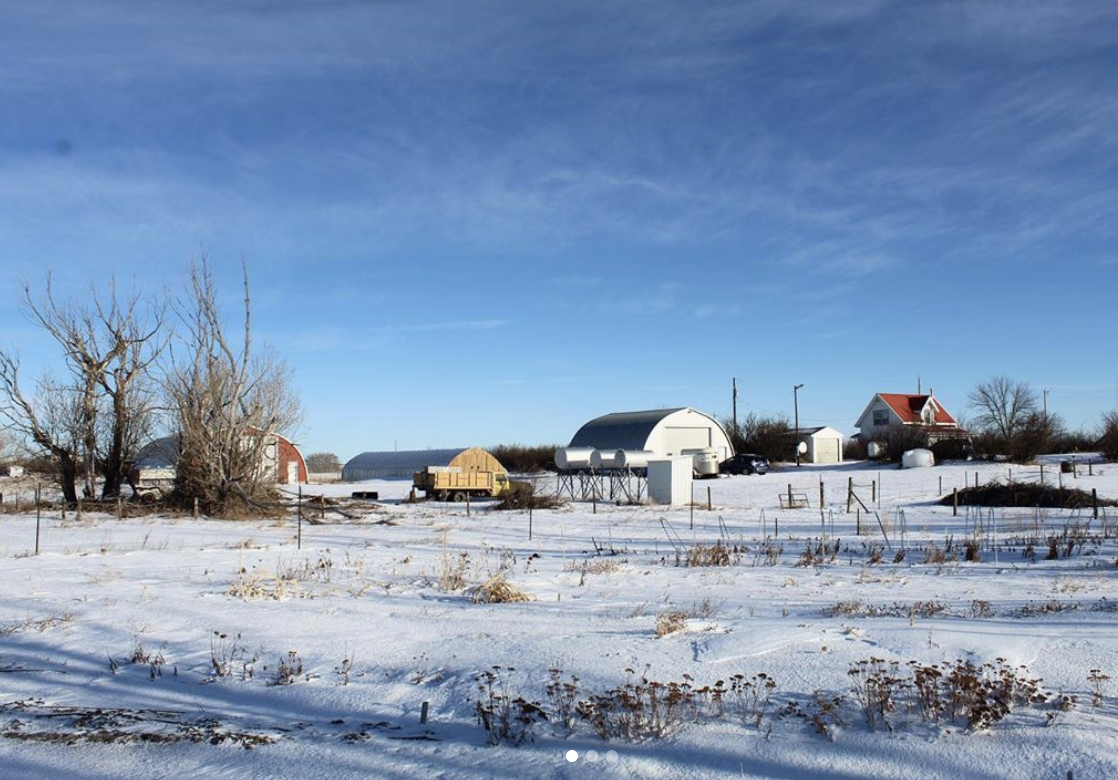 Alberta Girl Acres
MAGUIRE: Yes! That's what I am most excited to hear about.
ADAMS: I always wanted to buy some property… it was something I'd been thinking of doing forever. But when the opportunity finally came to get this cheap little place near Vulcan, I realized that I had to make money there too. However romantic it seems, I couldn't just live off the land in the prairies. So I got into writing business plans, which I was able to do because of my experience at the Rosza Foundation, and my other writing work from before. All these pieces — different slices of my previous experiences — I was able to pour into a business plan and fund development for the farm.
I essentially threw myself into an extreme situation — an abandoned homestead that no one had lived in for 30 years — and then challenged myself to make it work. I was in very deep, and to make it work I had to come at the situation as one of survival. We had to gut and redo the whole house with almost no money. I bought the property, and my parents helped with some of the renovations and did a lot of the actual renovation work. It was bonkers! But, again, I was able to draw on all my experience and training, and the problem-solving skills I was talking about earlier to find a way to make this homestead into a viable situation for me and my family.
So now I have a flower farm called Alberta Girl Acres. Flowers are a great avenue for a creative person. I loved to garden already — it's an obsession of mine that I now do on a greatly expanded scale. Besides selling flowers and bouquets, I can make paper flowers and products out of dried flowers on the off season. I can do wedding flowers… there's so much opportunity.
I also do lots of copywriting for the website, and engagement writing so that I can build a customer base to pull in a revenue.
MAGUIRE: I've been following you on Instagram since you first started your farm. There's a really nice story arc to your writing that I find incredibly engaging.
ADAMS: Thanks! I'm glad it comes off that way. I'm out here, pretty isolated, the only person for miles, which makes it easy to share. It's fun, natural and honest. What I am putting out is really genuine and I feel like it resonates. I have no other way I know how to do it.
There are also parts of running a business I can't stand. I think next year I might get my boyfriend, Nathan, to start answering emails because customers are so hard! I love engaging people, and I love that people are drawn into my business and my story, but a lot of people are so drawn in that they want to tell me how they would do things [laughs]. It's hard to convey to people that this is what I think about all day, every day. I have written dozens of business plans, and generally have thought of every possibility or eventuality for this place.
My demographic is almost all women. It's really amazing and great. They are all different kinds of women from everywhere — I have sold my book Don't Panic: A Business Guide to Small Scale Cut Flower Farming: Year One across Canada and to folks in the United States. In moving to Vulcan, Alberta and selling this book, I've been catapulted from my former Calgary bubble where I was working in art, activism, and for feminist organizations, which was a really easy social space to stay in. In that bubble, everyone is identity signaling all the time, and there is really tight curation of who is around you. Out here in Vulcan, it doesn't matter who you are: you are part of the community. It feels like when I first went to art school and had my mind blown open in realizing how much more there was to the world… out here in the prairies, I am having that experience all over again.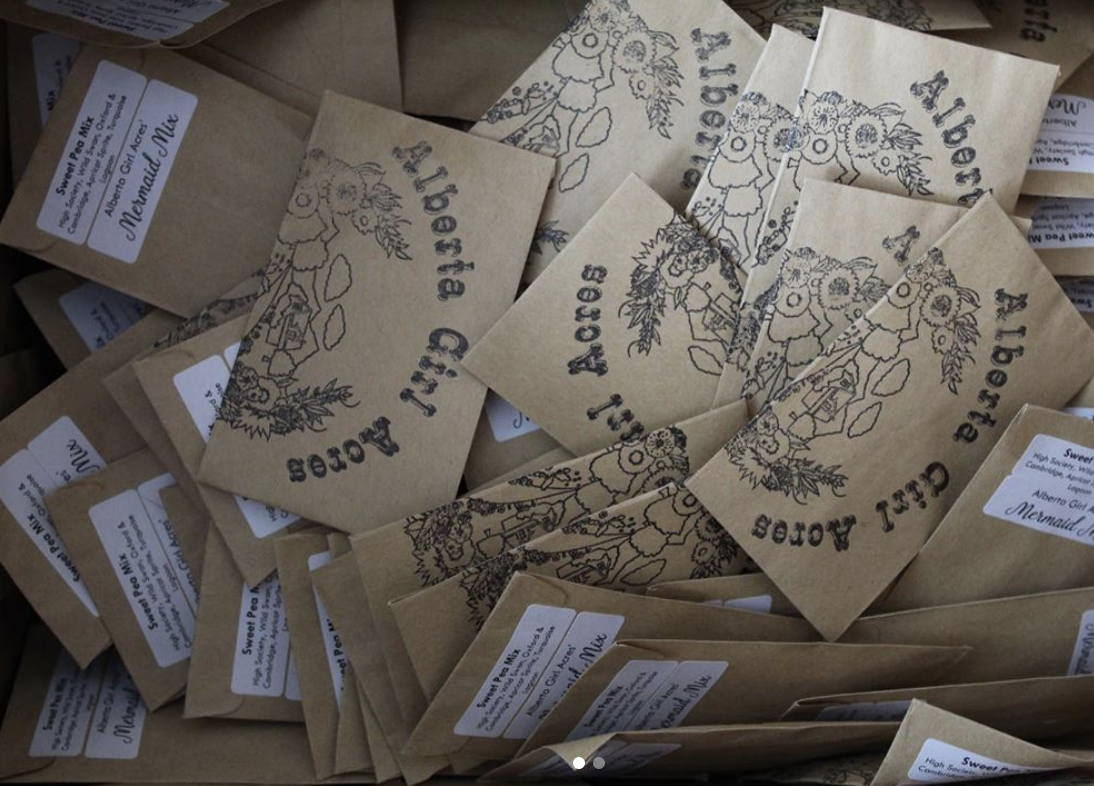 Part of Adam's business is selling seeds. Pictured is her sweet pea "Mermaid Mix."
MAGUIRE: What does a day in your life look like?
ADAMS: It's really seasonal, and the shifts are jarring. January is quiet; I do a lot of writing, last year I was writing my book. Now I'm writing my second book, and each book was or will be launched around March.
In terms of my more mundane day-to-day… I get up, I get the kids up for school. I do some stretches, I feed and water the animals. In the winter especially, I have to make sure they have running water. I basically make sure everything is alive.
I go for a walk down the road, answer some emails, package up some book orders, work on promotional material and marketing stuff. I review what I have stored, saved, dried, and pressed in terms of flowers. Right now, for example, I have a lot of pressed flowers and am thinking of making pressed flower phone cases. But then I have to review… is it worth it? Do I have the time? What do I have coming up that might be more important?
In February I set up my grow lights and racks and start hundreds of flower seeds. In February and March we also do a benchmark analysis of the business. My mom is my accountant, and we go over the past year's revenues, cash in, cash out, losses, gains, and file taxes. In March I start more seeds, and I prepare and start planting in the greenhouse.  April means starting even more seeds, planting certain flowers in the fields and preparing the fields for more planting.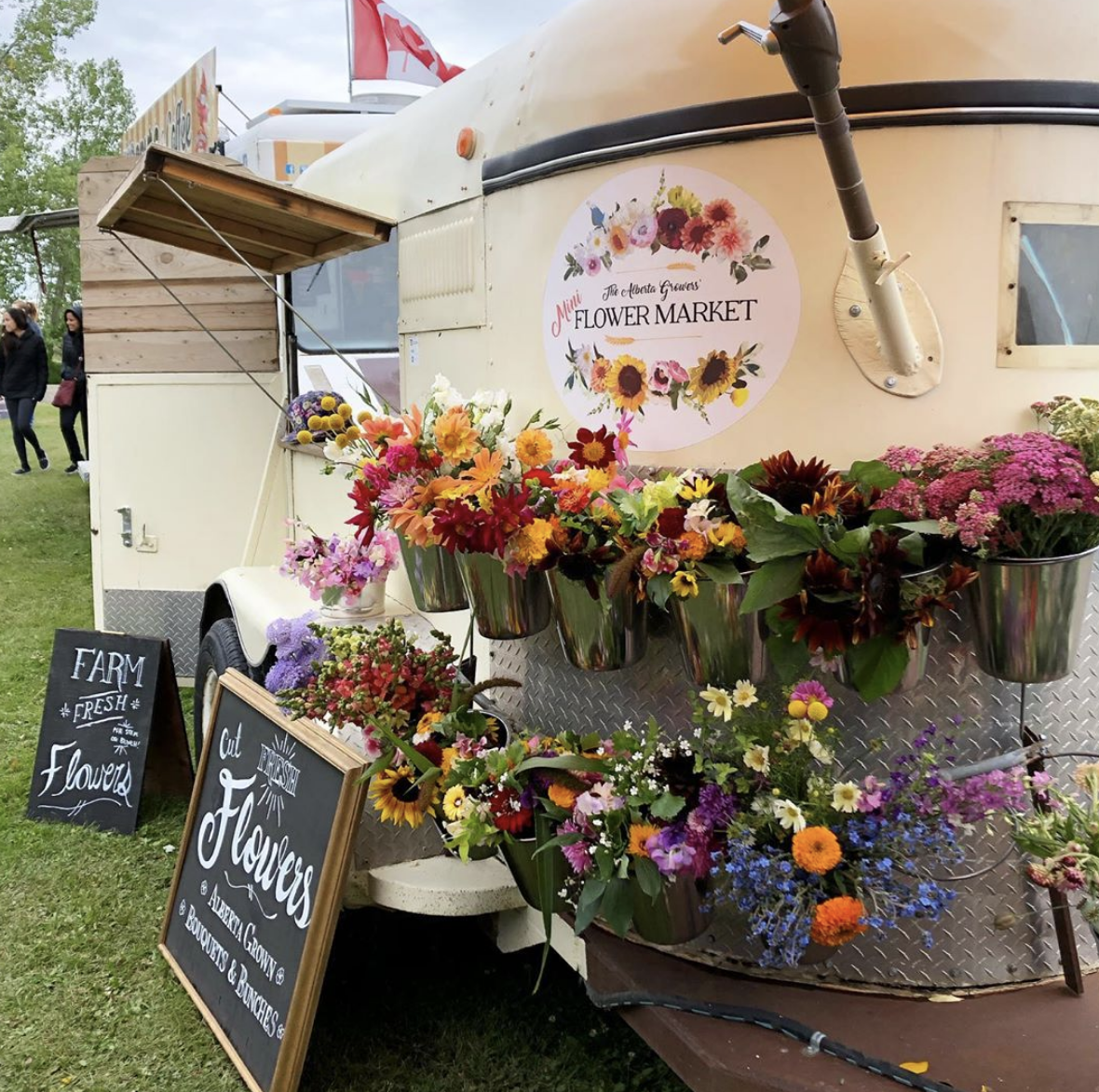 Adams converted an old horse trailer into a pop-up flower shop, pictured here at the Okotoks Farmer's Market
In the summer, every day is get up, harvest, condition the flowers, and do deliveries if I have to. I spend hours weeding. I have to make sure everything is watered because we are in a drought-prone area, so we do drip irrigation. We do daily rounds of the whole property. Every day is completely different: I might find something one day that needs my attention and then the rest of the day will be focused on that one task, which turned out to be quite urgent. A gutter might come off one of our Quonsets, and without it I can't harvest rainwater. Our joke out here is every problem is ten problems in disguise. I also have a flower trailer that we will take to various markets, and this year it will be shared among growers.
Going into our third year, Alberta Girl Acres' customer base is such that I can put things out into the world, and they will pretty much always sell. I can plan my year knowing my revenue streams with much more certainty. As new opportunities arise, I can consider them and see if they are good for me and my business.
It sounds a lot, but it's all I do. It's great, especially for someone like me. My career path has probably shown you that I can get bored easily. Here, I rotate what I am doing every day, and I always have many things on the go. My five and a half acres keeps me really busy and I have to be on the ball, which I love.
MAGUIRE: Drawing rom your specific experience, what would you say to someone thinking about going to AUArts?
ADAMS: Considering the job market right now, along with how quickly careers shift in our culture, the main advantage to AUArts is that you learn to adapt. You become a very skilled and very adaptable person. I think that you get out of it what you put into it; it's up to you what you make of it. If you go in to AUArts with a mindset of wanting to learn and do everything you can, and with a vision of building your own life after, you'll be set. Also, it doesn't hurt to learn some business skills along the way.
It can be scary to go down a path where no specific career is defined for you at the end. Let yourself learn and be shaped by the experiences you will have on your own, but you will be able to adapt and to fall back on your inevitable skill set.
For the majority of people, no one is going to hand anything over to us on a silver platter. We are going into a climate of uncertainty, and things are changing so quickly. Jobs and industries are shifting, and a lot of large industries are losing their customer core and they don't understand why. You need adaptability to thrive, and I do see a lot of more traditional industries reaching out to creative people for insight. Artists think outside of what other people have been programmed to think, and we can see a new path through. Be one of those changers, one of those adapters, one of those people that can bring beauty, fun and genuine joy into a really confusing world.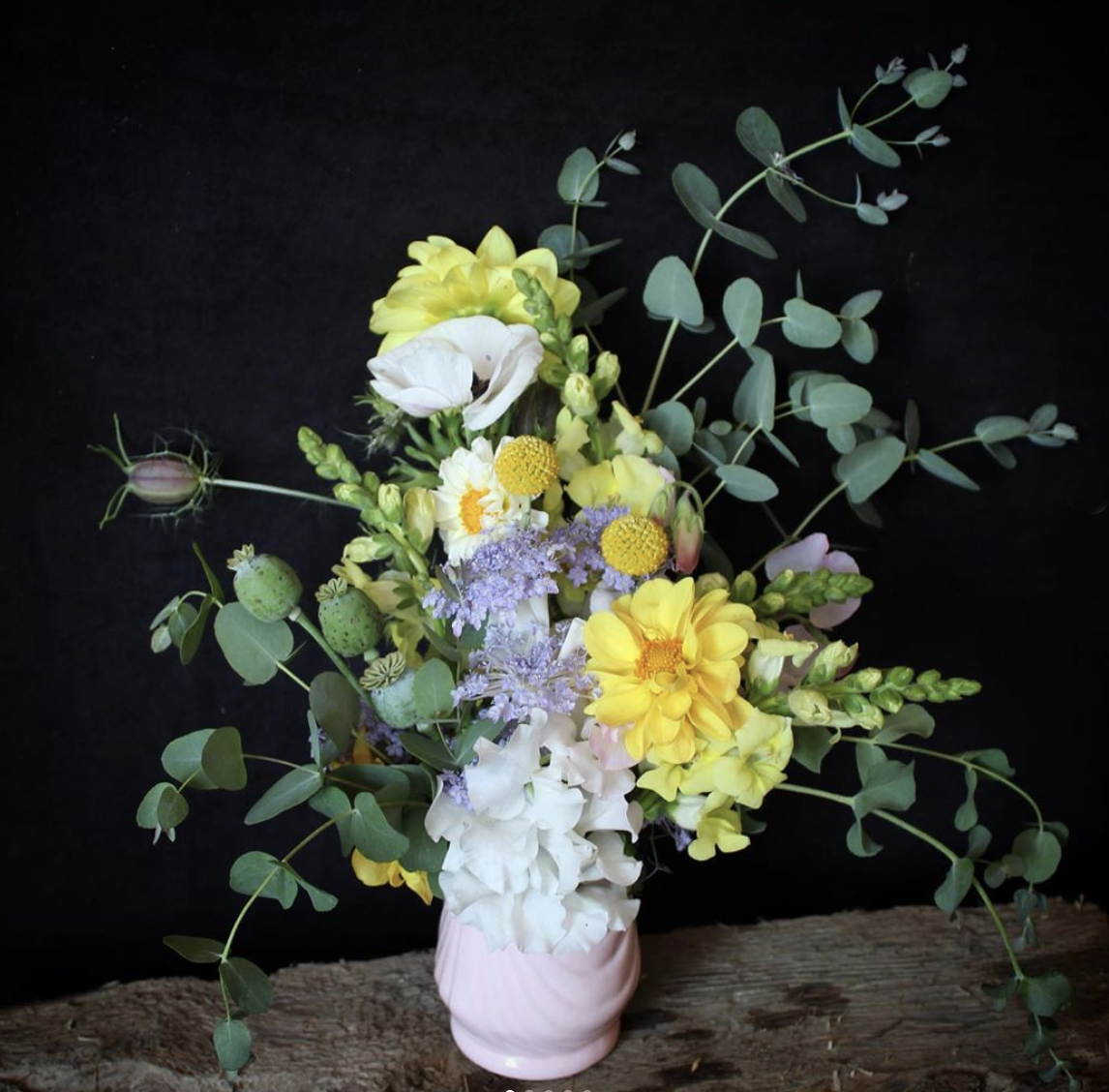 A bouquet created during one of Alberta Girl Acre's floral arrangement workshops
Connect