KAREN LANDRIGAN, BDES, 1986/2010, VISUAL COMMUNICATIONS
ALUMNI DISCOVERY INITIATIVE INTERVIEW BY VANESSA NELSON, JULY 2015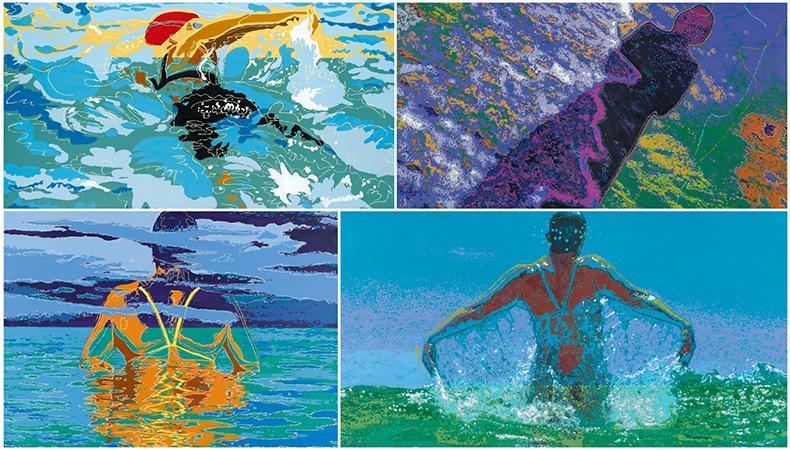 From top left to bottom right: Soaring, Acrylic, 36 x 48" 
Floating, Acrylic, 36 x 48" 
Emerging, Acrylic, 48 x 40" 
Breathing, Acryilic, 36 x 48" 
Vanessa Nelson: When did you graduate ACAD? And what was it called then? What was your major?
Karen Landrigan: I started in engineering school, then I switched to ACA in 1982 – 86 majoring in Visual Communications. We were the class that did the sit-in protest regarding having a separate school from SAIT. I received my BDES from ACAD in 2010.
VN: What areas did you work in after ACAD?
KL: For the first few years after ACA I worked in advertising, then I decided to work with Smith & Associates as a corporate designer, my biggest projects were the annual reports for TELUS – at the time it was the biggest IPO in Canada. There weren't very many women working in those boardrooms at the time. Even though it was like going into the lion's den as a woman, it was very satisfying work. I loved my job. In 1994 I moved to Scotland and worked as a designer there for two years, then moved back to Calgary. The day we returned to Calgary I was hired back at Smith & Associates and worked there for three more years. I moved to St. John's, Newfoundland and started my own company, Oxygen Design, Inc. In 2002 we moved to Houston, Texas and I continued to work via computer and phone, before briefly moving back to Calgary in 2007 for four months.
When we came back to the US in 2007 my immigration status was different. I wasn't allowed to start my own company. It wasn't until 2010 that I received my green card. So rather than take another person's design job, I decided to take some painting classes at the Glassell School of Art while I was recovering from shoulder surgery. Unfortunately, I had to return to Calgary for another surgery. After which I returned to Texas to take more classes. That's when I learned how to make jewelry, originally from a bench jeweler who had worked for 30 years! I loved working in fine silver and etching in sterling silver. That's the thing, for me art is a life of learning. It's a love for me.
My background in engineering had informed my jewelry practice. I have done well financially with my jewelry. A lot of my earnings go back into my studio.
VN: Do you continue to work in this area or did you change areas of interest?
KL: I had a major life event that changed the course of my career. I had a massive stroke and subsequent brain bleed which put me in the neuro ICU for five days and another ten days in the hospital. The stroke and the intracerebral hemorrhage destroyed most of my temporal lobe. So as a result I have aphasia which is a condition that robs you of the ability to communicate. It can affect your ability to speak, write and understand language, both verbal and written. I spent every day of the next 13 months in rehabilitation to recover. The cause of my stroke was a genetic disorder – likely my father and grandmother died from it. I managed to survive it, but to survive was very unpleasant. At that time my husband was working in Malaysia and he went back to work for another year. It was a hideous, dark time in my life.
With a stroke I wasn't even able to use my tools in my studio as it was unsafe, especially the torch and polishers. So in many ways art in the form of drawing and painting saved me in a way that I never expected. Prior to the stroke I worked as a corporate designer and a jewelry artist. I was not a painter until after the stroke – even though my mentor begged me to paint and draw full time. I thought he was kind of crazy at first… that wasn't my perception of me as an artist. When I went to ACA I believed I was the type of artist who would work at an advertising firm and corporate work, but certainly not painting. The first painting in 2012 was a portrait of my dog, because I figured that the dog would not be offended since he was deceased. The turning moment in my career was my next painting titled "Soaring" – a self-portrait – swimming out into the ocean, flying, or dying. I constantly draw. Some are whimsical figures and others are a start of an idea for a painting. So far I've transformed 16 of them into paintings. And I get up in the morning and paint, draw or make jewelry. Art has saved me. It gives me a reason to get up in the morning. It provides purpose.
So since the stroke my work has changed, I now paint and draw telling my story. Initially I started with reworking of early sketches, drawing of my dog and a woman looking out into the ocean. This all started after the stroke. As I was in rehabilitation – relearning how to speak and hear language I started to paint and draw. People kept asking me to write a book but they don't understand anything about aphasia. Since then I've been learning another business, the business of painting. I've had a lot of success and people have been very receptive to my paintings, my first piece was sold as a giclée to a buyer in Washington. Some of the people who have responded positively to my work have also had a catastrophic event. It touches them. That's how my work has changed. Art has saved me after the stroke, it's helped me focus my mind in a positive way.
VN: A lot of graduates use the ACAD degree as a creative stepping stone. So, what do you do? How has what you do evolved since graduation? How did your education at ACAD direct your career?
KL: First year I had Evan Penny, a sculptor, and I had just come from engineering to art school. I remember he taught a lot about tension, and active space. Since then before I do anything I think of his foundation about space. There were several excellent teachers, including Rick Zak. I think they were great because they were smart and very in tune with the rest of the art world. I only wanted to work in design. Illustration and figure drawing were of no interest to me. I thought I would only hire illustrators, and I once got to hire Brad Holland. We used his painting for the front cover of an annual report for Canadian Occidental Petroleum Ltd! The foundation year was a lot of drawing, the old school way was to draw the image initially – there were no computers to formulate an image. If you wanted to photograph something you would even draw it prior to the photoshoot. I learned a lot from Dennis Budgen. He is probably why I can paint and draw. It was just the beginning of my learning.
VN: What would you like to be recognized for?
KL: I think I had a fabulous career in corporate design, in corporate identities. I loved the puzzle side of it. I loved my job. I loved connecting identities and creating brands. I once worked with a helicopter company who wanted to create a new company, I designed everything, the name, tagline work, brochures, signage, interiors, logos, and business applications. At the time there was nothing I loved more than a well-designed corporate identity. I won awards and honours from a number of magazines such as Studio Magazine, Oilweek Magazine, Financial Post and the Society of Graphic Designers of Canada. In 1996 my work was featured in Print's European Design Annual. I learned a lot in Scotland, my travels and different jobs. However, after my stroke and, subsequent aphasia, my language was impaired and things didn't come as easy to me.
Luckily, I've done so much after, jewelry, leather, drawing, and painting. In the last three months if someone asks me what do I do, I now answer, "I'm an artist". That's now the most accurate response. Rick Sealock called me a "Renaissance Woman". I like that!
VN: What insights did your four years at ACAD give you when looking at things?
KL: After four years at ACAD I look at everything around me as balance, tension, colour, and beauty. For work it's all about visual communication and how it works into a corporate identity and brand. And now I take that into my art. It taught me how to explore the concept stage: by working free first then reining it into a solid concept based on concrete business objectives. It is a balance between free thinking and common sense. Now as a working artist I use all of the same approaches. I am my client. I want to communicate through my paintings and I have spent my entire life developing my own personal sensibilities through study, observation and reflection.
VN: After graduation, what obstacles did you encounter and how did you overcome them?
KL: The tough thing was to get a good job in 1986. Even worse, I had to move to a small town so I had to become a realtor. The good news is that was how I paid all my student loans back quickly and I learned very useful skills. After two years we moved back to Calgary and I was able to get a job. It was difficult to get my first design job but I was very determined and very, very persistent.
VN: Where does art fit into your future?
KL: Everywhere. I like to try new things, just recently I learned printmaking. It's all around me. I love to learn in many different fields of study. I am easily bored so I keep exploring. Again I go back to how Rick Sealock described me "…you have been super busy, designer, artist, innovator, Texan, you've become quite the Renaissance woman!" That's me.
Connect