What will I do?
Learn more about what's involved, the schedule, and activities over the month.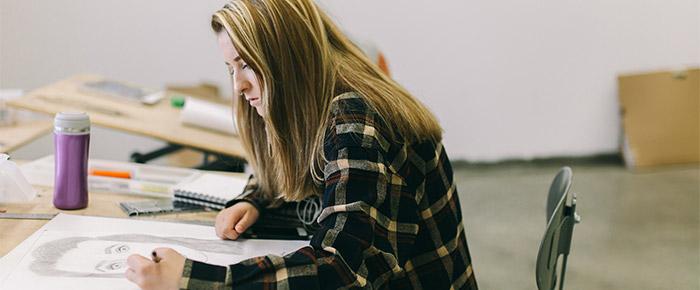 As a Pre-College student, you will join a talented community of practicing artists and designers who are eager to explore ideas, challenge ideas, and experiment. All classes are taught by AUArts faculty who are passionate about education and helping you grow as an artist. Studio assignments, research projects, and critiques will increase your abilities to observe, conceptualize, and create. You will use a variety of media and build a portfolio of finished work that you can use for post-secondary admission and bursary applications.
In just four weeks of full-time studies, you will be amazed by how far you can go.
Schedule
Each week, you will receive 20 hours of instructional studio time, supported by independent studio hours after class. Students will study both fine arts and design with a focus on drawing.
Topics include: 
Design Fundamentals 
Color Fundamentals
Fine Arts Drawing
Mixed Media Exploration
Each Friday the Pre-College program will host virtual extra-curricular activities designed to broaden your horizons and have fun. Participation is required.
Events include:
Virtual field trips to a professional design firm and an artist-run centre/commercial gallery.
Admissions presentations and preparation
Online figure drawing classes
Group exhibition and ceremony
Pre-College students are expected to attend all classes and studio hours Monday through Friday, 10 a.m. – 4 p.m. Homework may be necessary during evenings and/or weekends. But, it's not really homework if you love it, right?
When it's all over, we celebrate! The final Friday of the program will conclude with a group exhibition of participants' works and an online ceremony.