BDES, 2007
ALUMNI BIOGRAPHY, PROFILED IN JUNE 2013
"Everything I do is rooted in the fundamentals, having a basic trained aesthetic eye and knowing how to tell a visual story is the essence of art direction at its core.​"
Permanency to many artists is antithetical to growth. Being hemmed in by boundaries, whether physical or in an artist's practice, generally doesn't lend itself to creative development.
For ACAD grad Ray Ferraro, Art Director for Coach's luxury brand Reed Krakoff, the thought is unnerving. "Permanency is a frightening thought for me," says Ferraro, when asked about his decision to settle in New York. "I think many artists and creative types would agree. You have to always be malleable and learn how to interpret the ever-evolving world around you through your work."
After leaving Calgary upon receiving his Bachelors of Design Degree from ACAD in 2007, Ferraro took the well-trod path to The School of Visual Arts in New York. From there he has thrived, working for some of the biggest names in fashion including Gap and Cole Haan.
"I don't want to think that I'm ever going to be in one place permanently and hope I have the freedom to move about, but the great thing about New York is that nothing is really truly permanent," says Ferraro. "It's an amazing place in a constant state of change and reinterpretation."
Perhaps this need to evolve drove Ferraro into the fashion industry as he admits that one of the things that challenges him as Reed Krakoff's Art Director is navigating the fluctuating whims of an audience.
"It's sort of an alchemy of technical skill sets, experience and strategy," says Ferraro. "You need to be able to navigate between analyses and creativity to understand how to harness that creativity in a way that matters to your audience."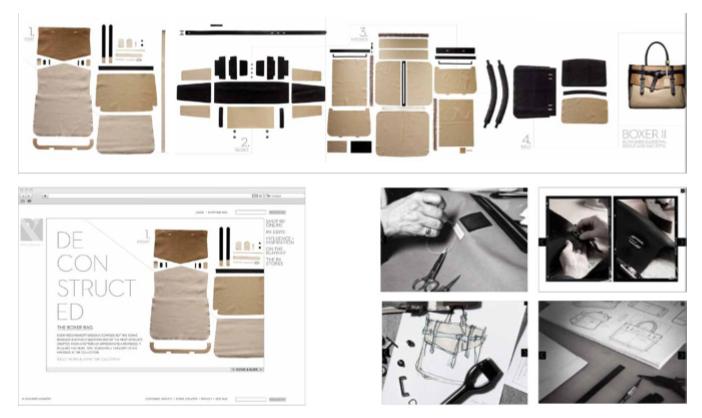 Reed Krakoff - Deconstructed - online feature "A look into the craftsmanship behind the signature Reed Krakoff handbag: The Boxer Bag"
Art Direction / Design: Ray Ferraro
Photography: Jens Mortensen
Ferraro thinks that ACAD prepared him for this challenge though. "The VCD program helped me develop the foundational design tools and trained eye that is the basis of how I'll see things aesthetically for the rest of my career," says Ferraro. "It's also where I honed my ability to become highly analytical while still thinking through every corner of what I try to say to diverse audiences. Without these two skills it would very hard to be successful in this industry."
One aspect of the industry that excites Ferraro is the democratization of creativity that social media has fuelled and the opportunities it affords brands like Reed Krakoff.
"It can be liberating to communicate to people in the way they want to be talked to and allows for more democratic exploration of how brands talk to their audiences and doing that in a way that's both genuine and strategized is an exciting challenge," says Ferraro. "In regards to branded content creation, with evolving technology that allows for greater interactivity, it allows you to create content that has more sensory dimensions than traditional two-dimensional media. It's a lot easier to create interactive and moving content to tell visual stories on digital platforms and those possibilities are always very exciting."
While anyone can create striking visual images, Ferraro believes that the foundational design skills he learned at ACAD are still crucial. "Everything I do is rooted in the fundamentals, having a basic trained aesthetic eye and knowing how to tell a visual story is the essence of art direction at its core," says Ferraro. "Digital media is just another tool in the belt for visually communicating."
Connect