STUDIED PAINTING, 1997 - 2000
ALUMNI DISCOVERY INITIATIVE, INTERVIEW BY NATASHA JENSEN, 2015
IMAGES UPDATED MAY 2019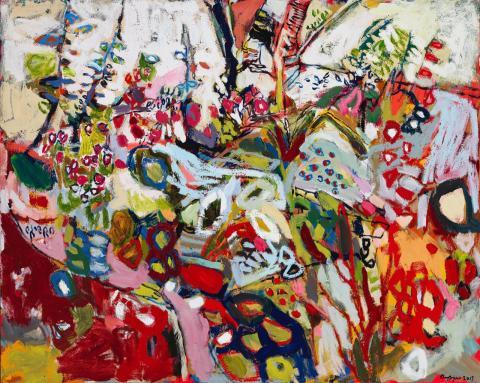 Rever du Jardin I (2019)
Natasha Jensen: When did you graduate from ACAD?
Amy Dryer: I attended ACAD between 1997 and 2000 but did not graduate from there. While at the Alberta College of Art and Design, I took my foundation year and decided to go into painting for my second year. I then moved to Scotland as part of an exchange program, and attended the Glasgow School of Art. The following year, I moved again to Sackville, New Brunswick, where I finished my Bachelor of Fine Arts with a minor in English.
JENSEN: Why did you decide on becoming a painting major at ACAD?
DRYER: I think the decision came from a combination of reasons. I knew, first and foremost, that I wanted to express myself in a tactile and physical way in the arts. I did not want to do graphic design, but rather wanted to engage in the tradition of painting and drawing. I trusted a childhood instinct to follow my love for painting – this was the driving force behind my decision.
I also felt inspired by art history, something I didn't realize until later. I knew that after I left my art history classes that I felt driven to paint. I wanted – and continue to want – to be part of a line of painters that have sculpted and responded to the world and everyday moments around them.
I was also taken by the art shows in the main lobby and knew that, I too, wanted to be part of this visual and expressive conversation. In my naiveté, not knowing how to be part of the shows, I hung one of my own paintings on the walls in a group exhibit.  I didn't realize that there were applications and protocols for these types of things, and the painting was removed. In doing this, I realized that even though I was relatively shy at the time, that I wanted to participate in the art shows. I wanted my paintings to be my voice, to mingle with the other stories.
I had already painted quite a bit in high school and through private lessons but I wanted to further my skills, enhance my ability to talk about my work and that of others in critiques, have a dialogue with my peers and teachers and learn about the history of painting and its relevance in our current world. This is why I went into painting at ACAD. I knew, at some deep, instinctive level that painting was the medium through which I would find my voice.
JENSEN: What was your time at ACAD like?
DRYER: Much of my experience at ACAD was shaped by my professors, peers and the infrastructure of the school. I had a number of professors in my second year that inspired me beyond measure and are still instrumental in the shaping of my future. Bev Tosh was one of these teachers; she not only knew the body when she taught figure drawing and painting, but she also treated me with a lot of respect as a young person and artist. I will never forget how she spoke to me. She treated me like the young adult that I was and encouraged me with a steady kindness. The painter, Gary Olson, facilitated open and honest critiques, involving the students, creating a safe and quirky environment where we could learn.
My peers were good. Painting was a mix of artists at the time, most of which were not painting. While I was in school, the internet was just starting to become prevalent so there was a general movement and interest in technology. However, my personal interest was in the physical act of painting, so I was one of the few pursuing this particular medium. The critiques that Gary Olson conducted were particularly helpful because the class would go around the room in order of how the work was hung, rather than having artists pick their favourite pieces and talk about them – rather like picking a sports team in physical education. I realize that one cannot always cater to the sensitive egos of artists, that we must put ourselves out there. But, creating a safe environment where the artists, specially young ones, can talk about one another's work in a respectful way helps a great deal in growth.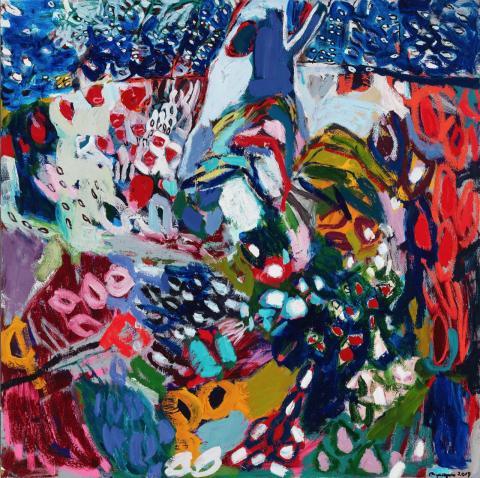 Rever du Jardin III (2019)
JENSEN: What insights did your years at ACAD give you when looking at things? Why does what you learned at ACAD matter?
DRYER: I think being at ACAD furthered my ability to communicate about my work and the artwork of others, both my peers and historical artists. This skill of communication about one's work is essential for survival as an artist. The ability to talk, write about, and engage in art is essential.
The making of the work is of course at the core of the process and I felt that the resources at ACAD were helpful in this regard: the bookstore, wood shop, library, and studios. I was glad to have a large studio where I could mess up the walls and floor without regret. Having the time and space to create and mess up a painting is also essential. The painting studios were memorable in their size and I would come in on weekends and evenings and a few of us would paint together and blast our music. It was a process-based experience that allowed for the crossover of community.
JENSEN: A lot of graduates use the ACAD degree as a creative stepping stone. How did your education at ACAD direct your career?
DRYER: Yes, I think having an education at ACAD, exposure to time, resources, professors and a skilled and dedicated arts community can only serve as a step forward into a creative career and life.
JENSEN: What's your current employment?
DRYER: I work as an artist now. My business is called 'Fragments of Soul' and I show my paintings in six galleries across Canada. These galleries represent and sell my work on my behalf. I have two to three solo shows per year and participate in a variety of group exhibits in between. I also do commission work for clients and occasionally teach workshops.
JENSEN: How has your art practice evolved since graduation?
DRYER: I have learned how to use different media to my advantage, to move paint with the confidence that I will be able to visually describe my subject matter and idea. My painting style and techniques have become recognizable to a wider audience over time which has given me a distinctive artistic voice.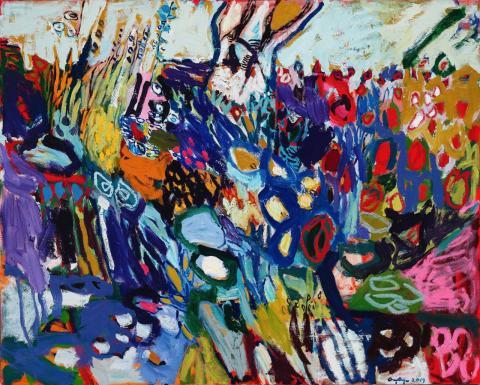 Rever du Jardin II (2019)
JENSEN: After graduation, what obstacles did you encounter and how did you overcome them?
DRYER: One of the main obstacles in beginning my painting career is that few people wanted to give me a chance to display my work. Galleries didn't want the paintings of a newly graduated artist and so I struggled to have my work seen. I also struggled financially and lived at home in order to continue working as a painter.
The way I dealt with the obstacle of showing my work is that I had studio shows; I displayed paintings in coffee shops and theatre walls; I looked into showing at the Stampede; I rented a gallery space. I looked at poster boards, talked to friends, started a newsletter, created a website and later a Facebook page, donated art to prominent organizations, and over time, about 4-10 years, started to gain both notoriety and momentum as an artist.
In the first three years, I kept hundreds of rejection letters from galleries across Canada, grant programs, residencies, and anything else I was applying for. I kept these letters in order to show myself that I wouldn't be broken by a system that wasn't accepting my paintings yet.
JENSEN: What are the benefits you've found to pursuing an education in the arts?
DRYER: Besides the learning to write and talk about my work as well as make it, having an education in the arts has also given me some clout. Clients, artists and galleries alike often ask me where and how I was educated, and the fact that I have received formal education has given me a 'foot up.'
Going to art school also provides one with a community of sorts. Even though many of ACAD's alumni are spread across Canada and beyond, there is still the connection of having gone to school together. These connections can provide much needed support, understanding of ones' field, dialogue and opportunities.
JENSEN: Did ACAD prepare you for the arts community you entered into? How did you make the transition from student to artist?
DRYER: I think there is a definite separation between one's time in art college and one's ability to survive afterwards in community.  I wondered sometimes if it would be beneficial to have a meeting time and place for ACAD alumni… some sort of informal meeting or party to talk about opportunities, projects, collaborations, etc. It's also encouraging to know that there are other artists out there working at being artists. In Calgary, especially, one is often challenged for pursuing ones art with statements like: 'how are you making a living?', 'are you a starving artist?', 'how much are you selling?' These statements can be discouraging and should be pushed against by the wider arts community.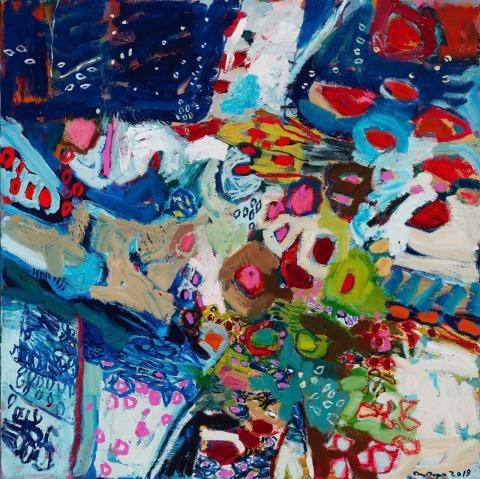 Rever du Jardin IV (2019)
I noticed that ACAD has been making an effort to be involved in events within the wider community as well.  For example, the college hosted a fashion show for a few years that was very well received. They also hosted a film festival and have been somewhat involved with Arts Commons.  I think that the more that ACAD can be involved with the wider community, the more people will recognize their place and importance. I think that ACAD should be represented at the TELUS Science Centre for example; kids need to learn the importance of art from an early age and these values will become embedded into community consciousness.
When I graduated, I sought a number of things: friends in the arts, a space where I could create, ideas and inspiration, and places, eventually galleries, where I could show and sell my work. If ACAD were able to help with any of these things, creating community and a place where artists could meet, that would be the most important and helpful. It would help with the transition between college and career.
JENSEN: What would you like to be recognized for?
DRYER: I would like to be recognized for the quality of my work and paintings, for my professionalism, for my drive and care, for my place in the history of art, for my voice as a woman artist, for my devotion and commitment to my work, for giving back to the arts community as much as possible, for mentorship, and for not listening to all the people along the way who told me it was impossible to pursue this vocation.
JENSEN: Where does art fit into your future?
DRYER: Art is my vocation and I feel that it will always be an integral part of my life. I would like to continue to paint, of course.  Promoting art and its significance in Calgary is also something that I value. In being an artist, I am also an advocate for the arts and I try to attend the events of others, support the arts across disciplines and speak to the importance of the arts to the human spirit.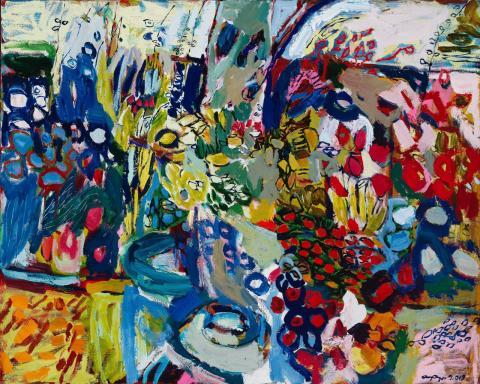 Rever du Jardin V (2019)
JENSEN: How could you imagine ACAD supporting our alumni?
DRYER: Mount Allison, where I am also an alum, has gatherings at pubs to eat seafood and hang out. I think that having the opportunity to get together just to network and talk could be beneficial for ACAD Alumni.
Having ACAD involved in the wider community, working with various programs like the Science Centre, the Calgary Philharmonic Orchestra, the Jubilee, the Glenbow, Esker… aligning ACAD with these places and creating possible additional programs that alumni could be involved with would be amazing. Artists are always looking for opportunities to showcase their work, and to collaborate with others; under potential ACAD umbrella programs, this could be an easier process.
Funding is always an issue for artists as well and is necessary to survival. Maybe ACAD could create some funding opportunities or awards that artists receive in their respective fields after they have graduated. Some sort of recognition for their accomplishments.
I think the more ACAD gets involved in dialogue with artists, in programming, funding, and creating fun meeting places, the more of a relationship they will have with alumni.
JENSEN: What do you feel is the role of ACAD and our alumni in shaping our cultural and economic prosperity?
DRYER: ACAD is a large organization that has the potential and resources to umbrella a lot of interesting and exciting cultural work. There are many artists who have attended the school, so the talent and creativity available to the college is excellent. The organization needs to create and sustain a sense of community for both the people attending the school, as well as for alumni and the greater community. I think speaking publicly about one's goals as an artist in Calgary, aligning oneself with organizations and artists, providing exciting spaces where artists and people can meet, and providing awards, funding and mentorship programs are some realistic ways of connecting ACAD to the community
Connect