She holds a BFA in Ceramics from ACAD and an MA in Art History from Concordia University. Burisch currently works as Curatorial Assistant, Contemporary Art at the National Gallery of Canada, and before that was Critic-in-Residence as part of the Core Program at the Museum of Fine Arts, Houston. Previously she was Administrative Coordinator at Montréal's Centre Skol —an artist-run centre that supports emerging art and experimentation in the visual arts. The ACAD graduate was recently one of two recipients of ACAD's TD Insurance Meloche Monnex Professional Development Grant. The grant assists with costs associated with establishing oneself professionally in an arts, design and culture career in Canada.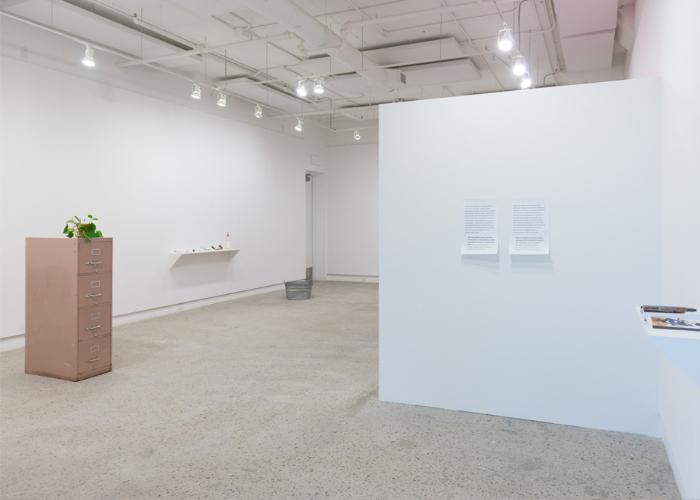 I've Only Known My Own, a curatorial project presented at Optica in Montreal, 2017
"As an independent researcher, this grant represents an important form of support in allowing me to travel and present my work," says Burisch. "Sharing my work publicly, meeting with other arts professionals and receiving feedback about my research are all essential parts of building my practice and keeping informed about developments in the field."
Burisch's recent work has focused on contemporary craft and craft theory, specifically, cross-disciplinary uses of craft-based media and their intersections with historical craft, feminism, performance art, and curatorial approaches. However, what secured her the grant was her presentation of her paper, "Performing Austerity: durational performance, craft, and economic crisis," at the University Arts Association Conference on the panel "Becoming-Image: Contemporary Performance and Its Formalization."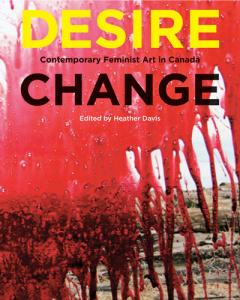 Desire Change, a new publication on feminist art in Canada, 2017 (Managing Editor)
Observing the global economic crisis within the last five years, Burisch, along with fellow ACAD alumna Anthea Black, have delved into understanding a recent trend in performance art to self-consciously perform "going without."
"We argue that the year-long durational performance model has been appropriated as a lifestyle choice taken in response to an economic climate obsessed with austerity," says Burisch. "The projects discussed include No Impact Man, the 100-mile diet, Andrea Zittel's Six Months Uniforms, Rebecca Burgess' Fibershed Project and Natalie Purschwitz's MakeShift."
Burisch's path to researching and writing craft theory was strongly informed by her time spent in ACAD's ceramics studios. She was always interested in using ceramics in unconventional ways: dissolving unfired cups and using raw clay slip as a material for graffiti and installation.
DO MORE WITH MORE/DO LESS WITH LESS, Ladies Invitational Deadbeat Society, FUSE Magazine 31-1 WINTER 2013-14 PATTERN PULLOUT
"My time in the Ceramics program was a major influence on where my current research and practice have ended up," says Burisch. "It was also during that time that I became interested in craft writing and theory. I was very much encouraged and supported by my instructors at ACAD—especially Mireille Perron and Amy Gogarty."
Now living between Ottawa and Montréal, Burisch appreciates the opportunity she had at ACAD to meet many people.
"I think the most important things were the connections I made with other artists and cultural workers, both fellow students and faculty," says Burisch. "This network of people has continued to be an important source of support and influence."
Connect