Student life
What's it really like to study at AUArts?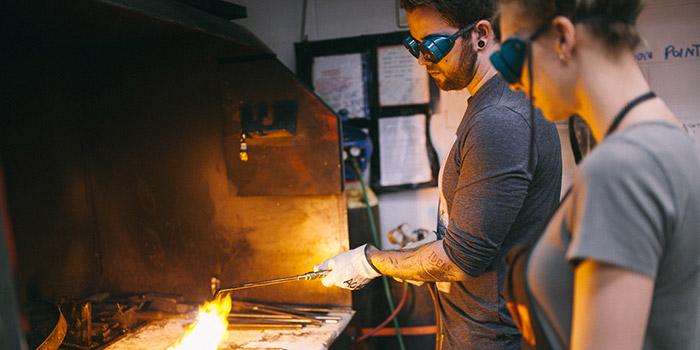 The big picture
Life on campus is also about being a part of something bigger. It's about joining a global conversation about art, design, and its impact on the world. With visiting artists, travel programs for students, and a rich and active research culture that fosters new ideas and collaboration, AUArts is a hub of arts and culture events all year round. What will you contribute?
The people
Studying at AUArts means joining a community of people who are passionate about creativity – people who just "get it," and who will encourage and challenge you to find your unique way of expressing yourself. Whether they're faculty, students, studio technicians, or administrators, you'll find accepting, enthusiastic, and talented people everywhere you look. It's what we're all about.
The creative space
Spanning nearly 300,000 square feet, AUArts' facilities include professionally equipped studios, plus lots of room just for you – including your own studio space during your third and fourth year.
You'll also have the unique opportunity to exhibit your work through AUArts' student-run galleries, giving you real-world exhibition experience and an insider's view of the professional art world.
Our internationally recognized, professionally run Illingworth Kerr Gallery is on campus too, and sure to keep you inspired with amazing exhibitions from Canada and around the world. You need to be here!
Campus amenities
Along with amazing galleries and world-class studio space, you'll find a library dedicated to art and design, a cafeteria, and easy access to and from other parts of the city via public transit (a CTrain station is adjacent to campus). 
We also have access to all the great things the neighbouring Southern Alberta Institute of Technology (SAIT) campus has to offer. One of the many benefits of AUArts sharing a campus with SAIT is that all AUArts students are welcome to live directly on campus at the SAIT Residence. 
And did we mention we're just a few minutes walk from Kensington and less than an hour from the mountains?
Living in Calgary
Calgary offers the best of all worlds – a vibrant, cosmopolitan urban centre, a safe and friendly atmosphere, and outstanding potential for adventure in the natural areas of the nearby Canadian Rockies.
Calgary is the sunniest city in Canada and ranked the 7th most liveable city in the world.
Culturally and artistically diverse, the sunny city enjoys numerous festivals ranging from the well established to the many new and growing influences in art, theatre and music. 
As signatories to Calgary's Arts Plan, Living a Creative Life, AUArts is committed to working with the city's arts development authority to support and strengthen the arts to benefit all Calgarians.
And if you need a little room to explore, Calgary's 300 km of urban pathways and ample green space give you lots of freedom to bike, hike, rollerblade or simply wander.
Find out more about living and studying in Calgary
Calgary Arts Development Classifieds - A free ad-listing service for Calgary's arts community, including calls for submissions, job listings, volunteer opportunities and more.
Getting to and around Calgary
Calgary is laid out in four quadrants: Northeast (NE), Northwest (NW), Southeast (SE) and Southwest (SW). Avenues run east to west, and streets run north to south. Numbering for avenues begins at Centre Avenue, and for streets at Centre Street.
By air
Calgary International Airport is a 20-minute drive from the city centre.
By road
From the U.S. border, Highway 2 runs to Calgary. Continue on this highway to Edmonton. The TransCanada Highway runs west to east, from coast to coast.
By transit