AUArts Boost-A-Student Fund
Helping boost students who need it most.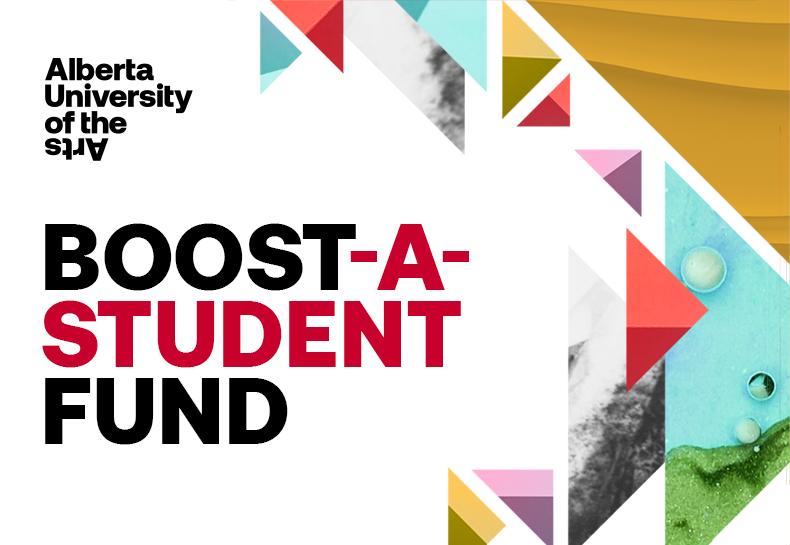 Last year we raised $100,000. Let's do it again!
For our 1,200 students, their future is art, craft and design, and some are in desperate need of a boost of support. Urgent student financial needs remain high – the demand is higher than ever.
Your gift to the Boost-A-Student Fund will help students who are struggling financially. With the cost of art supplies and food increasing beyond inflation, and with families losing income, some students are struggling with tuition and rent.
Please give what you can
With your support, we can help support our students' ongoing welfare and success.
 
Any amount you can give supports the next generation of vital contributors to art, craft and design. A donation before December 31, 2023, can also assist your 2023 tax return – any donation over $20 is eligible for a charitable tax receipt.
How Boost has helped
"Being the recipient of your generosity in this difficult time only strengthens my drive and empowers me to continue on this creative path. With your support, I'm able to maintain focus on graduating. Thank you!" Past recipient, Painting Grad, 2022
 
"I want to wholeheartedly thank you for your generous gift of the Boost-A-Student. Your donation will allow me to continue my studies with full passion and vigor and help me achieve my goals in the art and animation industry after I graduate." Past recipient, VSCM Grad, 2022
 
"Thank you kindly for selecting me as a 2021/2022 recipient. Your great generosity will contribute directly to my continued success as an AUArts student by assisting with my tuition and student fees in the coming school year. I am honoured to have been selected for the scholarship and I look forward to building community through my planned programming throughout the coming year." Past recipient, Current Student
 
"Thank you so much for choosing me to be a recipient of the Boost-A-Student. I am incredibly honoured to have received this generous contribution to my studies. I feel overwhelmed with love and support and truly thank you from the bottom of my heart for feeling I was worthy of this award. I am further fuelled by a desire to do the very best I can for the remainder of my studies and to harness that determination into my artistic career."  Past recipient, Current Student 
The creative economy is more important than ever. Please donate now and help boost the lives of our student artists, craftspeople and designers in our community.
*Donations over $20 will receive a charitable tax receipt.
**Contact donations@auarts.ca or 403.284.6238, if you have inquiries or wish to donate by cheque, phone or by the publicly traded Gift of Securities Transfer form. 
Charitable Registration No. 10669 2981 RR001