Deepak Ojha Memorial Bursary
Deepa Ojha is a fine arts graduate who understands the importance of having a supportive and encouraging network. Her dad, Deepak Ojha introduced her to art at a young age and has always supported her throughout her life. He encouraged Deepa to follow her dreams and attend AUArts. In memory of Deepa's dad, she is happily giving back to students who have dreams like hers through the help of people who have contributed to this bursary.
Students at AUArts have received funds from the Deepak Ojha Memorial Bursary for the last four years. As a result, we have helped students with financial needs continue their art practice, grow as artists and prepare for the next school year.
In memory of Deepa's dad, she wants to give back to students who are in need of financial support, for example single moms, students working three different jobs so they could create art, pay their rent and support their families or just students struggling day to day to buy art supplies. Art makes life more enjoyable and it lets us see new perspectives on our world. It helps us promote expression and creativity. AUArts helped Deepa grow as a person and as an artist. She hopes to carry on this legacy with this memorial bursary.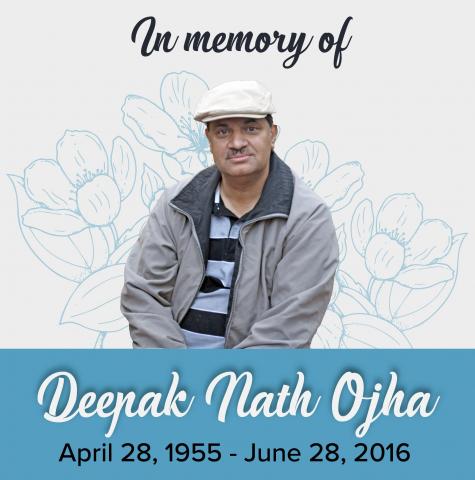 *Donations over $20 shall receive a charitable tax receipt. 
**If you wish to donate to the Deepak Ojha Memorial Bursary via cheque, please provide the award name in the cheque memo field and mail to: Alberta University of the Arts, Attention: Cashier, 1407 14 Avenue NW, Calgary, AB, T2N 4R3