Alberta University of the Arts has partnered with Calgary Transit to create a new mural along the CTrain Station wall outside of the front entrance to AUArts.
3rd year Illustration student Natalia Ionescu was chosen to create the design for the wall while collaborating with Ken Richardson, Manager, Creative at The City of Calgary. The bright, new mural was installed this summer, promotes safety, and adds to the pedestrian and student experience when arriving at or leaving the University.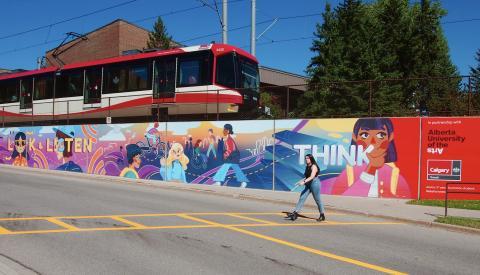 We caught up with Natalia to learn more about her experience working on this project and how things are going.
AUArts: How did you hear about this opportunity?
NI: This project came up in my Storytelling and Environments II class during my third year of study. Calgary Transit gave our class the opportunity to work with a real client and to propose a mural design for them in collaboration with AUArts.
AUArts: What was your inspiration for the mural?
NI: Although the main purpose of the mural is to promote transit safety around the university, I still wanted the design to function as a pleasant and memorable illustration that pedestrians could enjoy. I considered the key themes of transit safety, diversity, and representation, and I was inspired by the energetic student life on both the AUArts and SAIT campuses.
AUArts: Can you describe what the mural is about.
NI: According to Calgary Transit, the SAIT/AUArts/Jubilee CTrain station is a high incident area where transit bylaws are broken, putting transit riders and pedestrians in danger. The key message, "Stop, look & listen, think", is kept simple and paired with positive, bright, and colourful imagery which informs the audience and instead encourages safe behaviour.
AUArts: The mural is bright and cheery, what does art mean to you?
NI: As someone who is studying and working in communication design, the art I create and experience often revolves around telling a story to an audience. I think you can find a story in every work of art whether it's fine art, performance, or design even if it isn't obvious at first. Sometimes stories can even emerge from the audience interacting with the work. I find that storytelling is a recurring element across all my projects.
AUArts: Name three artists that inspire you.
NI:
Nicole Wolf – she is an AUArts grad who works as an illustrator and muralist. I love her approach to illustration and design, and how her work often reflects the experiences different communities — both local and abroad.
Takashi Murakami – his combination of fine art, design, and illustration across a variety of media is always engaging and memorable. I was lucky enough to see an exhibition of his work while visiting Hong Kong a couple of years ago!
Yukai Du – I'm inspired by her use of bold colours and how she combines her illustrations with motion.
AUArts: What's the best piece of advice you've been given?
NI: Being encouraged to get out of my comfort zone. Becoming more involved in my community and trying new things has been consistently fulfilling and has really helped my self-confidence.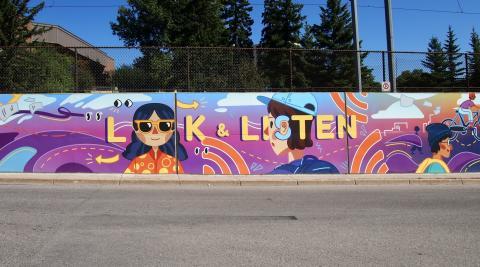 The mural can be viewed from outside the front entrance of AUArts.
Natalia Ionescu is now in her 4th year as an AUArts student majoring in Illustration. She has worked on different projects this year, including mural design and painting, to poster illustration. Natalia is working towards completing the final year of her Bachelor of Design degree and plans to continue creating projects for the community.