Event
30 Nov 2023
Thursday November 30, 2023
6 – 9PM
Stanford Perrott Lecture Theatre
Wreck City 10 Year Anniversary Screening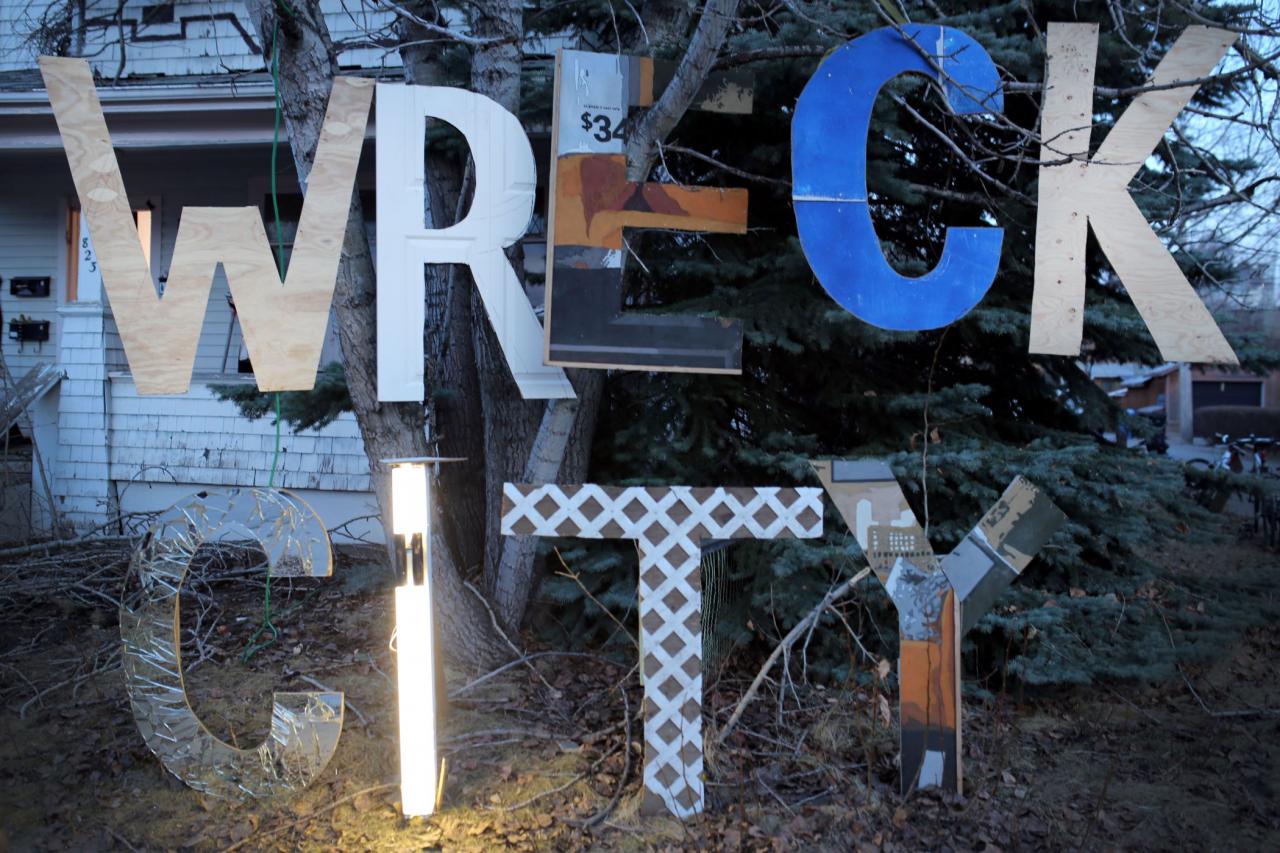 ALL EVENTS ARE FREE AND OPEN TO THE PUBLIC.
In Spring 2013, over 150 artists descended on the Calgary community of Sunnyside, transforming an entire block of houses into temporary art, installation, and performance spaces – prior to demolition. Aptly titled WRECK CITY, the project was optimistic, ambitious, chaotic, utopian, controversial, ground-breaking, and radically public, dealing with topics ranging from institutional critique, DIY practices, and vandalism, to civic development, bylaw, and gentrification. Organized by a curatorial collective of artists from the community and carried by the enthusiastic concern of a city facing constant cycles of boom & bust, the influence of WRECK CITY continues to be seen in the local art community to this very day.  
2023 marks the 10 year anniversary of WRECK CITY. In celebration of this milestone, filmmaker Ramin Eshraghi-Yazdi, and the curatorial collective behind WRECK CITY invite you to a special screening of WRECK CITY: An Epilogue for 809. The film will be followed by a Q&A and mini-Artist Talk moderated by Ximena González.
6 – 7PM: Reception with bar and food in the main mall
7 – 8PM: Film screening
8 – 8:45PM: Discussion + Q&A
Ramin Eshraghi-Yazdi is a film-based storyteller and documentarian living in Calgary and Montreal. He guides his practice with an empathic eye, open curiosity, and collaborative approach, inviting subjects into the process of telling their own stories. Through his company, Nur Films, Ramin has directed, edited, and produced six feature-length films (one narrative and five documentaries), and numerous narrative shorts, music videos, mini-docs, two seasons of a sketch comedy show, and a music variety series. Whether working with fact, fiction, or something in-between, Ramin makes films in relationship with communities, holding time for diverse people to share compelling tales never told before. https://www.nurfilms.ca/
Ximena González is a freelance journalist based in Calgary. Trained as an architect, she writes about urban affairs, housing, and real estate. Her work has appeared in the Globe and Mail, Jacobin, and The Tyee. 
The curatorial team behind WRECK CITY: an epilogue for 809 was comprised of artists with an ongoing interest in DIY practices and alternative art spaces: Andrew Frosst, Brandon Dalmer, Caitlind r.c. Brown, Jennifer Crigton, John Frosst, Matthew Mark Bourree, Ryan McClure Scott, and Shawn Mankowske.  After the first event, WRECK CITY formed a curatorial collective and organized three more projects: PHANTOM WING (2013), DEMO TAPE (2015), and The WRECK CITY Residency (2018). Over the decade, WRECK CITY curators have come and gone – notably, Natalie MacLean joined the collective during the second project in 2013. WRECK CITY curators have been integral in a variety of local projects, establishing galleries & studios (809 Gallery, Haight Gallery, PITH Gallery & Studios, The Bakery, Workshop Studios), founding collectives (The Arbour Lake Sghool, The Summerwood Warren, Hermitess with The Witch Choir), running festivals & group projects (ArtCity, The Hibernation Project, IDLE WORSHIP, Roundtable Residency), touring art internationally, and measurably influencing the structure of independent art in Calgary/Mohkinstsis – and beyond! Co-Curator Matthew Mark passed away in 2019, and every WRECK CITY event since (including this screening) is a small celebration of his collaboration and friendship. 
images courtesy of Caitlind Brown and Mike Tan