Campus tour and events
Book an appointment with our admissions team, attend a virtual event, participate in an interactive live session – we look forward to meeting you!
Applications for Fall 2023 are now closed. The next intake will be for Fall 2024 which will open October 1.
The 2023 ShowOff! High School Student Competition and Exhibition is now live on the AUArts website!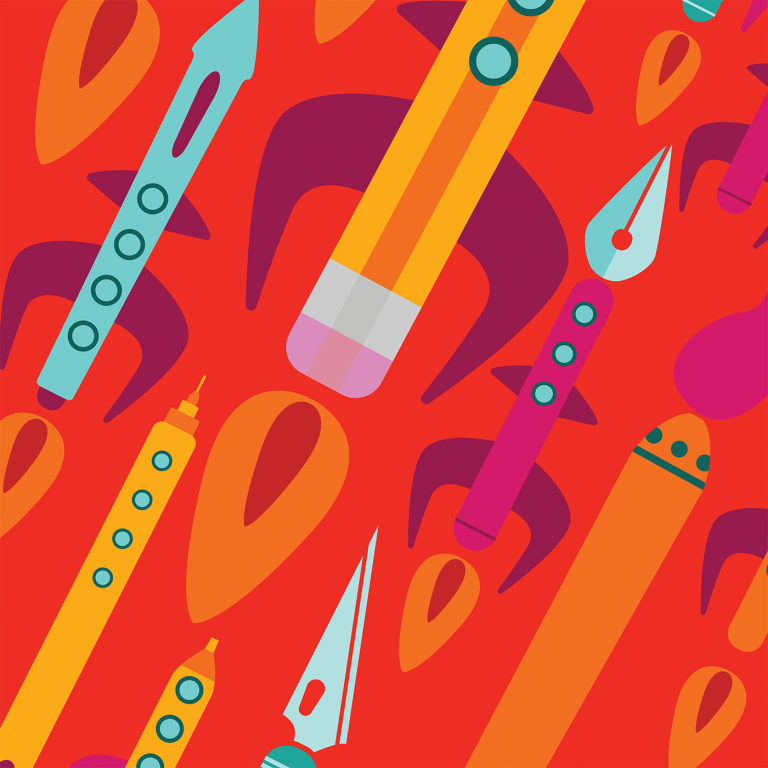 Connect with an AUArts Recruitment Officer online
Do you have questions about our programs or application process? Would you like to discuss your portfolio? You can schedule an appointment to meet with one of our Recruitment Officers via MS Teams video-conferencing or over-the-phone. 
Our Recruitment and Admissions Team is currently working remotely. We are available Monday to Friday 8 a.m. to 4 p.m. MST. (except during holidays). You can also contact us by email at myfuture@auarts.ca
Join us online for a live info session
We would love to connect with you at one of our interactive online info sessions. 
To register for an upcoming session, please click on the event session and time below. Once you register for an AUArts online event, we will email you the link to participate. 
About AUArts and How to Apply | Virtual Info-Session
Applying to university can be overwhelming. This interactive, live-online session will provide you with step-by-step direction on how to apply to AUArts. Our Admissions team will show you the process to apply through Apply Alberta, how to access your Alberta Student Number and what to expect as next steps once you have submitted your application. We will also go over the application requirements for each of our programs and provide you with the opportunity to ask us questions about the application process.
More sessions will be available in the Fall.
AUArts Portfolio Guide | Virtual Info-Session
This workshop is ideal for any student looking to understand the requirements for their creative portfolio before submitting to AUArts. Join us for 30 minutes as we discuss our unique portfolio requirements, preferred methods of documentation, and a few tips and tricks for making your portfolio and statement of intent stand out. 
More sessions will be available in the Fall.
Bachelor of Design Program | Virtual Info-Session
Learn more about how our Photography and Visual Communications Design majors prepare students for successful careers as professionals in the discipline, practice, and culture of photography and design. This presentation will be led by one of our Recruitment Officers. 
More sessions will be available in the Fall.
Bachelor of Fine Arts Program | Virtual Info-Session
Learn more about our acclaimed BFA (Bachelor of Fine Arts) program, and the nine different areas of concentration. This presentation will be led by one of our Recruitment Officers, who will share the inside scoop on this program. 
More sessions will be available in the Fall.
International Student Application Process and More | Virtual Info-Session
Whether you have questions about how to apply, Canadian Study Permit requirements or anything else about the process for international admission to Alberta University of the Arts, this live session is for you! Join members of the Admissions and Recruitment Team for an information, and Q&A session to help progress your application.
More sessions will be available in the Fall.
Online Portfolio Reviews
Join us for a 20-minute one-on-one online Portfolio Review with our Admissions Committee to review your portfolio to make it even stronger! 
Request a Portfolio Review appointment
Once we have provided you with a date and time for your review, we will send you an MS Teams link so that you can join your meeting with your reviewer. At the time of your review, please ensure you login 5-10 minutes early, and are ready with your artwork, a computer, internet access, and a microphone so you can have a conversation with our team member. A web camera is also highly recommended. 
Your portfolio should consist of 12 pieces of recent, original artwork such as sketchbooks, photography, 3D-sculptures or ceramics, paintings, digital drawings, animation or any other medium you work with.
We also love to see works-in-progress as it is a terrific way to learn about your process. The artwork should be ready to present either as digital images to share on your screen or the physical pieces to be shown via live camera. Please ensure you have a camera and microphone for your review so you can interact with the reviewer member.
On-Campus Recruitment Events
Come for a tour
On-Campus Tour - Please email myfuture@auarts.ca to request a tour. Please note, during the summer months we are at a reduced capacity to offer campus tours.
Virtual Tour - Peek inside AUArts Campus
Explore our Pre-College Program and courses for teens
Interested in art and design but not quite ready for university? Check out our programs for teens and high-school students.
Attend an AUArts event
Check out our events calendar to join us for an artist talk, online event, or workshop.